Improving grades, graduation rates: Learning assistants help peers in the classroom
---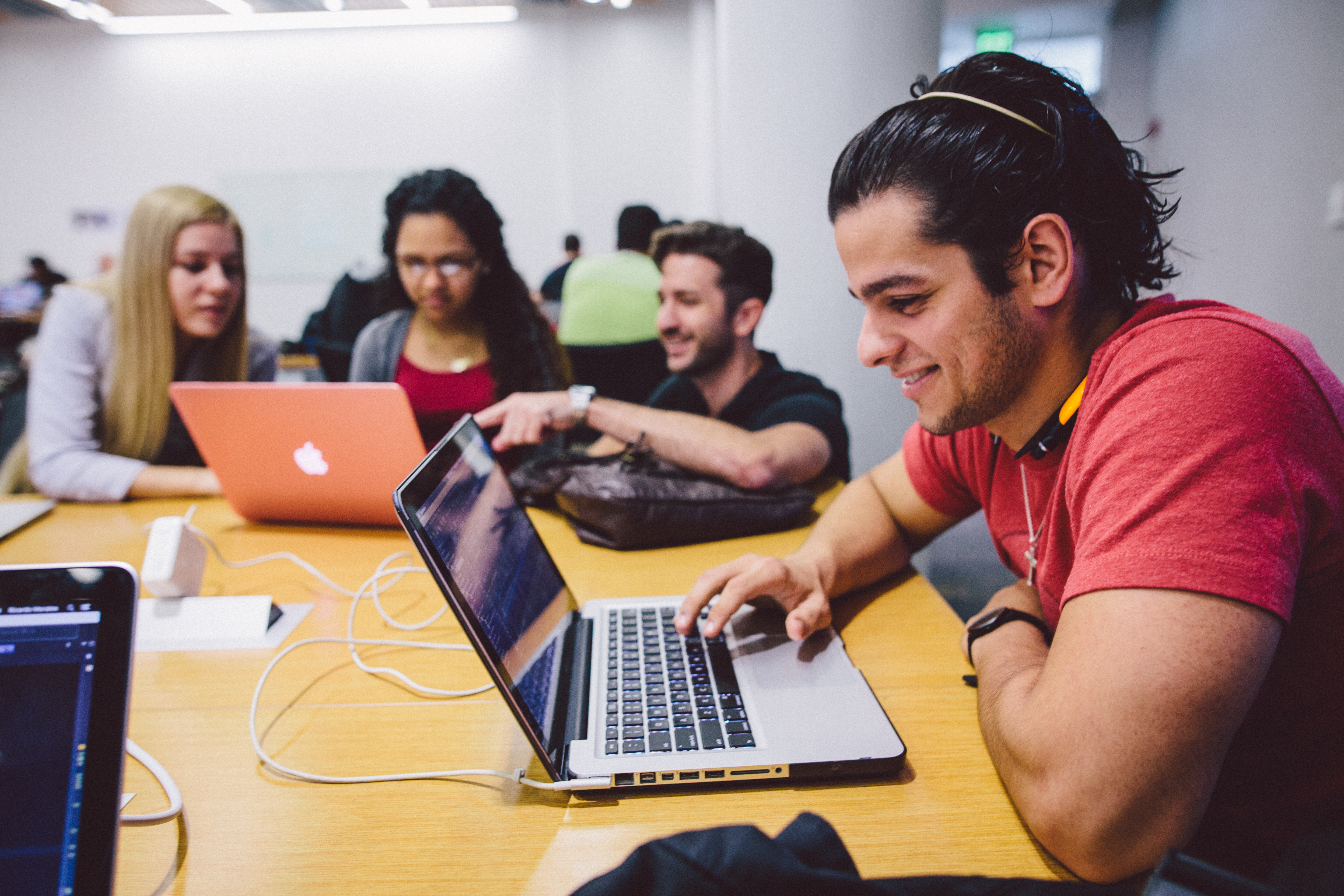 Seventy students sit in small groups, each at a table with a portable computer monitor and dry-erase board at the ready. After listening to their professor explain how to use conditional statements in computer programming, a number of students scurry to the dry-erase boards and take a stab at writing their own, others huddle together to produce examples in a team, while still others confer with a peer learning assistant who reviews their work and offers advice. Welcome to an active learning classroom at FIU.
In a traditional class, a professor usually lectures while students take notes. But more and more professors have embraced so-called active learning methods. Research has proven that encouraging students to collaborate and apply concepts in class through hands-on activities helps them learn more effectively than lecturing alone.
But one professor alone cannot always facilitate those interactive activities and offer instant feedback. Enter learning assistants: undergraduate students who help their peers interact with and discuss the material. Multiple learning assistants, commonly called LAs, help students in both small and large science, technology, engineering and mathematics (STEM) classes and labs. During the Spring 2016 semester, 161 sections of 47 different courses relied on 259 LAs helping upwards of 10,500 students, making FIU's the largest such program in the country. The goal: to increase the number of STEM graduates.
"I would fail this class if it weren't for the LAs," information technology major Nick Melow says of Java programming. He looks to LAs for the kind of support that can mean the difference between making the grade and bombing.
Eric Rubido serves as an LA in a chemistry class and says he acts as an extension of the professor by addressing difficulties immediately. He adds that the professor he works with explains concepts thoroughly, but the material is difficult and students have questions. "She can't answer all of them. It's a moment in time—a minute or two to help each student."
Embedding instructional aides is a deliberate step to help students succeed in some of the most academically challenging courses and speaks directly to FIU's BeyondPossible2020 strategic goals, several of which revolve around keeping students motivated so they don't drop out when the going gets tough. Provost and Executive Vice President Kenneth Furton believes in the program enough that he supports it with funding.
"By having a peer in class that has taken the course, it makes the class less overwhelming," explains Hagit Kornreich-Leshem, director of the program. "The LA becomes a bridge between faculty and student."
Adds Laird Kramer, who founded the program in 2008 and serves as director of the STEM Transformation Institute, a multidisciplinary collaborative that aims to develop effective practices in support of turning out well-prepared STEM professionals."LAs are catalysts for learning. Change is what the LA program is about – trying to change the perception of teaching and learning."
And LAs help the professor too. Christy Charters teaches programming and meets weekly with her LAs to find out how well students are understanding the material, what they may need more work on and which activities they find most productive.
"I always come out of those meetings with homework to do, but I appreciate it," she says. "They give you honest feedback you might not get otherwise. It's a never-ending process to improve your class as much as possible."
Sat Gavassa Becerra, a visiting instructor who uses LAs in her general biology class, compared her student passing rates before and after implementing active learning. What she found surprised her: a whopping 20 percent increase in the number of students who passed her class.
And, Becerra says, students in her classes see LAs as fonts of all kinds of wisdom, simply because LAs are usually a year or two further along in their college careers. "They ask them questions about their classes, internships, other extracurricular opportunities," she explains. "It's more than talking about class content."
LAs are experts at surviving a class because they just took it, likely only a year or even a semester earlier. Senior computer sciences major Justin Fletcher, considered a coding guru by the students he helps, became an LA because he had previously enjoyed helping friends with their programming projects.
"It's a lot to wrap your mind around in four months," he says of the material covered in basic programming classes, adding that he himself would have appreciated the extra attention that comes with the active learning experience.
And says Charters, the programming professor, incorporating active learning and LAs into the classroom sends an important message to students: "You're not alone, we want you to succeed, and we're doing everything possible to get you to succeed."
---
Read about math LA Randy Juste.