One special mentorship the foundation of education
November 2, 2016 at 12:00am
---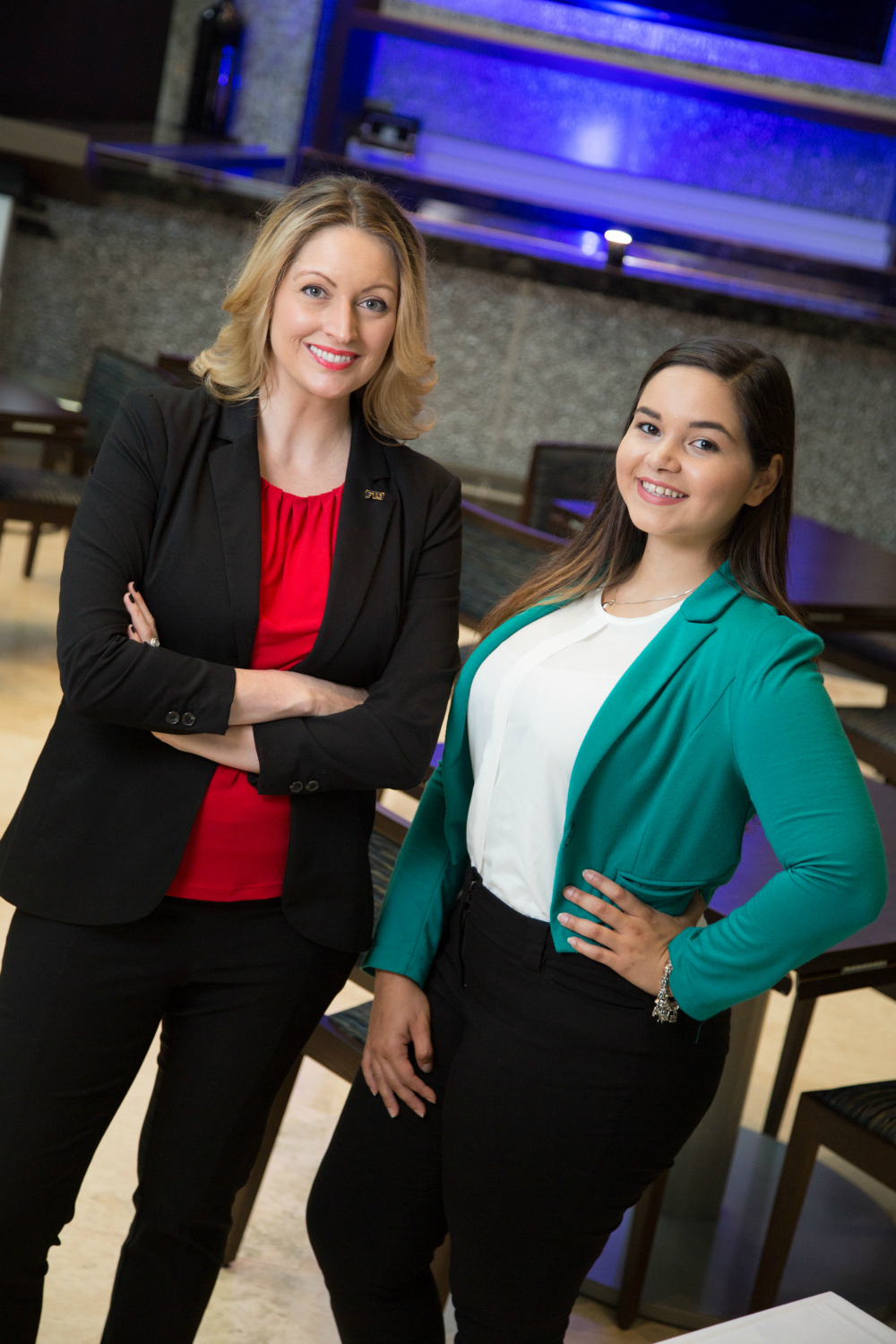 Yolanda Suarez's hands shook as she neared the stage. She was determined to become a leader for a national student-run professional organization. There was only one thing standing in her way: She had to give a speech to voting members at the national convention in Pittsburgh as part of the election process.
Suarez had spent hours drafting her speech and reviewing it with her mentor, who at the time was the faculty advisor of FIU's chapter of the organization, Chaplin School of Hospitality and Tourism ManagementProfessor Miranda Kitterlin. Suarez knew she was prepared.
But as she climbed the stage, the reality of the situation hit her. She was about to present a timed speech in front of more than 500 students and professors from across the country.
As she braced herself to start, Suarez saw her mentor slip into the room. She didn't want to let Kitterlin down. And just as she paused — heart racing and nerves on end – Suarez looked at the back of the room and saw Kitterlin with camera in hand, snapping a photo of her during her speech. Then, Kitterlin smiled and gave her a thumbs up.
At that moment Suarez realized, perfect speech or not, everything was going to be okay.
Kitterlin always knew Suarez was a rising star. "She sparkled," Kitterlin says, recalling when she first met Suarez through activities for the National Society of Minorities in Hospitality (NSMH). "You knew instantly that she was going places."
Before earning a spot on the national board of NSMH – 18 students who run the umbrella organization — Suarez was the president of the FIU chapter. She also served on the Hospitality Student Leadership Council, which is a select group of students that helps guide the vision of the Chaplin School's Career Development Program and assists in selecting and organizing activities offered for students. Right after graduation in the spring of 2016, she landed a spot in Hilton Worldwide's highly competitive management-in-training program – a professional internship program that guarantees full-time employment upon completion.
Suarez says she owes much of her success to Kitterlin's mentorship. What began as a student leader asking the faculty advisor of an organization for advice quickly evolved into a cornerstone relationship. Suarez found someone with whom to discuss questions ranging from leadership opportunities and internship hunting to handling academic and life questions. Kitterlin also connected Suarez with local industry professionals and helped her prepare for job interviews.
"Miranda was the foundation of my education," Suarez says. "Most of what I have achieved has been because of her or at her suggestion. It was almost like having a best friend in my corner, but a very special one."
Kitterlin, for her part, says sharing Suarez's journey has been a joy for her. She welcomes the chance to help students find their wings—often just the motivator they need to reach graduation.
"Having a relationship like this with a faculty member can make students feel more invested and more comfortable, more secure and confident with their place at FIU," Kitterlin explains. "It's not just about going to class. It's about getting the full experience of everything that FIU has to offer, and one of those things is access to faculty and the opportunity to build relationships."
That's mentorship at FIU.  ♦