For the love of FIU: Employees give back to move the university forward
---
Founding faculty member Stephen Fain believes in the power of community.
When he first arrived on campus in 1971, only about 100 people worked at FIU.
"It was a family," Fain says. "We were fused together by a vision of empowerment and service. Many of us worked closely together, although we represented very different aspects of the university. For me and many others, our home families blended with our newly formed FIU family."
As the university grew and became the largest public university in South Florida, a bit of that initial tight-knit community feel started to fade. Today FIU employs more than 9,700 people.
In 2012, Fain found a way to bring back some of that closeness: With Senior Vice President of Advancement Howard Lipman, Fain helped found the  Ignite campaign so faculty and staff could contribute financially to the university in a personally meaningful way.
"I believed this was a way to rekindle that rich family spirit," Fain says. And, at the closing of the campaign's fifth year, he knows he was right. "Ignite has become a component, a cultural constant at FIU," Fain explains. Great case in point: The annual Ignite pin that donors receive after making their pledges has become something of a collector's item on campus.
Popular projects to which employees give include scholarship funds for students facing financial and other burdens, such as one that supports homeless and former foster students and another that assists students facing unexpected hardships.
"Over the years, the campaign has caused people to find ways to enrich their own lives and those of the university members," Fain says. "We thought we'd be able to rally the community to come together."
And they did. Faculty and staff answered the call to give back to their university, increasingly contributing more and more to the campaign. In the first year of the campaign, 31 percent of the faculty and staff participated and supported 99 projects. By 2016, 50 percent of the faculty and staff contributed to more than 160 projects through the campaign. Since its inception, the campaign has raised more than $11 million.
And just as Fain had hoped, that sense of kinship is growing stronger and stronger.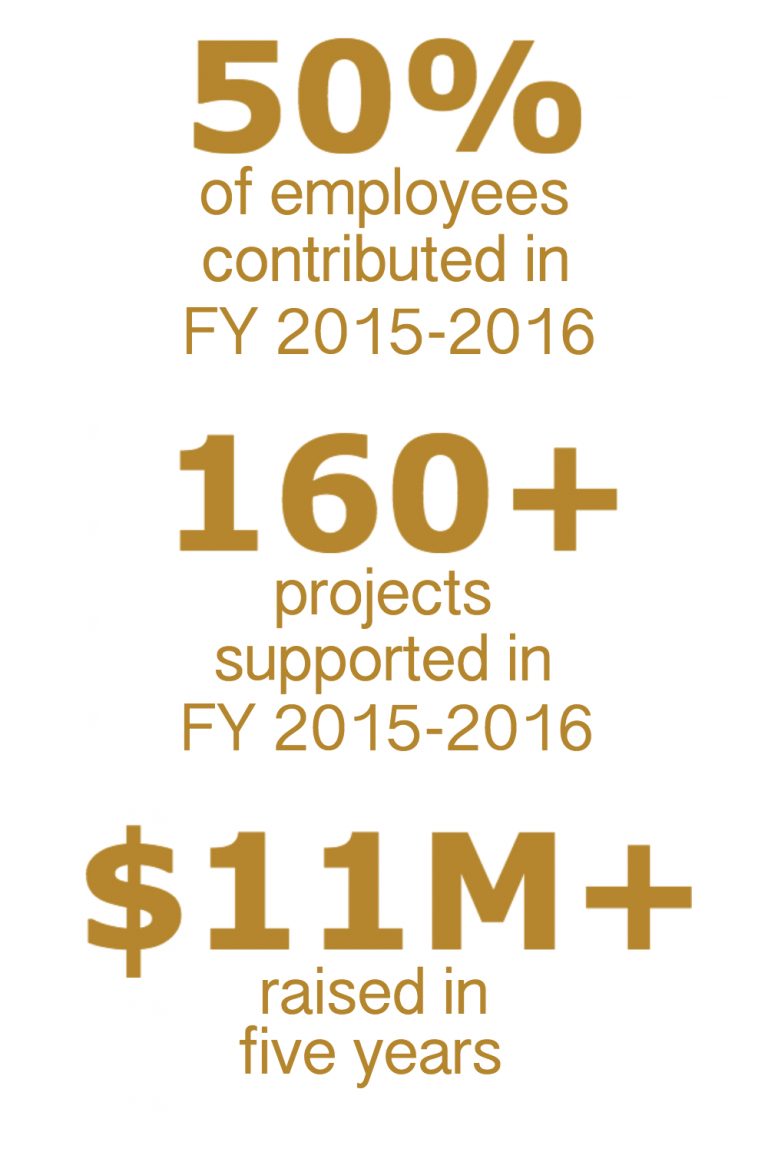 Creating community
Graham Center staff members don't just write out a check for the Ignite campaign and call it a day. They go above and beyond the call of duty to co-host and produce a fundraiser: a lip sync competition that draws contestants from around campus and creates a unique team spirit within their own office.
"Ignite has brought us closer," says Senior Director of the Graham Center Sanyo Mathew of his team. He adds that many staff members also contribute individually toward the Ruth Hamilton Make a Difference Fund, named for the center's former longtime director, a woman who remains a friend and mentor to many. The Make a Difference Fund helps FIU students with living expenses while they are completing internship programs away from home.
"Giving in Ruth's honor was a natural choice for the office," Mathew says. "Ignite has made it very personal for us."
And giving back to that fund, Mathew says, "is about helping students succeed. It's the least we can do for students in need who have an opportunity to get an internship that could jumpstart their career."
Excellence in success
The FIU First Generation Scholarship Fund, one of the most popular Ignite projects, is FIU's response to the numerous first-generation students who need a scholarship to access higher education. Leading by example, FIU President Mark B. Rosenberg and his wife, Rosalie, donated $1 million to the first-generation scholarship fund through Ignite at the beginning of this year's campaign.
"As a first-generation college graduate myself, I understand what it means to receive financial assistance to achieve the goal of obtaining a college degree," Rosenberg said at the time. "Our hope is that this gift will support the next generation of researchers, leaders and entrepreneurs in preparing for the workforce and to help create good jobs."
Fain says Rosenberg's dedication has established the foundation for a culture of giving at FIU. "It's not surprising that Ignite has been successful under Mark Rosenberg. His commitment to FIU's growth is not only obvious, but contagious."
"FIU changes lives," Rosenberg says. That knowledge is at the core of his commitment to FIU. And it is also at the core of the enthusiasm with which faculty and staff across campus support Ignite.
"The Ignite campaign's success shows that faculty and staff are not just here to work at FIU," Rosenberg says. "They are here to work together to build up our FIU. The unrelenting dedication of the people who work here drives our FIU forward and fuels the Ignite campaign. Their unwavering faith in the university and in the life of the mind leads them to give of themselves every day during their jobs and also to give of themselves through the Ignite campaign."
Investing in the future
"I give back to FIU because FIU gives to us every single day," says Mercedes Rodriguez, an associate director in the Office of Research and Economic Development. "Not only is it an enriching place to work, but there are numerous opportunities for learning, workshops and classes for which you can sign up that are for credit and may be free. You can always improve yourself thanks to FIU."
Among other projects, Rodriguez gives back to the Berta D. Villares Book Scholarship Award, which offers employees earning their degrees at FIU a scholarship to help pay for their textbooks.
In 2004, Rodriguez began a master's degree program in comparative sociology. At the time, the textbook scholarship fund was not available. Today, Rodriguez, who graduated in 2008, is glad to help others going through the same journey she went through. She knows that through giving back, we can move forward.
Ultimately, she says, investing in FIU is investing in the future.
"You give back now, and your kids are going to benefit later," says Rodriguez, whose son graduated from FIU in 2007. "The stronger we make FIU, the more we and our communities benefit. It's on us to make this institution better in every way." 
---
Read more:New graduates invest in the future of FIU
---