Student presents original burger to Guy Fieri at SOBEWFF®
February 27, 2018 at 12:00am
---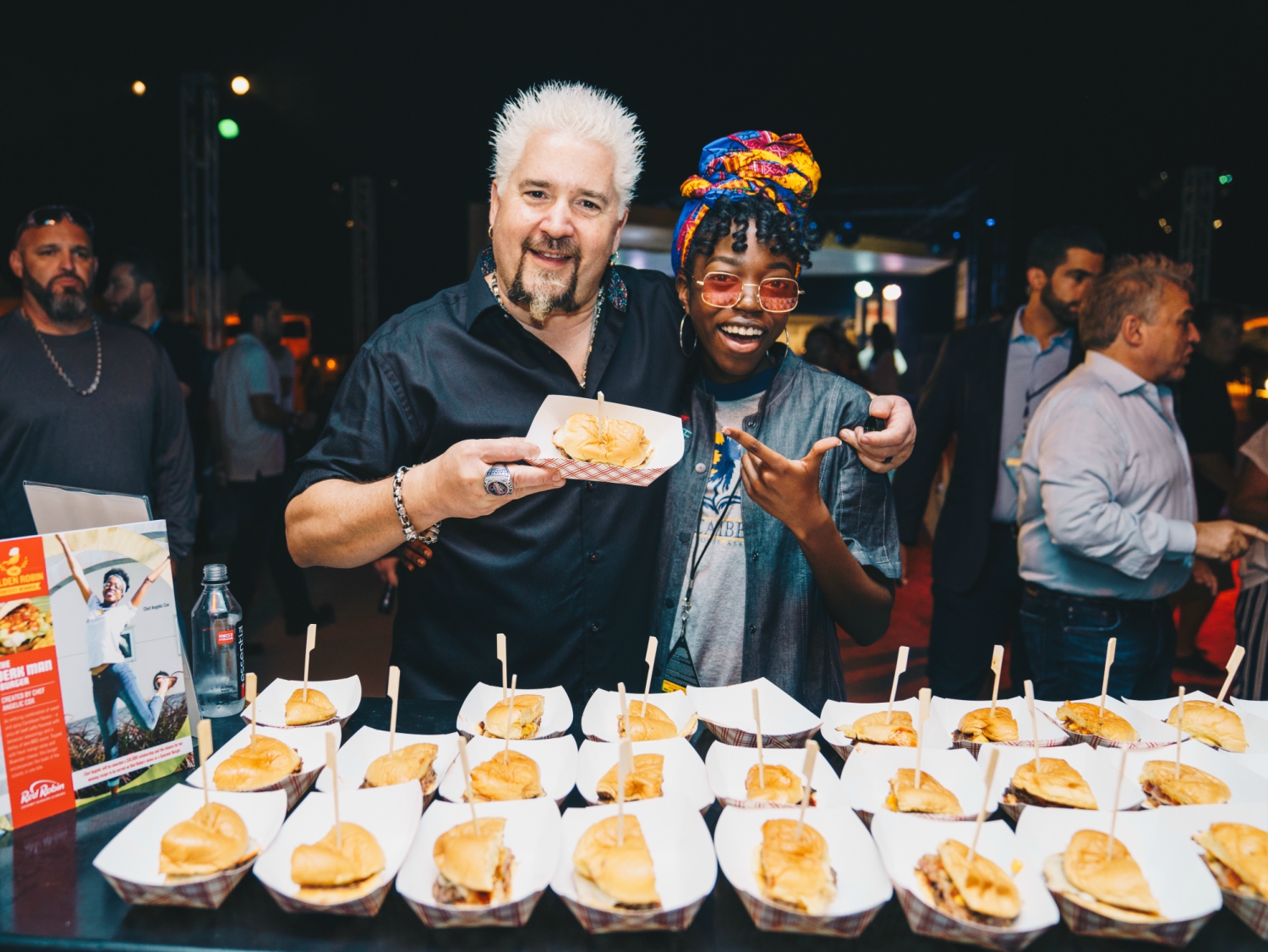 Psychology senior Angelic Cox got the chance of a lifetime this past weekend at the Food Network & Cooking Channel South Beach Wine & Food Festival: She presented her original burger recipe to Diners, Drive-Ins and Dives star Guy Fieri at the Festival's Heineken Light Burger Bash presented by Schweid and Sons.
Her creation, called "The Jerk Man Burger," was selected as this year's Red Robin Golden Robin contest winner, earning her a $10,000 scholarship and a chance to be featured on the Red Robin Gourmet Burgers and Brews menu in the next year.
Cox's recipe was inspired by her Caribbean roots and the quintessential Jamaican "jerk man."
"The jerk man is basically the guy that's out there on the street at any event, under a tent or something, and he's selling jerk chicken, jerk ribs," Cox said. "After a party, you're hungry. So you go to the jerk man, and he's going to hook you up. And everybody knows him."
It starts with a spicy, jerk-seasoned beef patty that she tops with muenster cheese, jerk-flavored barbecue sauce and a sweet mango salsa to temper the heat, all piled on a potato bun.
"It's a really enticing combination of sweet and spicy flavors," Cox said. The idea for the Jamaican-inspired blend came to her one Saturday afternoon as she and her friends from the Caribbean Student Association (for which Cox serves on the executive board) sat around her house trying different recipes to help her enter the contest.
Alongside 42 of the nation's most popular burger joints featured at the event on Feb. 23, Cox had her own booth where Red Robin cooks and FIU student volunteers grilled hundreds of Jerk Man sliders for guests to sample.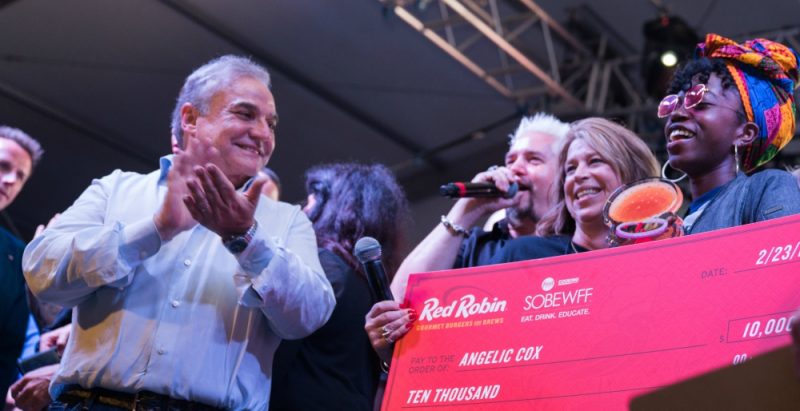 "Being here, having my burger here is amazing," Cox said that evening. "I'm not even a culinary student – I'm a psych major. And Guy Fieri is here, there's Pincho Factory, Red Robin, all these big restaurants are here, and they chose me. I'm feeling kind of star-struck right now. I'm feeling like a media star."
On a quest to try each burger at the event, Fieri made his way to Cox's booth.
"You're a rock star," he told her, cracking a smile as the sweet-and-spicy combo hit his taste buds. "It's delicious!"
At the end of the night, surrounded by all 42 of the chefs on stage, Red Robin leaders and Guy Fieri presented Cox with a burger-shaped trophy and a big red check for $10,000.
Cox said the scholarship couldn't have come at a better time for her. The former resident assistant, peer advisor and campus tour guide plans to attend graduate school next year to study student affairs and higher education administration.
"This scholarship is nothing short of a blessing," Cox said, encouraging her fellow Panthers to give the contest a try next year. "I'm so proud that Red Robin is doing this, and I really feel like a lot more people should try to apply. It's so fun – we all eat, right?"
---
Hosted by Southern Glazer's Wine & Spirits and FIU each February, the Food Network & Cooking Channel South Beach Wine & Food Festival benefits FIU's Chaplin School of Hospitality & Tourism Management. To date, the Festival has raised more than $26 million in support of education and scholarships at the school. The Festival also provides valuable career insight and networking opportunities to more than 1,000 students annually who volunteer in areas like event management, logistics, culinary preparation, marketing and more.