If a year ago, someone had told English major Julian Balboa that he would be brewing his own beer and presenting it at a festival, he wouldn't have believed them.
Balboa is part of a group of FIU students, collectively known as Quadrophenia Brewing Co., who will be pouring a beer they envisioned together for guests at the 2018 North Miami Brewfest on Saturday, Nov. 10. The students met in their Intro to Brewing Science course, taught by professor Barry Gump, a renowned chemist and the Chaplin School's Eminent Scholar Chair in Beverage Management. They are one of seven groups from the class that will present their brew at the festival; their participation, while optional, was encouraged.
The members of Quadrophenia Brewing Co. took their inspiration from British rock. The "company's" name is a reference to English rock band The Who's album by the same name. The brew the group created is called "Bittersweet Symphony," which is the name of a song by Manchester band The Verve. The mango-flavored New England IPA has a balanced sweet and sour taste with a tropical flair.
Quadrophenia Brewing Co.'s members include Balboa, five hospitality majors, and two STEM majors.
Julian Balboa, English


Joseph Rodriguez, Biology
Hyun Park, Chemistry
Michael Lake, Hospitality
Ethan Gorelick, Hospitality
Given Suman, Hospitality
Xinyu Zhang, Hospitality
Xiaoan Zhang, Hospitality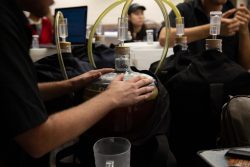 "We knew the taste of the mango would pair really nicely with the aroma and hop character of mosaic hops in a hazy IPA," says group member Michael Lake.
The group worked together to craft the recipe; it uses flaked oats and wheat for its hazy tartness and carapils (malt) for a caramel taste.
Prior to last year, Balboa never had much of an interest in alcoholic beverages.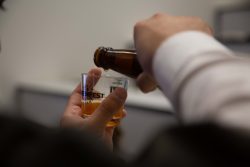 An avid rap and hip-hop fan, Balboa attended a beer tasting at J. Wakefield Brewing in Wynwood last year. The brewery had collaborated with Balboa's favorite rap group, Run the Jewels, on a beer. Unfortunately, they ran out of the special brew. Instead, the beer-tender let him taste another hip-hop themed stout called "Panda."
"It was so tasty. It was like an Oreo cookie beer," says Balboa. "I was hooked."
His newfound admiration for craft beers led him to enroll in the Intro to Brewing Science course as an elective this fall.
On the first day of class, he spotted a familiar face. Lake, a beer-tender at J. Wakefield Brewery, which by now Balboa frequently visited, was also taking the class.
A hospitality major in its beverage management track, Lake is the most experienced member in the group of seven. He is enthusiastic about the brewing world and has worked in the restaurant industry for several years. He hopes to open his own restaurant after graduation. He says his time at FIU has helped him get much closer to his goal.
"Before I got to this class, I didn't understand the various stages and practices that go into brewing," he says. "It's been a learning curve for sure."
For group member Given Suman, who before taking the class made his brews at home, the course has handed him the tools to "to take on the science with better equipment and have brewers as teachers."
Members Xinyu and Xiaoan Zhang are both international students from China studying hospitality. Xioaon, a junior, says  "I never thought I would take a class about beer, but it has been very interesting."
And that is the uniqueness of the course, which welcomes students of all disciplines eager to understand the chemistry of beer and/or create their own brews with their classmates.
"The class is open to anyone who has an interest in the production of beer," says Gump. "We always have students of varying majors."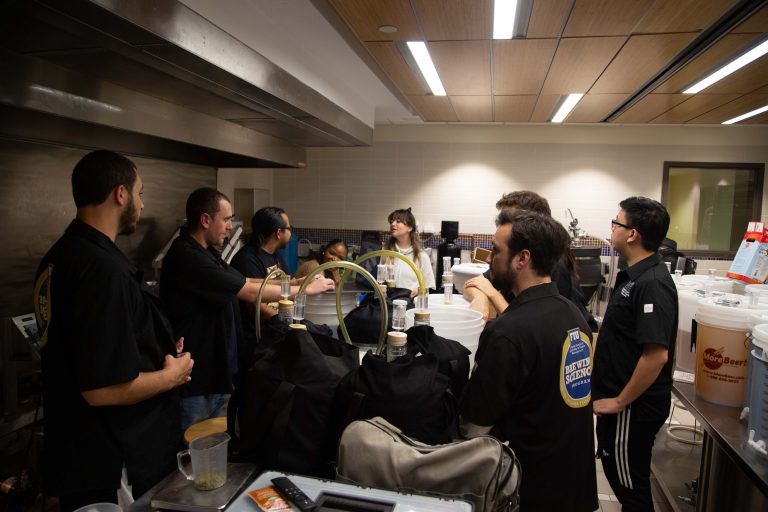 The group is excited to attend this year's North Miami Brewfest — started by Gump's students in 2012 —and share their creation.
"We're excited to try all the different beers there," said Ethan Gorelick, another hospitality major in the group. "It's going to be a great experience."
For Balboa, whose newfound interest in beer has also motivated him to get more involved in the beer industry, this is a chance to form vital connections.
"To be able to serve beer that I made with my teammates is a really amazing feeling," he says. "It's something that I started not too long ago and now am able to provide it to people like me who love beer just as much as I do."'
In addition to student brews, this year, North Miami Brewfest will feature seminars on brewing for beginners; how to bake with leftover grains after brewing; and beer's role in history. The festival also will offer sampling of more than 75 brews from more than 30 breweries, as well as food from local eateries.
The festival will be held at MOCA Plaza – 770 NE 125th St, North Miami, FL. Proceeds benefit the FIU Chaplin School of Hospitality and Tourism Management's brewing science program.
Members of the FIU family receive a discount of 10% off their ticket purchase with the code NoMiBrew10. Tickets are available here.