If you asked alumna and FIU employee Peggy Nolan whether or not she had any doubts about deciding to study art, she would quickly and proudly answer "no."
"It's just really fun to make art," says the 74-year-old. "Much more fun than I can imagine almost anything else."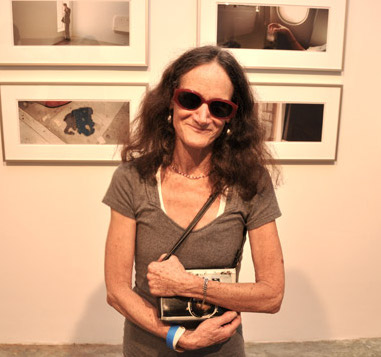 Nolan was a mother of seven in her late 40s when she decided to go back to school to take a photography course at FIU. She eventually earned a BFA in 1990 and an MFA in 2001. 
"I dropped out of school in the 60s to get married and move to Mexico, and I then had seven children and didn't have time to do anything except raise kids. So, I pretty much taught myself to photograph," she said.
Since her days as a student, Nolan has been working at the photography lab at MMC, first as a volunteer, and now as its manager. She is also an adjunct professor of film photography in the department of Art + Art History.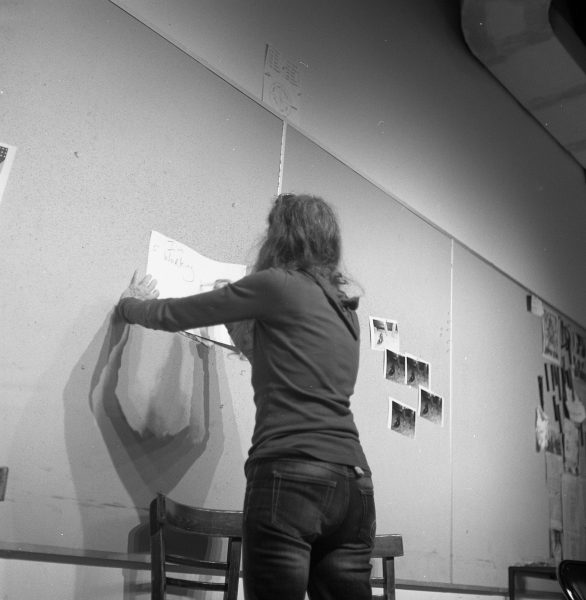 Still, she is aware of the anxiety other students may be faced with when considering a creative career path. Nolan says that addressing one's creative side can be incredibly rewarding and fulfilling, adding that attending college is all about "learning to think and  learning to understand, and I think that the art department is a great place for that."
She also emphasized the many valuable skills that art majors develop while in school, saying "art majors are trained to have the kind of skills that translate into almost any field, because they become huge problem solvers." For example: "How can I climb up on a ladder and photograph something 100 ft. down? How can I make a sculpture that looks like my grandmother?"
Nolan lives and breathes for her art. She speaks of both her photographs and her family with  affection and pride. Through photography, Nolan has been able to document the intricacies of her family life, her children and eight grandchildren being a central aspect of her work.
One of her favorite photographs, Alice Thinking, shows her granddaughter Alice looking contemplative while lying in the bathtub. It will be featured in her upcoming book Tales of a Badass Grandma, which was funded via Kickstarter.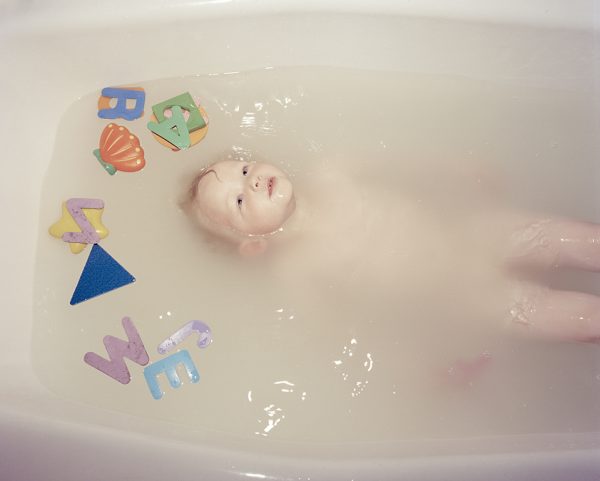 Two of her children, Thomas BFA '04 and Abner BFA '95, as well as her daughter-in-law Harumi Abe MFA '08 are also art alumni. Thomas and Abe have been awarded the South Florida Cultural Consortium fellowship, which Peggy herself has earned twice.
Her son Abner currently teaches photography at California College of the Arts in Oakland, California. He also manages a private art collection in San Francisco.
"I think we were all greatly encouraged by our mother's ambition and enthusiasm for art making," he said, adding that he was aware of how unconventional his family was in this regard. "We always had this very important kind of ongoing conversation about what it meant to be a photographer and an artist, and that very much still continues."
Abner believes FIU's interdisciplinary approach to education prepares art majors for a variety of jobs. "The program was rooted in a strong sense of one's own work and ideas. I don't think any job of any interest would not require some ideas of creative thinking and creative production," he said. Both he and his mother agree that anyone who is passionate about art should study it.
For those who are artistically inclined but whose career interests lie elsewhere, Peggy suggests taking art electives, which can provide an emotional outlet.
"A lot of them, they need release from everything else that they are doing, and it's not that it's easy – film photography is very demanding and it takes a lot of time and money – but you have release because you're able to reach inside your own psyche, instead of coughing up all kinds of information that you've memorized," she said.
Finally, Peggy thinks that being able to be creative every day, both at work and at home, is enormously rewarding.
"I can't imagine my life any differently – and I've done other jobs," she said. "I feel very fortunate to be on the art side of things."