Name: Janelle Mendez '18
Hometown: Miami
What is your major? I majored in English and double minored in French and international relations
Where did you/are you interning?  I am interning at a nonprofit, nonpartisan think tank called New America, specifically for their Cybersecurity Initiative.
What is your title? Cybersecurity Policy Analyst
How did you get your internship? Through my own research, I found the FIU in DC. I reached out to Eric Feldman [associate director of Student Success and Academic Programs in D.C.] and told him I wanted to be in D.C. this summer. He passed along a few opportunities. The New America internship was included on this list and when I read the job description, the nearly-perfect mix of all of my interests, I pursued the position relentlessly.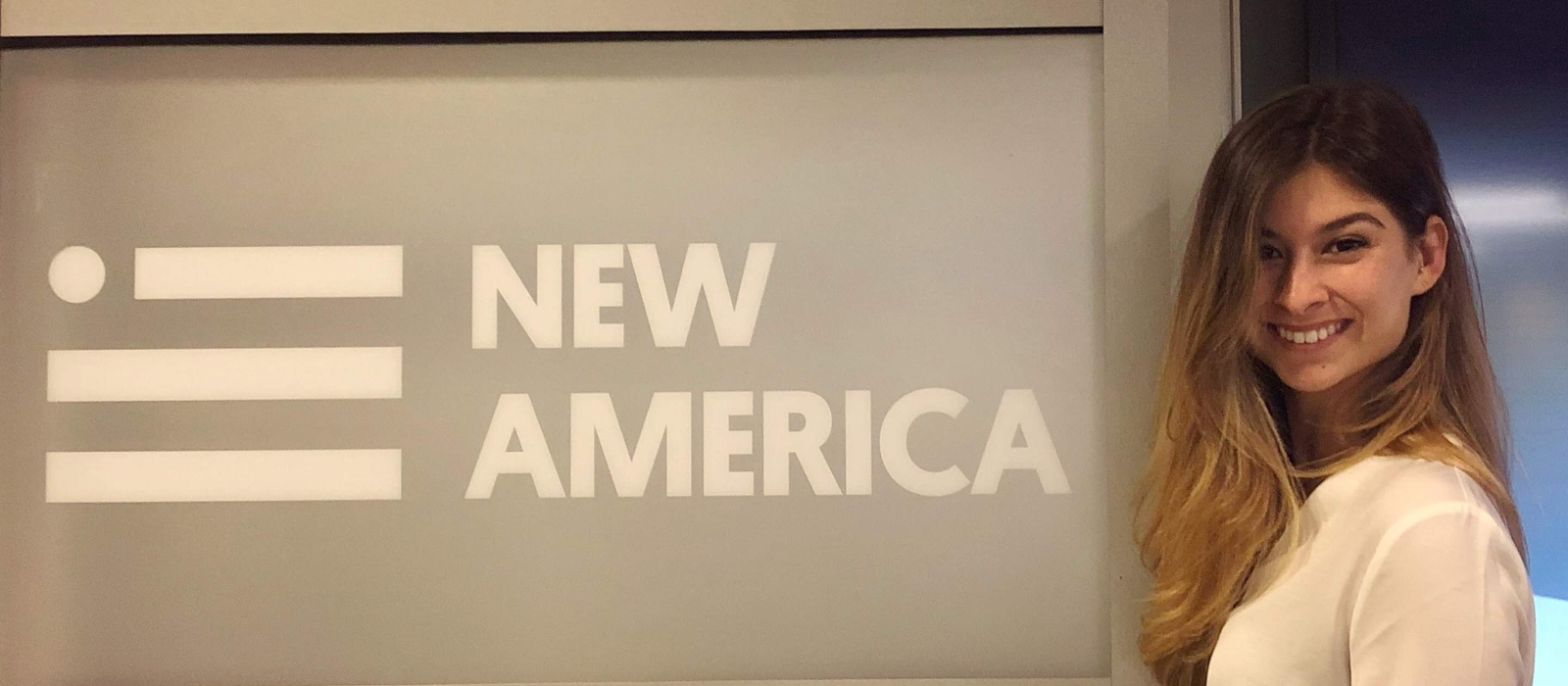 What are you doing there? I'm working on a few projects in international cybersecurity policy and workforce development. I did a series of briefs on Chinese cyber operations in Latin America and I co-authored an "Internet Realities" blog post, which consists of using an analytical framework for assessing the freedom, openness, interoperability, security and resiliency of the global Internet. I am working on a report on Cuba's race to join the digital age, specifically looking at the current partnership landscape of Cuba's developing information communication technologies. I also wrote a profile on Dr. Ashley Podhradsky for the Cybersecurity Initiative's Humans of Cybersecurity platform, and I updated New America's cybersecurity apprenticeship tracker, which is a data visualization map of cybersecurity apprenticeship programs around the country.
How does your internship connect back to your coursework? During my internship, I've used skills that I cultivated across all of my disciplines of study. I have used critical thinking and analytical skills that I fine-tuned in my English literature courses. Also, all of the international relations courses I took helped me with my research when doing international cyber policy work. Finally, the certificate and student development badge I completed with the Jack D. Gordon Institute for Public Policy prepared me both intellectually and professionally for the cybersecurity work I am doing here.
What is the coolest thing about your internship or that has happened during your internship? The coolest thing about my internship is that at any given point in time there will be an event going on downstairs in the main space that is open to the public. I have attended book presentations, conferences and panel discussions on an array of topics. One of the coolest things about these events is the effort New America makes to bring in other departments to contribute to the conversation at hand. One time there was a conference on how we will govern ourselves in space and the panelists were a mix of legal experts, economists, anthropologists, activists, security experts, policy professionals and more. The different perspectives made for a really interesting and different discussion. 
What have you enjoyed most about your experience? From day one, my supervisors made it a point to emphasize that this internship is both an opportunity for me to learn but also to explore my cybersecurity interests. That kind of autonomy is hard to find in an internship and I recognize how lucky I am to have had this experience. I have enjoyed both assisting my co-workers with projects they work on as well as pursuing my own projects that align closely with my professional goals; often times, the former feeds the latter and helps me better identify and articulate how I want my career to look in the future.
What have you learned about yourself? I learned that my studies did not end when I received my degree. I have found that I am investing more time into my acquisition of knowledge now than when I was working toward my B.A. The digital age requires us to be lifelong learners, and I'm constantly taking advantage of online resources to supplement what I learned at FIU and what I am learning at work. I have found that I am most efficient when I am curating the main areas of information, I am intaking and this efficiency trickles down into other areas of my life.
What advice do you have for those beginning the internship process? Look for opportunities outside of your respective school. If you do not think you would benefit from an internship in D.C. because of what your major is, you are wrong. If you have the opportunity to pursue an opportunity outside of Miami before you graduate, I highly recommend you take it because you will be exposed to other opportunities your degree affords you. 
How has the position increased your professional confidence? This position has increased my professional confidence by helping me succinctly articulate what I am doing and what I want to do in the future. This alone has made networking easier and more effective. In the field of national security, time is a luxury and brevity an imperative. Professionals respond better when you can convey your point in as few words as possible.
How has the internship expanded your professional network? Both FIU in DC office and my supervisors at the Cybersecurity Initiative have assisted with putting me in contact with people working in my field of interest. I have also created strong relationships with the other interns at New America. I am confident these people are going to be big players in the policy field in the near future and am honored to have worked alongside them this summer.