Student who is blind on mission to serve, inspire others to have heart
April 25, 2019 at 12:00am
---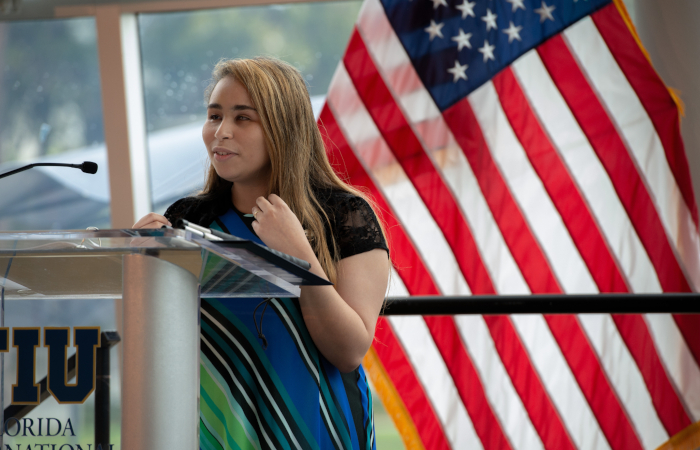 When international relations major Dorysped Mancebo was 8 years old, she decided she would attend FIU.
At the time, she was living in the Dominican Republic and visiting her aunt in Miami. While watching Univision news one night, she heard that FIU was opening the only public law school in South Florida.
As she grew, Mancebo's love for education was cemented and her goal to attend FIU remained intact. But, when she was 14 years old, her life changed.
One day she could see with her eyes. The next day, she had lost her sight completely due to a condition called coloboma, which creates a hole in parts of the eye.
"It was horrible," she says. "It was hard. But the brain is strong. It is designed to forget really traumatic things. I forgot those first moments."
But she never forgot her dreams or her goals. She decided that she would not let this define her life. She knew she had much to give and much to do. Her sight wasn't going to stop her.
She refused to go to school for blind children and graduated with the highest GPA in her high school class. She moved to Miami to pursue higher education.
She began at Broward College and then transferred to FIU.
Mancebo spends seven to eight hours roundtrip from her home in Broward County to FIU every time she comes to campus, using various transportation services. Many other schools are closer to her home. So why did she still want FIU?
"Sometimes the heart tells you where to go," she says. "I feel at home here."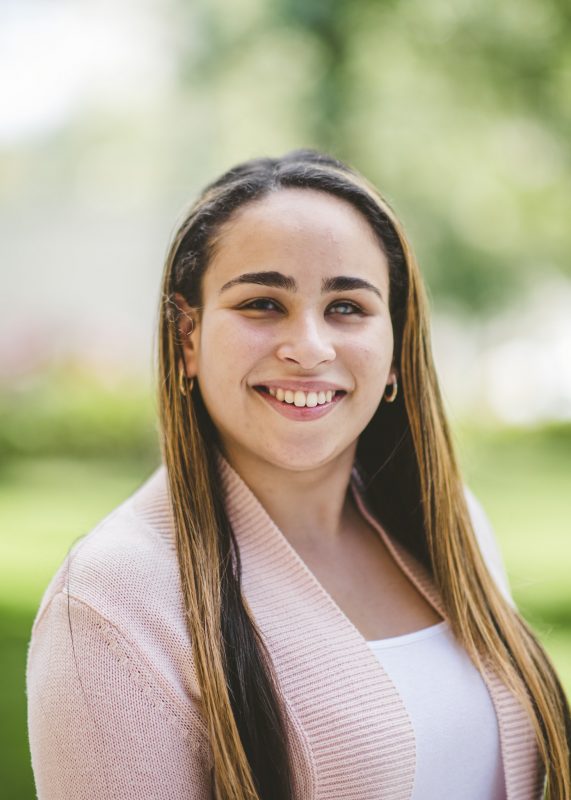 She has studied French, language interpretation studies, Portuguese and linguistics, among other areas. She also earned a  Global Learning Medallion and immersed herself in the  Peace Corps Prep at FIU program.
Not content with a full academic workload and schedule, Mancebo began working as a language tutor at Broward College. She also took on two internships – both highlights of her academic career, she says.
In the spring of 2018, she interned at the Miami Dade Public Library System teaching Spanish to adults.
"I loved that internship," she says. "My students were crying my last night. They wanted me to stay teaching them. I didn't want to stop either."
Mancebo is also currently interning at the Broward County Courthouse, where she focuses on interpretation services for those who have limited English proficiency.
She views language as a particularly important tool in creating cross-cultural understanding.
"We are all humans. We are separated by oceans and lands, but we can still build bridges. Languages are bridges between hearts."
She says her internships have been incredibly enriching and rewarding. She learned that whether teaching languages, international relations or law, she "will always be a teacher – and a global citizen."
She has applied to FIU College of Law. Her goal is to earn her law degree at the university and later become an immigration lawyer.
"I want to be a lawyer that uses the law to help, but also to serve and to inspire. We need to be a model and motivate other people to fall in love with law and to shape different policies," she says. "I want to be a lawyer at heart, not just on paper."
Mancebo will be graduating this semester and will be recognized as one of this semester's outstanding  Worlds Ahead Graduates during her commencement ceremony.
UPDATE: Mancebo has been accepted into FIU College of Law, and she will begin the program in the fall of 2019.