Becoming a global citizen
Program fosters legacy of respect, compassion and global engagement beyond the classroom
---
This story was written before the spread of the coronavirus pandemic and before the "new normal" began. 
As a middle school student in Florida, Medjy Pierre-Louis found out her father had never been taught to read as a child in Haiti. From that moment on, Pierre-Louis made it her mission to help children around the world access education, even writing a letter to then-President Barack Obama about the matter. When she started at FIU in 2013, she was hungry to fulfill her purpose.
A counselor quickly connected her with FIU President Mark B. Rosenberg, who advised her throughout her undergraduate career and pointed her to the Global Learning (GL) program. Little did Pierre-Louis know that the program would change her life.
During the next few years, Pierre-Louis traveled to India to help design a curriculum to help women in rural areas learn essential financial literacy and health skills; she trekked to remote villages in West Africa for a USAID project on water sanitation; and taught English courses at Beihang University in China.
At the urging of the GL program's executive director, Hilary Landorf, Pierre-Louis also took an internship with the International Association for the Evaluation of Educational Achievement. There, she worked on the project of her dreams: Education in Haiti. For several months, she worked directly with the Haitian Ministry of Education to find ways of better monitoring the country's trends on student achievement.
"I had no idea I was going to be walking into my future career by taking Dr. Landorf's advice," says Pierre-Louis, who works as a consultant for Global Partnership for Education, which aims to improve educational quality and access around the world.
She says that her development as a researcher – and as a person – has been deeply impacted by the GL program's training on global citizenship. "The GL program gave me a new lens to look at the world. I can't imagine living without that lens now. Things would be a lot less colorful and a lot less clear. I wouldn't be as aware of the world or really appreciate life in all its complexity without it.
"Despite everything that's going on, the world is actually a beautiful place. Being a part of making it more beautiful is being a global citizen and using myself as a tool to help others without pushing my own ideals onto them."
Landorf says Pierre-Louis' journey is exactly the kind of experience the GL program is designed to provide.
"Globalization is here," Landorf says. Students must successfully interact with colleagues across the world and work together to find solutions for diverse social problems that spill across borders and boundaries. "We all have the responsibility as educators to train our students to succeed in this increasingly interconnected world."
The university wide program encourages all students to engage with the world as global citizens who embody respect and compassion. Intimately connected with FIU's founding purpose to embrace international education, the program works with faculty to train them to infuse global perspectives into their courses and offers students a slew of opportunities to become true global citizens.
More than 250 specially designated courses are available to undergraduate students. These courses, at least two of which must be taken to fulfill graduation requirements, allow students to explore a wide variety of fields through a global lens. Among the offerings are courses on world ethnographies, international tourism and travel, intercultural communication and world nutrition.
Students who desire to immerse themselves and go beyond the two courses can pursue the Global Learning Medallion. In addition to taking four courses, they participate in one of several co-curricular activities, such as weekly roundtable discussions on global issues or student organization leadership, complete a capstone project, such as globally focused internships or research projects, and build a portfolio that showcases their accomplishments and reflections.
With these robust learning options, FIU is leading the way in global education across the nation. "FIU has become the model of global learning throughout the country," Landorf says. "We have the largest and most impactful program in the U.S. and are the only large public institution that has a GL requirement. GL has put FIU on the internationalization map."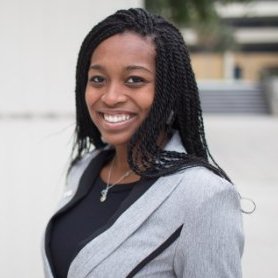 Medjy Pierre-Louis