COVID in the curriculum: How professors transformed assignments and discussions in the wake of the pandemic
The health crisis offers a unique opportunity to teach students in real time
September 18, 2020 at 9:38am
---
"That is your mission if you choose to accept it…" Assistant Professor of Biostatistics Gabriel Odom quoted the famed "Mission Impossible" line during a Zoom meeting with graduate students this past summer. The mission he offered: to work on a project analyzing real-time data on COVID-19 contact tracing in aid to the Florida Department of Health's Miami-Dade office.
Odom and colleagues in the Robert Stempel College of Public Health & Social Work had been helping the Department of Health organize, analyze and make sense of data sets about COVID-19 throughout the community. He threw out his originally planned class assignments and brought his students into the real-world project.
Odom is one of many professors from a wide range of disciplines who shifted course work to prepare students to meet the challenges posed by COVID-19 in their fields.
"I told them, 'You're going to tell your kids and grandkids how in 2020 when your community needed you most, you stepped up and used your skills and volunteered.'
 "I can't think of anything better for a student to do than, during a global catastrophe," Odom says, "to be able to get the skills they learned at our FIU, write a report, send it to DOH, and for the actual data to be used by leaders in our community. That's a dream come true for a professor. I'm as proud as I can be."
Training future health care professionals to fight outbreaks
Faculty members in the Herbert Wertheim College of Medicine have used current events to create new courses. 
For students no longer attending clinical rotations at local medical centers, professor and associate dean Dr. Vivian Obeso created "The COVID-19 Pandemic Project" course that has teams draft response plans outlining patient safety protocols, explain ways to organize clinical settings that minimize virus transmission and tackle other pressing questions that physicians across the world are currently facing.
"Now is the time they need to learn about it," Obeso says of students' delving into the historic health crisis. "They are the people that are going to be our future scientists and doctors, finding solutions to these problems."
Faculty also offered a course on ethics during the pandemic. Students explored the differences between ethical guidelines during routine health care versus during a pandemic, and worked on a project analyzing a major topic. Sample topics: Rationing scarce medical resources during a pandemic; concerns about crisis standards of care; and social justice issues surrounding groups or communities that are at high-risk during the pandemic.
Professors and students in the Nicole Wertheim College of Nursing & Health Sciences have also been tackling the challenges of COVID-19 during class discussions and projects. Mariceli Comellas, director of the Master's in Health Care Services Administration program, says many students in the program – particularly those already working at long-term care facilities or for health care providers – are bringing up questions during class and changing the dynamic of conversations around relevant topics such as physician and health care burnout; depression among the elderly; and the economic impact of COVID-19 on health care facilities.
Telehealth has also been a major topic. Even before the pandemic began, Comellas regularly assigned projects for students to explore telehealth and its opportunities. When she assigned the project this summer in context of COVID-19, students examined telehealth from new angles, including how telehealth during the pandemic could increase access to health care for minorities, help people in long-term care facilities and impact hospital operations.
Helping local school teachers deal immediately with problems
When many of the nation's K-12 school systems transitioned to remote learning last spring, education professors in the College of Arts, Science & Education embraced the opportunity to help their students—all actively working teachers in local schools—through the adjustment. Associate Professor Patty Barbetta completely re-designed her courses to incorporate new resources and assignments relevant to remote teaching.
Beyond regular class, Barbetta scheduled several virtual meetings with her students so they could discuss their struggles and ideas. "They were going through rough times professionally and personally. I wanted them to know that if they had any questions or concerns, that I was there for them."
Associate Teaching Professor Liana Gonzalez changed course assignments by asking her class (made up of mostly K-12 educators) to find online learning tools that are proven to help students with disabilities learn effectively, and to create a website featuring those resources for parents during the pandemic. These educators can now share this with parents of their students. "There are a lot of evidence-based practices of things that really work, free of charge," Gonzalez says. And, she adds, parents need more support now than ever to make sure their students are learning.
Creating strong hospitality and journalism professionals
During her facilities management course, Associate Professor in the Chaplin School of Hospitality & Tourism Management Nancy Scanlon usually has her students develop an operating plan for managing a hotel or resort with emphasis on water, energy and waste management and attention to some of the 17 United Nations Sustainable Development Goals.
When the pandemic hit, she added CDC and Miami-Dade guidelines as well as those of the American Hotel and Lodging Association to the mix and asked students to develop a plan addressing disease prevention among the housekeeping and food service departments.
"To me, it's really important that we give students the skills to excel in the workplace," Scanlon says. "Employers ask, 'You've graduated from college, what would you do about this problem?' They'll come with this knowledge and skill pack."
Journalism + Media students are also sharpening their skills as reporters. Through a partnership with The Miami Herald, a group of students covered pandemic-related local news. Another group of students earned a Society of Professional Journalists' award for their "Pandemic Profiles" project, featuring stories on 34 individuals across the globe who had been severely impacted by COVID-19.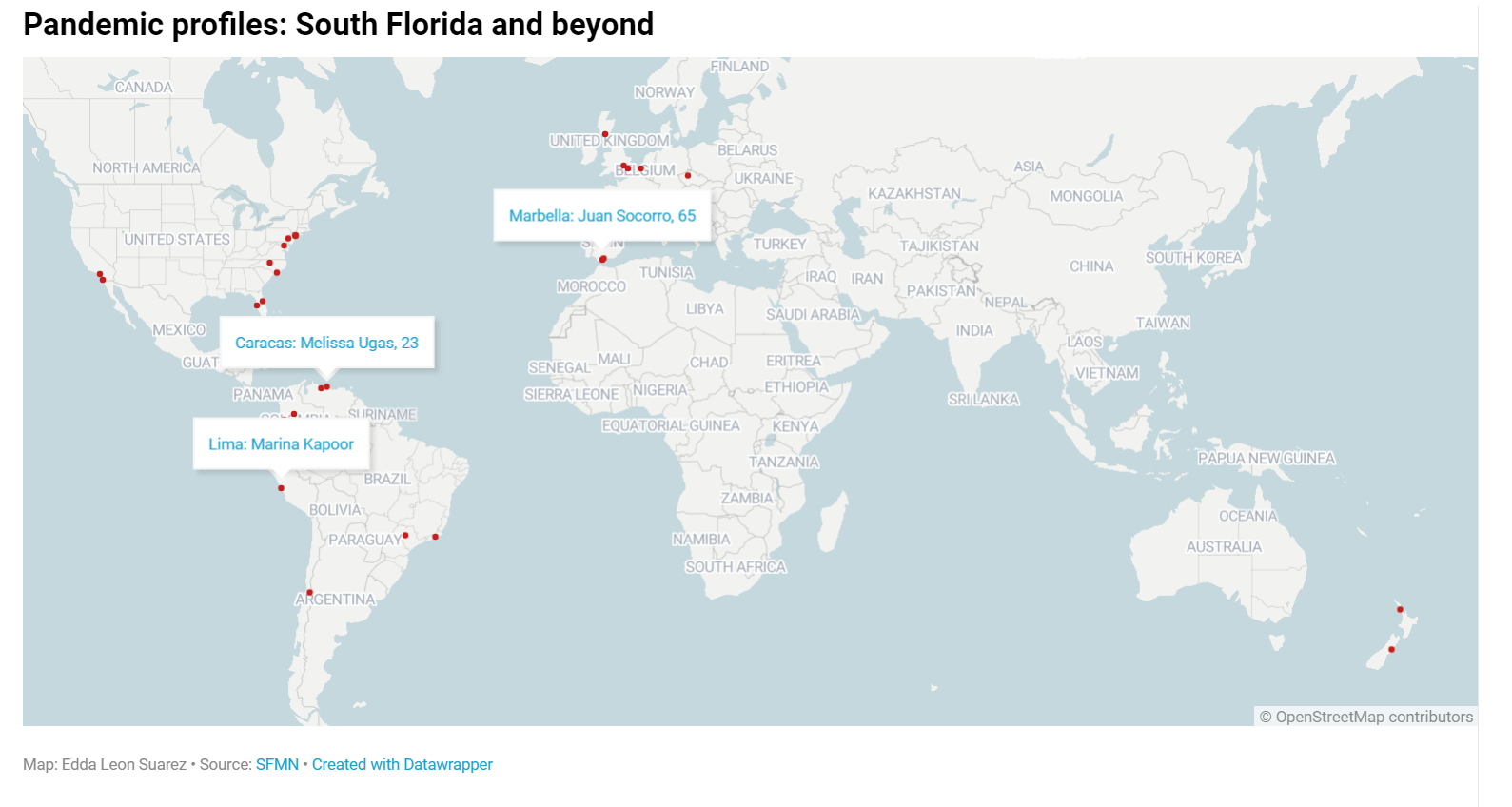 "Faculty are teaching students how to create content from a distance and how to do this work during the pandemic," says Brian Schriner, dean of the College of Communication, Architecture + the Arts (CARTA). He adds that this is one example of what CARTA has been doing for years: "We've made it a pillar of our program to constantly be in contact with the industry. Our curriculum is often in flux as we look at what the industry needs."
Just what students want and need
How do students view all these course changes?
"This is exactly what universities should be doing," says Ingrid Lopez, a junior who's majoring in biology and education. During the summer, Lopez completed a biology lab course that had her virtually examining how SARS and COVID-19 mutated as it spread.
Lopez says the lab's relevance during the current pandemic attracted her to the course. "It keeps students engaged and realizing that what we're learning has real-world applications… it encourages us to try to find a solution, to see if in our own efforts we can help."