Finding the future by going back to the beginning: How SOBEWFF® became the constant in one alumna's journey
One moment – one experience – can change our lives and open us to the future.
That's how alumna Andrea Moreno feels when she recalls working at the Food Network & Cooking Channel South Beach Wine & Food Festival presented by Capital One (SOBEWFF®) more than five years ago.
She first became acquainted with the Festival as a student in the Chaplin School of Hospitality & Tourism Management. She got up close and personal with it as an intern at Brustman Carrino Public Relations, working exclusively on marketing and media efforts for the Festival.
For two years, Moreno reprised her role in the internship. In 2016, after graduating with both her bachelor's and master's in hospitality and tourism management from FIU, she landed a full-time job at the company.
She recently earned a promotion, becoming an account executive. In her role, Moreno coordinates media relations, press releases, interview requests and other marketing campaigns and public relations tasks for high profile culinary and hospitality businesses.
She is proud to say that she is also the company's lead executive working on SOBEWFF® – the festival that helped her get her start and that keeps her connected to her alma mater.
"As a student, it was just magical to be part of the Festival," she recalls.
With Miami Beach's swaying palm trees, crystalline sand and rolling waves as the backdrop, the national five-day event showcases the talents of the world's most renowned wine and spirits producers, chefs and culinary personalities.
The Chaplin School started the Festival at the Biscayne Bay Campus and has been an integral part of the Festival's growth ever since. Now in its 19th year, the Festival features more than 110 events and brings in more than 65,000 attendees annually. Additionally, more than 1,200 FIU students help run its 3,200 plus shifts.
"The Festival started at FIU and is still so connected to it," Moreno says. "I'm homegrown from Miami and a first-generation Cuban-American. This Festival really represents our city. Its DNA is embedded in FIU and Miami. It's part of our identity."
Moreno says the Festival also holds a special place in her heart because it brought her studies to life, helping her see concepts discussed in class happening in real-time.
Getting to experience the Festival every year is still one of the most rewarding aspects of her job, Moreno says.
"An 'aha' moment really always comes to me during Festival week," she explains. "I'm on-site and I'm seeing students working alongside these world renown chefs and just seeing them get this experience. I see what an incredible opportunity this is for these students. It's like everything they're learning in the classroom is being applied in that moment. I see myself in them. It brings everything full circle for me. SOBEWFF® was meant to be in my life."
Moreno's time at FIU, she adds, set her up for success. Not only did she find the internship opportunity through a Chaplin School online portal, but she also got to learn from professors —like Associate Professor and Coca-Cola Endowed Professor Miranda Kitterlin, who inspired her.
"All of our students are amazing, but with some of them, you can just tell that as soon as they graduate, they are going to jump into great things," Kitterlin says. "Andrea was one of those students. She was incredibly engaging with everyone she interacted with. For many, it's hard to jump into a new situation with new people and be comfortable being involved in the conversation and reaching out to hear what others have to say. She always did that. I knew she was going places."
This year's Festival will take place on Feb. 19-23. Get tickets to the event today.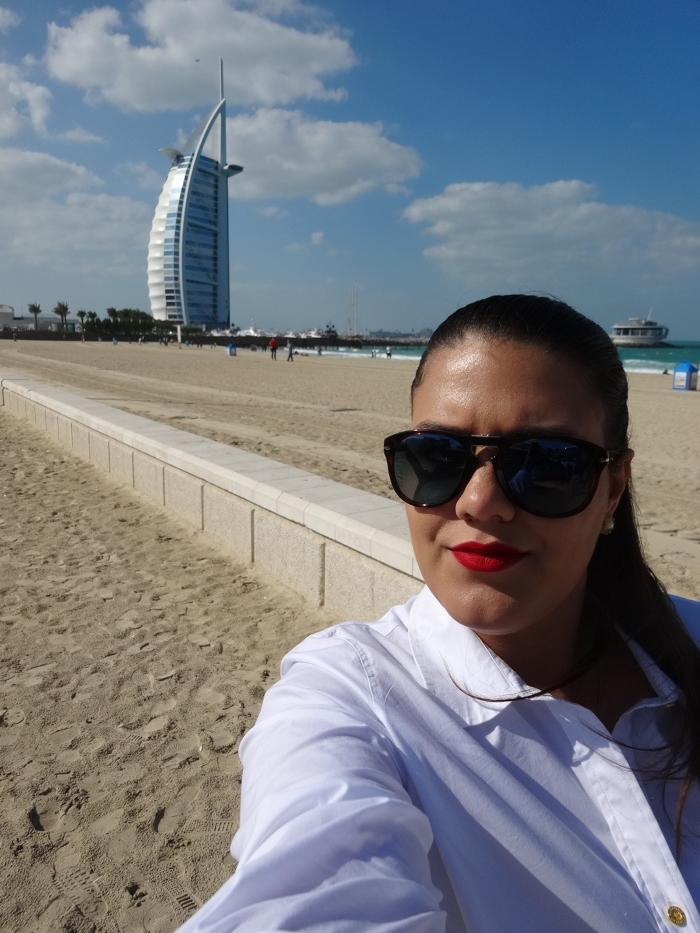 As a student, Moreno studied abroad in Dubai, learning about the hospitality industry in the city. Here she is near the Burj Al Arab building.