Having graduated with a degree in biochemistry and a minor in biology, Hugo Duenas '19 was applying to medical school when he realized something was missing.
"I had done my research, hours of shadowing  and checked every single box but I felt that I wasn't ready for medical school. I was looking for something that wasn't there yet," Duenas said. "I understood that there was something that I wanted to be before I became a physician – and that is a leader."
Duenas spoke with his undergraduate mentor, Kalai Mathee, professor at the Herbert Wertheim College of Medicine, who recommended the Master in Disaster Management at the Robert Stempel College of Public Health & Social Work, which teaches students the fundamental and practical skills needed when disasters strike.
From the first day of class, Duenas understood that this was a very different environment from where he had come from.
"I had just graduated with a science degree, which has a very competitive atmosphere. I had no idea what fieldwork looked like. Being in a class filled with firefighters, police officers and ex-military personnel was something completely new to me – and it felt completely different. This was the first time I felt a sense of camaraderie as soon as I walked into the room," Duenas said.
As part of the 11-month degree, students are encouraged to take part in a round-table interview process with a dozen leaders in emergency management who are looking for interns. Duenas took the opportunity to begin practicing what he was learning in class.
"He sat down for the interview and was very well-spoken, I knew that I could offer him an internship where I could help him on the disaster medicine side, give him leadership skills, and allow him to experience deployments. Several agencies were interested in Hugo and he ultimately picked me to be his supervisor," said Bridget Pelaez, assistant director for the Division of Operations and Safety, and adjunct faculty of the Academy for International Disaster Preparedness at Stempel College.
As Pelaez's intern, Duenas was encouraged to learn a multifaceted approach to emergency management. From calculating the burn rate of supplies to preparing supply trucks for deployment, Duenas has been given the opportunity to take a leadership role in the logistics of emergency management.
Duenas participated in his first deployment with Pelaez and the United States military at Patriot Sands, an exercise that prepares first responders to work with the military using quick response training in the event of a regional emergency or natural disaster.
"I don't think there is any other supervisor who'd be able to teach you CPR at 36,000 feet in a C-17 with a patient coding, but that is what it's like to work with Bridget," he said.
For Patriot Sands, Duenas had to load and unload a trailer that he packed himself.
"This responsibility gave him a sense of accomplishment. He also learned that there is some 'dirty work' involved, including cleaning out the warehouse, thanking the partners and ensuring they made it home okay, and wrapping up the deployment. Gratitude is an important part of leadership," explained Pelaez.
And then suddenly, COVID-19 struck the world. As Peleaz's intern, Duenas found himself at the center of FIU's efforts to help the community stay safe and overcome the pandemic. Duenas jumped at the opportunity to assist with donating ventilators on behalf of the FIU-Fast team to the State of Florida, on helping to run the face shield project and he has been proud to take charge at the testing site.
"As a student, I have had the chance to learn what it means to run a team. The way the face shield program is being run; I was able to not only create the shields but deliver them. I learned the importance of batch numbers, accountability of personnel, and everything it takes to lead a project like this during an emergency," Duenas said. "The testing site allows me to experience being a logistics chief alongside a hard wording team that I am grateful to be a part of every day."
While preparing to graduate and studying for his MCAT in a trailer at the testing site, Duenas' experience as a master's student has forfeited his desire to become a physician with the confidence that he can be a leader with a seat at the leadership table.
"I always tell students, do not wait until after graduation to be a leader. There are opportunities every day to step-up and lead," Pelaez said. "Hugo has stepped outside of his comfort zone and learned to respect all different clinical levels, understand the incident command system, and the function of supply and demand in an emergency– it is a blessing to help a future physician understand that there are so many people who pull a hospital together in a time of crisis. These are the skills that will ensure he is a leader throughout his life."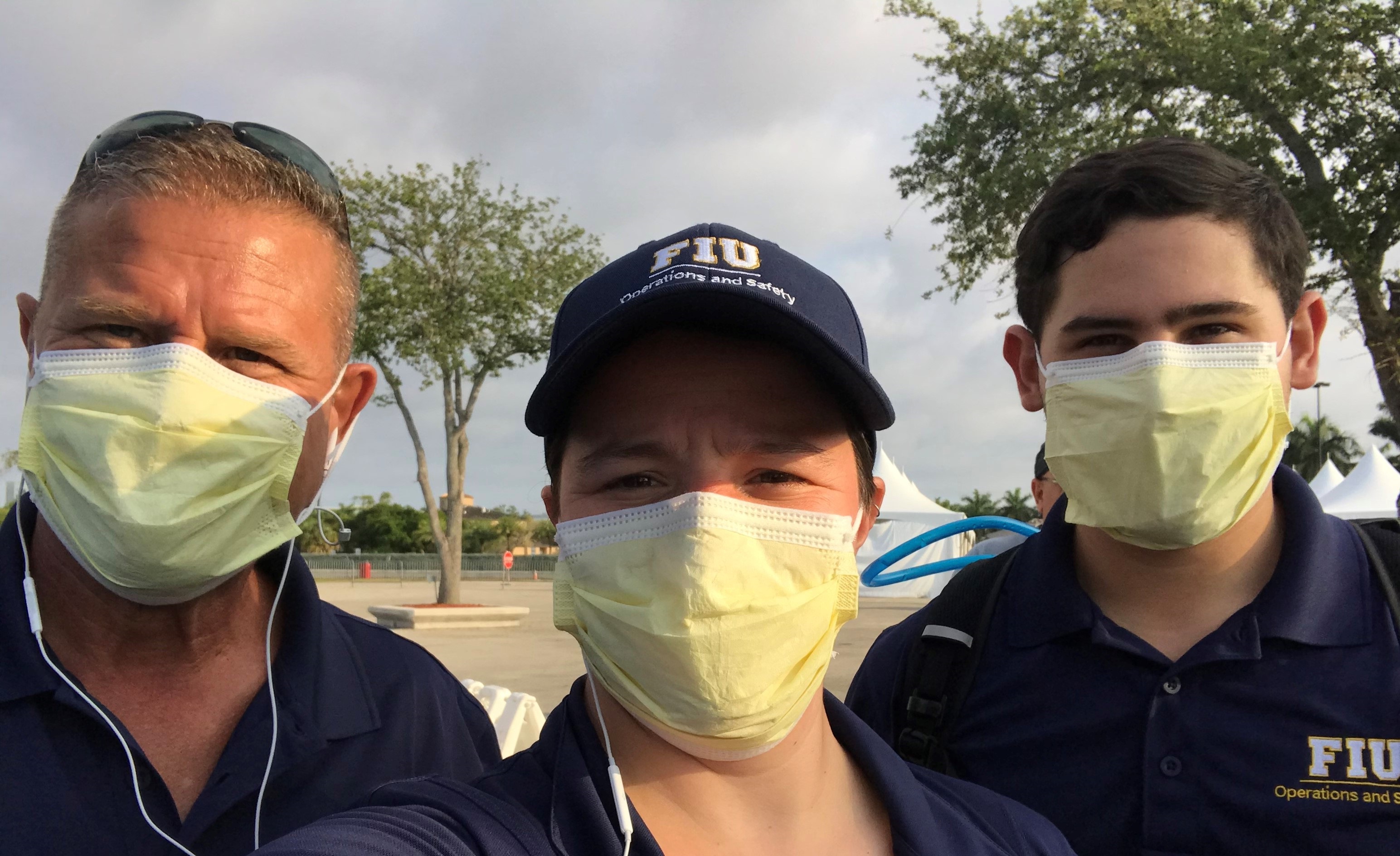 Pete Gomez, Bridget Pelaez and Hugo Duenas at the FIU COVID-19 Testing Site.