'Pack your bags, you're leaving tomorrow'
Army reservist continues studies on front lines of COVID-19
At 19, Dylan Hinton was in the middle of the spring semester of his freshman year at FIU when he got the call.
"Hinton, pack your bags. You're leaving tomorrow."
The biology major had enlisted as an Army reservist with the hopes of serving his country while getting a college degree. He never factored a global pandemic into his plans. That changed with the call from his commanding officer.
He was still adjusting to attending FIU from home, since the university shifted to remote classes just three weeks earlier. Now, he only had 24 hours to adjust again.
The following day, he hugged his parents and twin brother goodbye, not knowing how long he would be gone. He didn't even know where he was going.
First, he was flown to Kentucky. Upon arrival, he was reassigned to the epicenter of the pandemic — New York City. He eventually wound up in New Jersey where he worked 12-hour shifts as a medic in a field hospital.
"I didn't imagine facing a pandemic so young in my career," Hinton said. "At first, I didn't believe this was happening. Once we arrived in New Jersey, it was a humbling moment and I realized I had the ability to save a life or change a life."
Between shifts, he continued his classwork. Like for many others, the pandemic changed Hinton's perspective, and his priorities became even more clear to him. He had a duty to serve his country and a responsibility to continue his education.
The switch from fighting for the lives of civilians and finishing the spring semester was challenging, but just another experience Hinton says will help prepare him for a career as a doctor.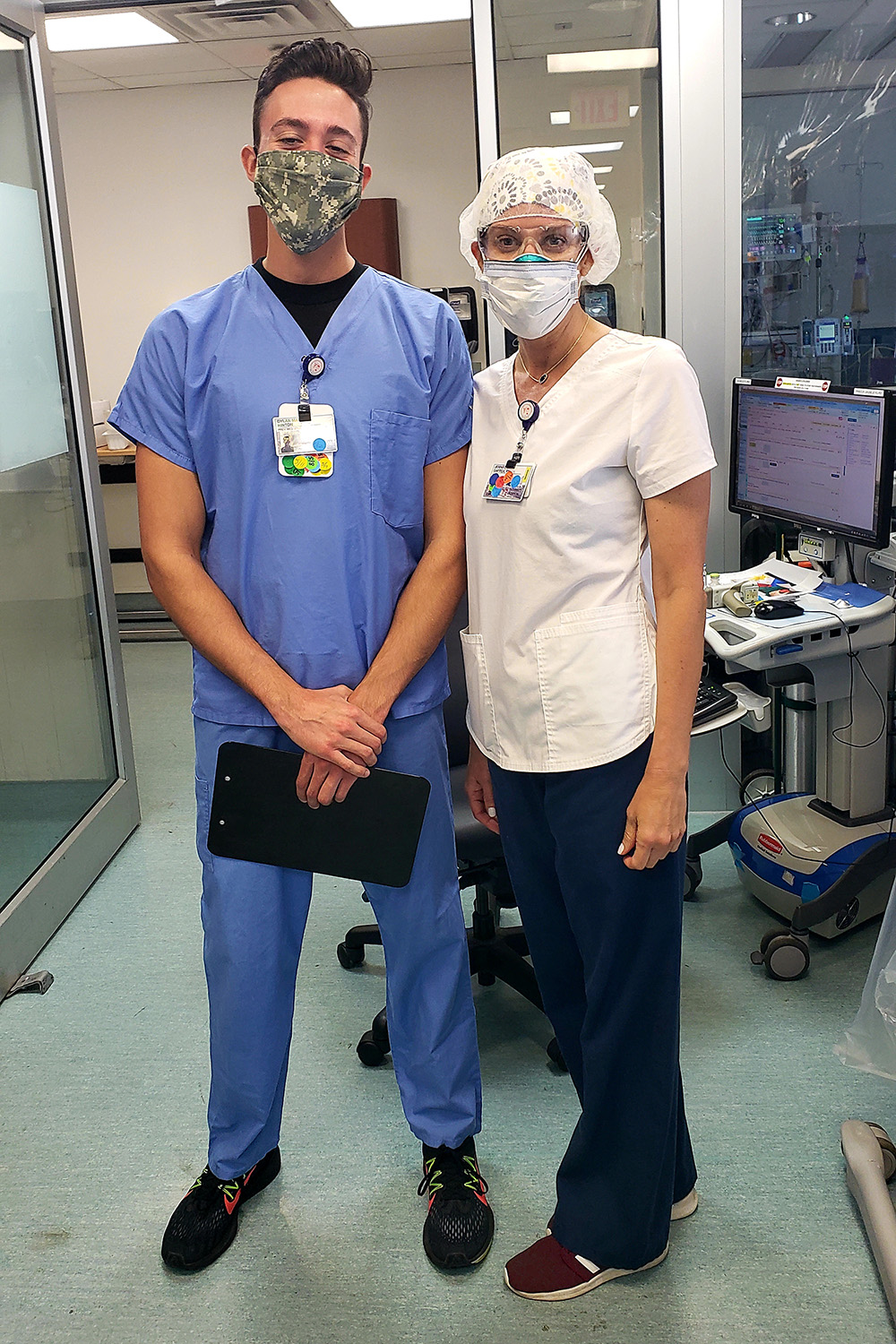 In May, he finished the spring semester remotely like all other FIU students — only from the frontlines instead of home. It was not the first time he's had to balance school and service.
In high school, he joined the Junior ROTC at 16. He says his sergeant major helped him realize he wanted to help people and be in the medical field. The ROTC was a way to do both when he was younger. And now, attending FIU and serving in the Army Reserve, he is still helping and working toward his goals.
Hinton is still stationed in the northeast helping with the pandemic response. He says it's important that people stay positive and spend time with family in the toughest moments — something he can't do while stationed away from home. He plans to continue his studies at FIU remotely in the fall.
"This is to benefit everyone's safety and health," Hinton said. "It may seem like there is no end, but we have to stay positive."


Angela Nicoletti contributed to this story.