During the pandemic, music soothes the soul
How music is bringing people together and spreading hope
---
Federico Bonacossa grew up in Sardinia – an Italian island.
When he found out about the devastation the coronavirus was causing on his beloved hometown, he felt powerless. With his elderly parents and most of his family there, he wished he could be with them. But as the situation grew worse, it was clear he couldn't go back.
"I was hearing from my parents that they were locking things down," he says. "I was talking to my parents on a daily basis. They're older. This is hard [for them]. And I can't be there with them. It was starting to get to me."
Bonacossa, who teaches music history and theory at FIU, did the one thing he could.
He took to his guitar and performed a song that speaks to the hearts of the Sardinian people. Titled "No potho reposare" (I cannot rest), this popular Sardinian song about love and longing was one Bonacossa thought he had long forgotten – one he had not played in 20 years.
"The tune just came to me," he says. "I'm not very good with words, but I felt like I had to say something to my parents and those at home. I had to record this song."
He posted his guitar rendition of the tune on Facebook, with this heartfelt comment: "Dedicated to my fellow Sardinians, who at the moment are going through a very challenging time. I hope this beautiful song can uplift your spirits, if just for a minute."
The overwhelmingly positive feedback and appreciation poured in through social media.
"So many people, even people I haven't spoken to in 25 years, reached out to me," Bonacossa says. "It's such a simple thing, but it moved so many people. It was very touching for me. Music is powerful. In the evenings, people in Italy are opening their windows and starting to sing and bang on stuff to show they are alive. I couldn't be there to bang on stuff, but I had to do it here."
The power of music
Bonacossa has joined a growing list of people – from professional musicians and singers to aspiring artists and average folks – who have begun posting their performances on social media.
Why? How does music bring people together, even during the coronavirus?
"Music has a way of making us feel more connected to others," says Karen Fuller, interim director of the School of Music. "Many studies show that music helps neurologically, that's where we get music therapy. Music is a universal language that doesn't need words to have you express emotion, to validate what you're feeling."
Fuller adds, "Right now, we're all connected in a strange, nervous kind of way."
To reduce stress and anxiety, Fuller says we need to feel more grounded, more rooted in something or a sense of place.
"That's what music does," she explains. "That sound, that instrument, connects you to something and makes you feel grounded. It makes you 'feel'— even if it's just for a moment, but that moment really has a healing power, a mental and emotional kind of healing power. You might come back to reality after, but you are able to face that reality differently."
Music is intensely personal. That's part of its healing ability, says Vindhya Khare, a vocal studies instructor and the program's coordinator at FIU.
"Music is so much a part of our lives," she says. "We all have music that speaks to us, individual playlists that aren't the same as anyone else's. We curate our lists. These are songs that speak to our lives. These songs become a soundtrack to our lives."
Inspiring with music
When Hurricane Irma hit in 2017, hundreds of evacuees from the Florida Keys took shelter at the FIU Ocean Bank Convocation Center. After the storm – and while evacuees were still struggling to come to terms with lost homes and lost lives – students and faculty in the School of Music came out to perform for them and members of the South Florida community. The goal: To uplift their spirits.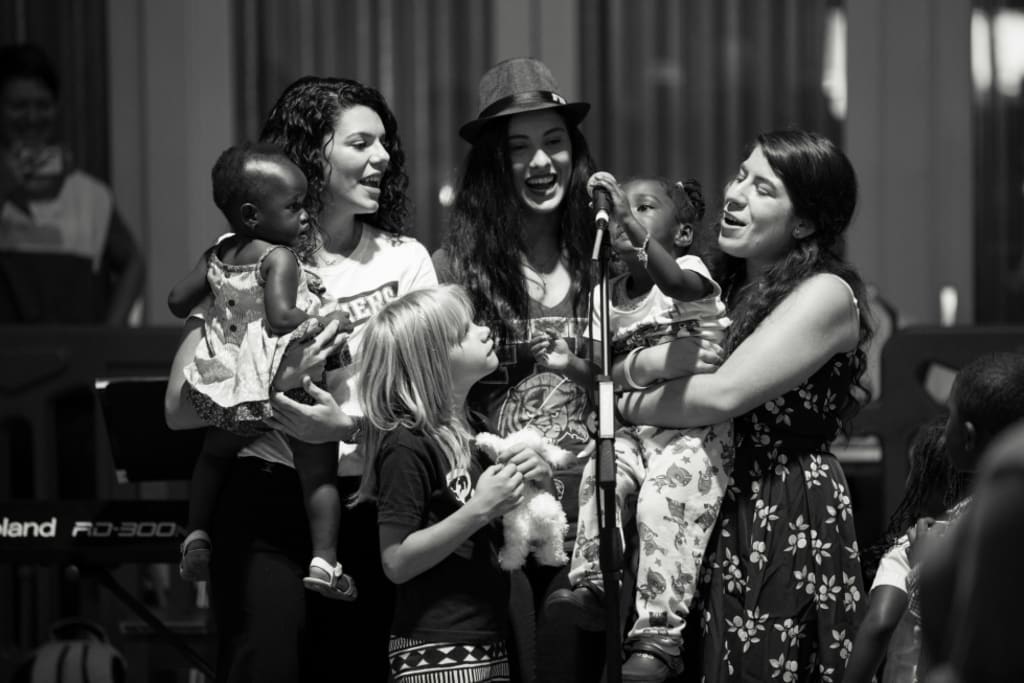 Khare organized several of these performances, and she still remembers how special they were. To help bring joy to children evacuees, the group performed numerous Disney songs.
"As soon as one of our singers broke into 'Let it go' from Frozen, all of the children, children we didn't even see were in that arena, just rushed up and came forward," Khare recalls. "[The song] was something familiar that comforted them. They wanted something that they loved in times when they were afraid."
The school is planning to make music for us during these times, too.
Fuller says the School of Music plans to share as many individual performances as possible throughout this time on Facebook.
"When there is a community in need, music is there," Fuller says. "We are there. And we love it. We're going to put out bits and pieces of concerts and student and faculty performances in order to keep the music going."
Whether you're a musician, singer or an amateur performer, this is the time to share your talent and connect with others through music. Record your performances, post them on social media and tag @FIUMusic and @floridainternational. Help us as we make music for our community during these challenging times.