Public and private sector consider next steps on coronavirus policy
---
Last Friday, FIU in Washington, D.C. hosted the second session of a webinar series focused on the national response to the coronavirus pandemic. More than 100 students, alumni and university partners have participated in the series to date.
More than 50 public and private sector participants engaged in an hour-long discussion last week focused on how health policy is being shaped by the pandemic, from the perspective of the public and private sectors. 
Panelists included Will Brady, chief of staff to Deputy Secretary of the U.S. Department of Health and Human Services; Kunal Rambhia, biotechnologist at The MITRE Corporation; and Mary Jo Trepka, chair of epidemiology at FIU's Stempel College Public Health & Social Work. The discussion was moderated by Dr. Yolangel Hernandez-Suarez, vice provost for population health and well-being. 
Telehealth 
Telehealth—the ability for individuals to seek medical care remotely—has been emerging as a field for several years. Participants received a high-level analysis of current public policy from Brady at HHS, who discussed how the agency has made adjustments to medical billing and telehealth policies in response to the needs created by the current situation. 
"I am a huge proponent for telehealth, and as we can see now this is the silver lining: the advancement of telehealth. We may even increase our telehealth experience by five years by the end of this pandemic," said Brady. 
Nonpharmaceutical interventions and data 
By now, most are familiar with the concept of social distancing and face masks usage. In the public policy perspective, these actions are known as nonpharmaceutical interventions, or NPIs. 
Knowing that various localities have developed their own NPI policies, The MITRE Corporation, an FIU strategic partner based in the D.C. area, launched the NPI Dashboard, a public data resource on state-by-state NPI implementation. This is part of MITRE's broader COVID-19 health care coalition, consisting of more than 800 private sector health care and technology companies. 
"MITRE remains focused around a couple key subjects: keeping people healthy and taking care of the sick, and the use of data analytically to communicate to the public/decision makers, such as the use of data sets to support evidence-based policy," said Rahmbia. 
Mary Jo Trepka of the Stempel College also reviewed the role human behavior plays in the mitigating the impact of the coronavirus. She emphasized the positive impact that a unified plan nationwide would have on lowering incidences and helping health care officials who are on the front lines. 
Active alumni network tackling policy challenges 
Both sessions of FIU in DC's coronavirus webinar series are a testament to the university's network of alumni and partners in the capital. Two other HHS representatives on the call, Aman Dickel and Nicolas Otalora, are FIU alumni and assisted in making the participation of HHS on this panel possible. 
In fact, Otalora's current role at the agency resulted from a successful internship there, when he was a member of FIU's Fall 2019 Talent Lab cohort, funded by the university's Make a Difference-D.C. Scholarship Fund. Dickel and Otalora consistently engage with FIU faculty and students during Fly-In Seminars and research advocacy meetings.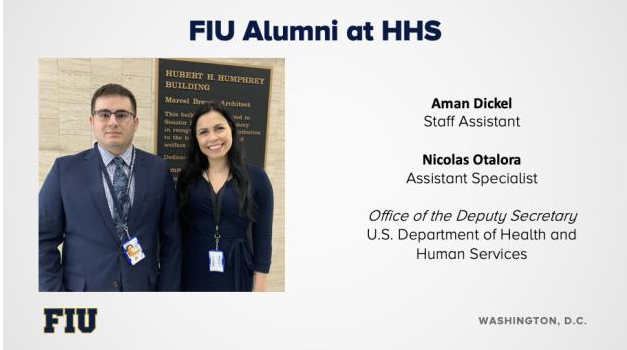 COVID-19 series
The first installment of this series analyzed the $2 trillion Coronavirus Aid, Relief, and Economic Security (CARES) Act and featured speakers from the U.S. Senate Committee on Small Business and Entrepreneurship, chaired by FIU champion and lecturer Senator Marco Rubio. Brookings Institution representatives also participated including FIU in DC Global Fly-In Seminar alumna Ashley Ruttenberg.

The series is a feature of The Talent Lab, who will also host a three-day Virtual Fly-In Seminar later this week, in which 40 students will participate in online meetings with leaders in diplomacy, corporate advocacy, think tank communications and international development.
For the full broadcast of both programs, visit FIU in DC's YouTube page, follow FIU in DC on Facebook, Twitter and Instagram.
---
FIU in Washington, D.C., is an integrated advocacy approach aimed at increasing FIU's national reputation and federal support for FIU's preeminent and emerging preeminent programs, faculty and students. The FIU in DC team collaborates with academic units to provide learning experiences and support the placement of students and alumni in internships and permanent employment.