Students awarded selective Millennium Fellowships by United Nations initiative
A group of FIU students is working to solve global issues while honing their skills as leaders
Making an impact at a global level is a lofty goal. But for one group of students, this isn't just a dream. It's their homework – and their activity of choice.
Twenty-four FIU students – many of which are enrolled in the Global Learning Medallion program – were selected to receive Millennium Fellowships as they work to develop and implement projects to make a positive impact on their communities. 
Run by the Millennium Campus Network and the United Nations Academic Impact, the fellowships allow undergraduate leaders around the world to receive training, gain connections and earn credentials as they work to advance the 17 United Nations Sustainable Development Goals.
The students were selected from more than 15,000 applicants on more than 1,000 campuses across the globe. FIU is one of only 80 campuses around the world hosting Millennium Fellows this year, and this is the second year that FIU receives the distinction.
"As an institution committed to global citizenship, having our students receive the fellowships two years in a row is incredibly rewarding," says Yenisleidy Simon Mengana, FIU's Global Learning program manager, who recruits and works with the university's fellows. "Honestly, it is a testament to our students' ability to enact positive change in their communities and beyond."
Making an impact
FIU's fellows are currently organizing projects that address a wide range of topics including global health; sex and gender violence; race issues; food insecurity; migrant workers' rights amidst the pandemic; and environmental sustainability. The projects take different shapes, from virtual events and fundraisers to websites that empower, inform and connect communities. Projects are both local and global in scale. 
For example, Estela Rodriguez, a political science and international relations major, is working hard to help rural communities in her native Honduras. After the pandemic hit, Rodriguez returned to her home country and, along with a group of friends, launched a fundraising initiative to provide food for the rural communities most impacted by the pandemic. The team is currently delivering food baskets in the areas. Rodriguez continues to work on this project during her fellowship.
"I am excited to be part of the Millennium Fellowship because this is a great opportunity to improve and make my project reach more families in Honduras," she says. "Covid-19 has had a massive impact in the economy of families who live in rural areas of the country, my goal is to help them by providing them with food and daily necessities."
Another student is encouraging responsible consumption and raising awareness about sustainability through a social entrepreneurial venture, College Thrifts, which allows people to sell gently used college apparel to enthusiastic individuals wishing to rep their institutions of higher education without breaking the bank. 
Through virtual events, Melanie Rodriguez is working on a project that aims to engage members of the FIU community (and eventually the greater Miami community) in conversations about social issues through the arts.
"The arts carry a lot of meaning," says Rodriguez, who is majoring in English and exceptional student education. "Social justice issues affect us daily."
People might not be willing to absorb hours of news or explore academic events, she says, but they are willing to tune into a film. And that's where social activism – often called "artivism" – can happen.
As part of her project, Rodriguez and a fellow FIU student organized a Black education series that featured several virtual activities including film screenings; a workshop on the importance of advocacy and voting; and an open mic night where Panthers could express themselves through any art form. The team continues working on this project and Rodriguez hopes that one day it will become a community organization to help connect children with the arts. 
Learning to lead
Rodriguez, who also participated in the fellowship last year, says the experience was instrumental in helping her break out of her shell. Today, she has been selected as one of two FIU fellowship student leaders who provides support and mentorship to other fellows.
"I used to have a really hard time asking for help," she says. "The fellowship broke that for me. In order to complete the project, I had to step out of my comfort zone, talk to different departments, give an elevator pitch and ask them to partner with me. Because the fellowship gave me that skill, I wanted to go through it again and help other students. It's a great leadership development experience."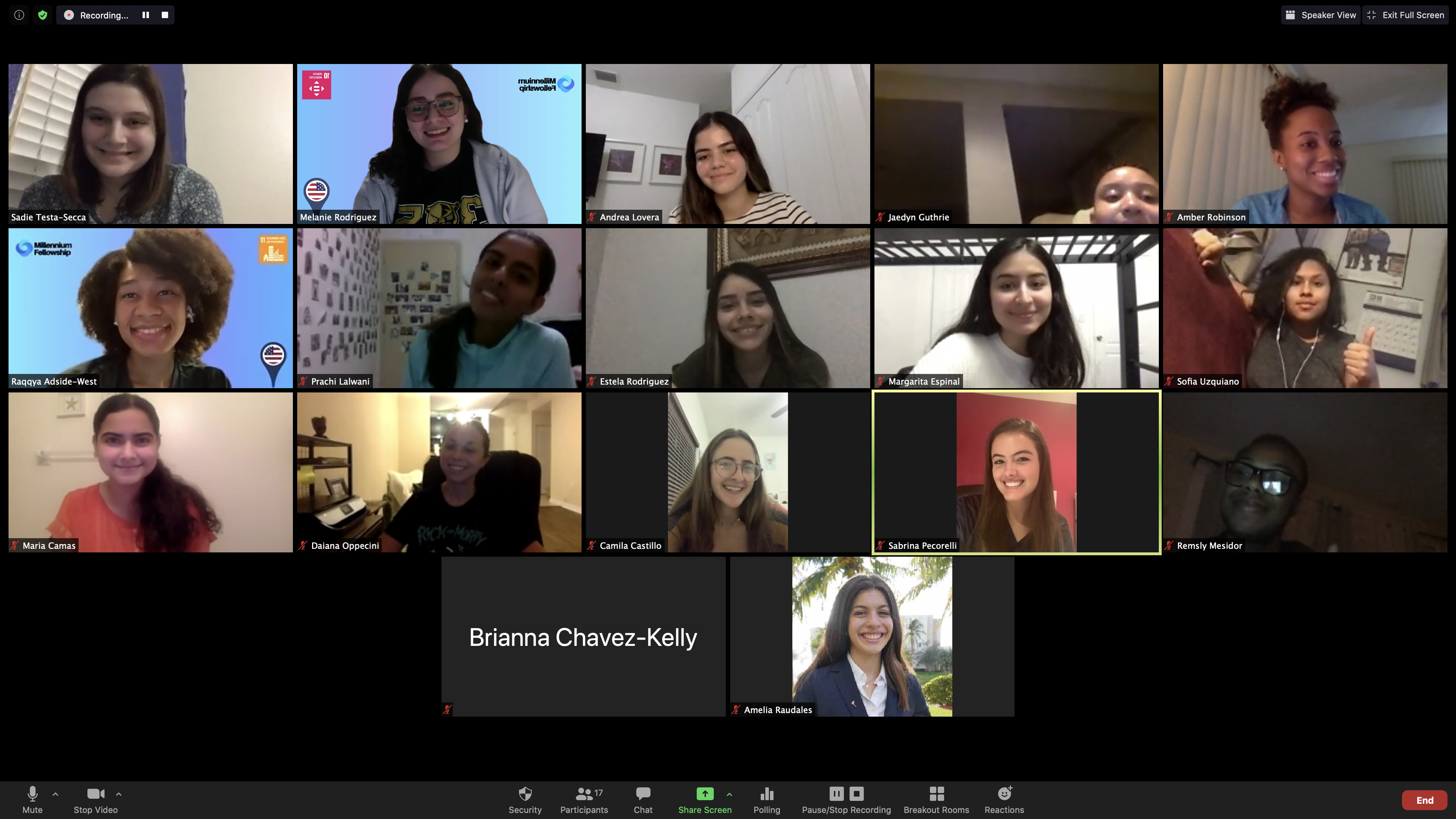 "A distinctive feature of this fellowship," adds Simon Mengana, "is that it is based on a collaborative leadership model that places students' voices at the heart of the changemaking process while encouraging them to solve the world's most pressing challenges."
The Millennium Fellowship team provides a curriculum, discussion topics, learning objectives and training materials; FIU's Office of Global Learning provides support; and FIU fellows take it from there. The two designated student leaders facilitate the group's meetings (happening virtually now) and the fellows work together through concepts, ideas and their projects.   
Fellows also participate in webinars with social impact leaders and other international movers and shakers including global business executives, diplomats and journalists from national and international organizations.
Gaining a global network is usually another one of the perks of the fellowship. Fellows attend a virtual town hall where they can interact with peers from around the world, and they are encouraged to reach out to each other, collaborate on projects and learn about their work.
This year, the students can do even more. Fellows from campuses all over the world are sharing their upcoming virtual events – and attending each other's events. Just one example: one of the FIU fellows recently hosted a virtual event that was attended by a fellow in Mexico.
Simply put, Simon Mengana says: "It is global learning at its best!" 
---
The application for the 2021 Millennium Fellows cohort is now open. If you are interested, check out the application form or if you have more questions, reach out to Yenisleidy Simon Mengana at ysimonme@fiu.edu.