Students connect virtually with peers around the globe, conduct international research projects
March 16, 2020 at 10:15am
---
Virtual education is the way of the future. And right now, it's the way of the present.
As the coronavirus pandemic spreads across the country, people are eager to remain connected – from a distance.
FIU's Global Learning is ahead of the curve. For three years, the program has been working with professors across the university to connect students at FIU with students all over the world through online tools, using a method called Collaborative Online International Learning (COIL).
Also known as "virtual exchange," this learning experience is pushing the boundaries of international collaboration. Students right here at FIU conduct research with peers around the globe as they explore complex issues and work together to find solutions.
Students taking courses with a COIL component "meet" with international students taking similar courses. They talk via Skype or film videos of themselves and send them to each other. Or they communicate through free apps like WhatsApp and Google Docs. Sometimes they use all of these and other similar tools.  
Together, the students engage in discussions and exchange information about their respective cultures and perspectives, while producing projects that address global concerns. 
Just two examples: FIU students have partnered with students in Brazil to produce advocacy campaigns raising awareness about gender-based violence in video game design and culture. And students learning Italian at FIU paired up with students at an Italian university to learn about the chocolate making industry and to create collaborative video projects, many of which were displayed at the 2019 Eurochocolate Festival in Perugia.
Global Learning Director Stephanie Doscher, who heads FIU's COIL initiative, says this experience is crucial for developing citizens ready to collaborate with colleagues from around the world.   
"Now more than ever, we want to imbue our students with an understanding of the interconnections between local and global phenomena," Doscher says. "COIL builds into the learning experience precisely that type of connection making. It enables faculty and students to enter a space that is designed specifically to transform perspectives and to break people out of their bubbles and their regularized, habitual ways of seeing the world. Increasingly, we have to use digital tools to communicate with people, and they need to feel comfortable using technology to shape the world together."
She says to understand how COIL works, just think about the ancient Indian story of the elephant and the blind people. Each person tries to describe what an elephant is by touching it. They each touch a different part of the elephant; they each have a different (and only partially correct) understanding of what the elephant is. It's by talking to each other that they can understand the entire elephant. 
The students in COIL do the same.
"They are taking bits and pieces of their perspectives and understandings and putting them together so they have a more holistic and accurate grasp of complex problems," she says. "It's by connecting those pieces that they understand the big picture."
Ligia Collado-Vides, who teaches an FIU course on marine protected areas that involves COIL, agrees. She says the students often struggle communicating with each other at first. There may be language barriers or differing cultural customs. But, she says, they learn to understand each other, to communicate effectively. The best part?
"When they realize they have different cultures, but the nature around them is the same," she says. "It's empowering."
In her course, FIU students are collaborating with students in Mexico to find possible solutions to conserve protected bodies of water around the world, such as the Florida Keys National Marine Sanctuary and the Cozumel area in the Yucatan.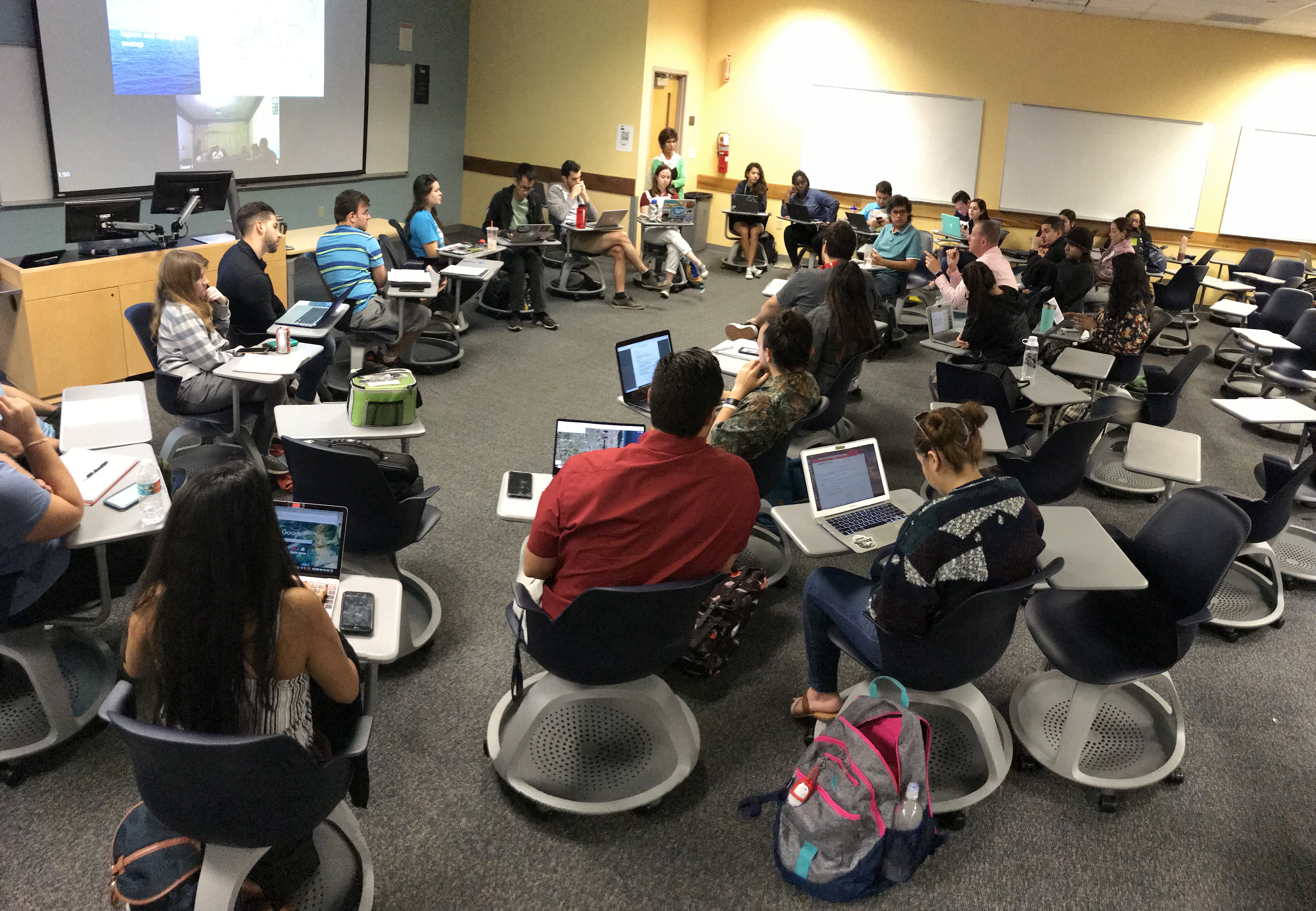 "They have to work together and analyze how problems may be similar or solutions different in these areas," Collado-Vides says. "I think that having them exposed to a class in which real problems can be solved by them is also empowering."
International relations major Prachi Lalwani, who is currently taking a diplomacy lab course with a COIL component, says she's getting real-world experience in her future field by collaborating with others around the globe. Currently, she is conducting a comparative analysis of the Zika outbreak in 2015 along with students from across Latin America.
"I'm happy to work on this project," she says. "It's giving me the ability to develop skills for my future. I want to be a diplomat. I need to understand culture, need to understand how to communicate with others, and this is what we're working on right now. I feel like with COIL, you're out of your comfort zone, you're doing something bigger than yourself. That's why we are here. To change lives and work together."