The art of serenity: landscape paintings to calm our souls
FIU alumni and faculty artists share their work to celebrate the peace and joy that art can bring during the age of coronavirus
---
Spending time in nature reduces stress. A number of scientific studies have found it can help lower cortisol and blood pressure levels, and even alleviate depression and anxiety.
While few of us these days are venturing out of our homes, much less visiting the Everglades or other nature preserves, there is still a way of bringing the peace of nature into our homes. It's called landsape art.  
"Human beings are naturally drawn to vastness in scenery," explains renowned artist and Chair of the Department of Art + Art History David Chang. "Landscape throughout history has served rich and poor, it's given that quality of nature brought home. The vastness is the ever-infinite sky, it's the depth of field, it gives human beings this calming quality. Artist or not, rich or poor, we all have that response. I've met very few people who would open the window on a beachfront hotel or house without saying, 'Wow.'" 
To celebrate the peace and joy that art can bring during the age of coronavirus, Chang and alumni trained in his Academy of Portrait and Figurative Art (alumni who are all local art educators themselves), have shared their art with FIU Magazine in the hopes of inspiring our readers to pick up their paint brushes and engage in art, or to simply look at these paintings and let the landscape call us into its story.
Take a deep breath, curl up on your favorite spot, and enjoy the beauty of art. 
Quiet spaces are precious, says Victoria Albert '16, M.A. '19. 
That's why she decided to paint this serene scene from Wakulla Springs, a habitat in Florida. Albert first saw the scene in a photo her brother took of the spot. 
"It spoke to me," she recalls. "I'm a homebody. I'm drawn to quiet spaces. It's such a big space, but personally, I felt it was very small and quiet. There was something in the gesture of the weeds, the water. It has a certain kind of expanse and flow. The water is large, but it draws you in close."
 
In fact, she didn't just want to paint the scene. She wanted to feel it through painting. With landscapes, she explains, artists re-create a scene, but they can also make it their own in a very personal way, changing the sunlight or the direction of the wind or the movement of the water. That, she says, is the fun of it. 
"You paint, you feel it and you get into it," she explains. "It was just so gratifying in the end. I hope it evokes a sense of interest in people. It's something that you look at for a while and keep seeing new things to it, something new in each experience. It all works in harmony. All the elements are balanced. It's a thing for your eye to travel through."
For Valerie Ramos '15, M.A. '19 art isn't just her passion. It's a profoundly moving spiritual experience.
Inspired by her faith, she recently created a series of paintings bringing to life the creation account recorded in the Bible.
"My faith is part of my life," Ramos says. "With this series, I wanted to capture God's presence in my life. God is the original artist of the universe. We encounter Him in creation every single day. I see His heart and His hand in everything around us: the sunrise, the plants, the people we see every day, the beauty that surrounds us, that is what I'm trying to capture. It's a way for me to bring God glory with my gift and my talent."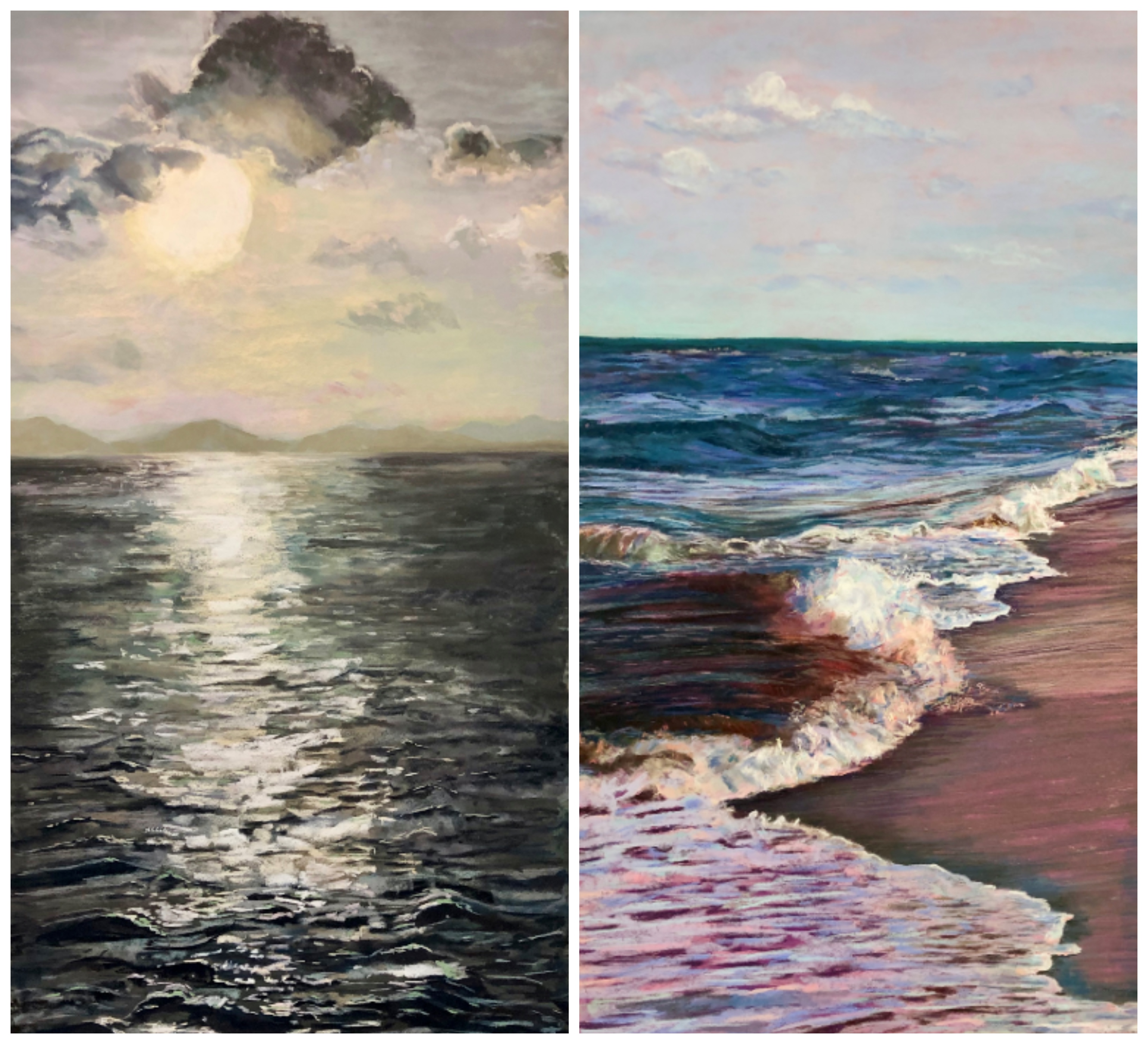 Ramos says these moments of presence with God happen everywhere – whether it be while she's catching a sunrise during a morning run or while watching the ocean waves on a pier at Virgin Gorda. The most suitable response to express the splendor, the peace – and the awe of the moment? To grab her pastels and her paper, and create something.
She hopes when people look at her paintings, it will strengthen their faith and give them a message of hope. "The world is beautiful. God is good, and we can put our trust in Him."
Like many students who trek to Italy or France during one of Chang's study abroad courses, Lucia Morales '09, M.A. '15 fell in love with Italy.
"It's one of the best trips I've had in my life," Morales says. "We travelled all throughout Italy. And you're enamored with the sights and the food and the people. One afternoon, we walked up to a village. We're on the side of a mountain, and we set up little easels. We had two hours or so, and we sketched [the scene] out and painted it."
Her "Siena Landscape" painting was born. Morales says this type of on-site, in the moment painting – called plein air – has a lesson to teach us.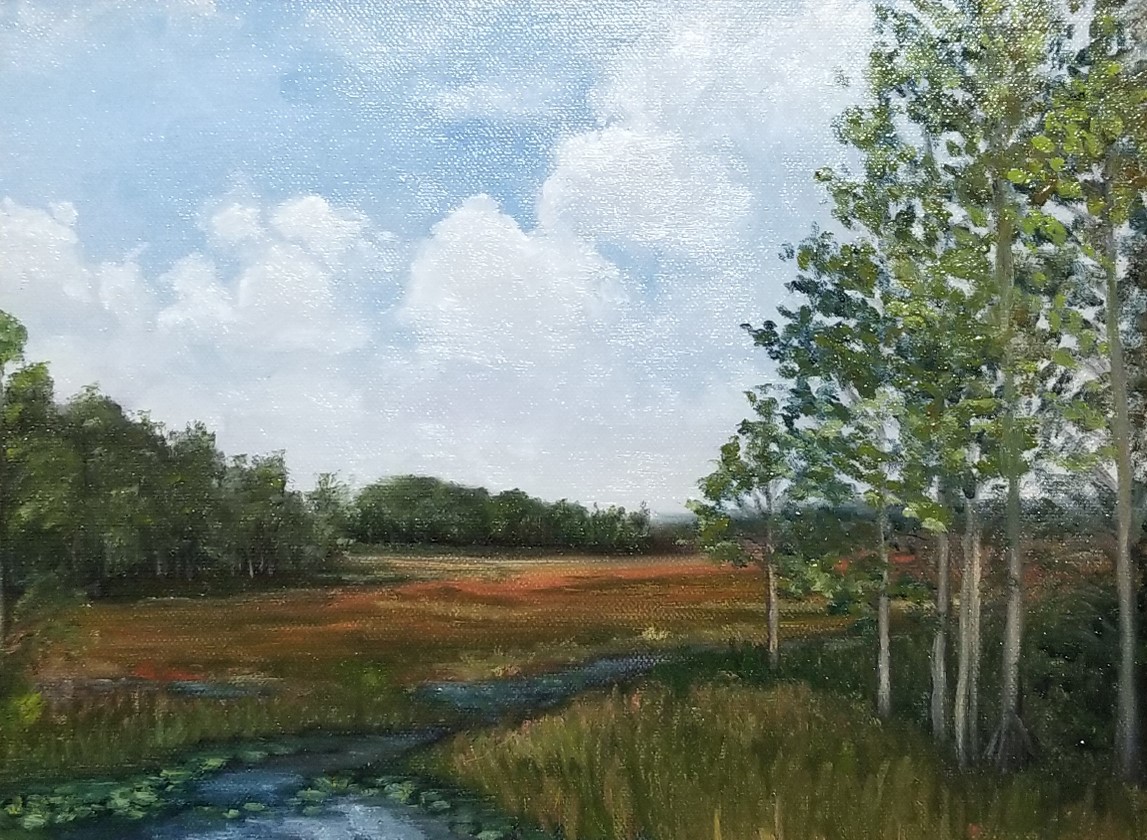 "When doing plein air, the sun is going, clouds are moving, animals are flying around," she says. "This type of art is important to me personally. It's not just about the end result. It's the process of observing, the brush strokes, pouring the paint on the canvas, mixing the colors. It's kind of meditative. I definitely enjoy it. We realize we have to be more flexible, roll with the punches, keep going and try to enjoy what we can."
Morales says when people look at her works, she hopes they see more than the trees and the sky. "I hope they think about how they experience nature and what they see."
Cauley Square is a special place for alumnus and art education adjunct professor Gerald Obregon M.A. '98. When he walks through the historic railroad town, he feels like he's walking back in time.
It's a place of tranquility and history, beauty and life. It also happens to be where Obregon and his wife got married. His painting of the square's Village Florist means a lot more than meets the eye.
"When we were getting married, that [Village Florist] was where my wife and mother-in-law were putting together the table decorations. They were using plants, assembling them there."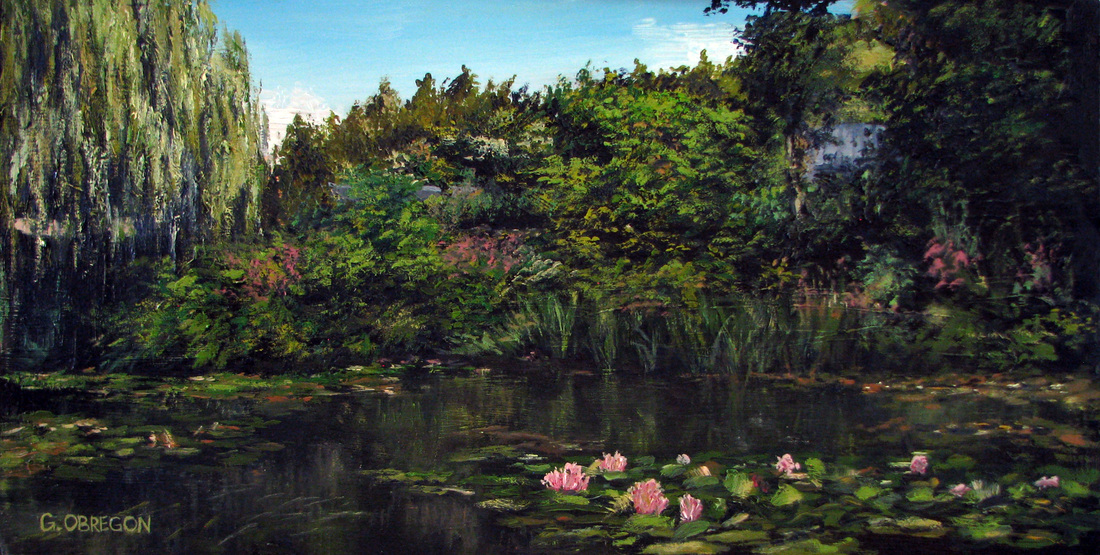 Obregon took to his canvas to capture the magic of Cauley Square, the dappled light sparkling through the trees in front of the floral shop – and the story behind the place, dear to his heart.
The painting is now in his mother-in-law's proud possession, and continues to bring back beautiful memories for the couple – memories they are happy to pass along to their daughter.
Obregon hopes his paintings soothe people's anxieties during this time with an important message: "There's still beauty in this world," he says, "and it'll still be there once all of this is over."
Chang's painting above celebrates the beauty of one of his favorite places: the Vizcaya Museum and Gardens.
"Vizcaya carries a sheer beautiful aesthetic quality unique to the South Florida subtropical weather, [with a feel] almost of the classical gardens of Europe," says Chang, who trained all the artists featured above. "I like this scene because it has these columns leading away into a glowing back garden. It has water, a small fountain. The ripples, they give this peaceful sense. It's almost like you're walking into a garden, where somebody is playing the piano and each drop of water is a note of music."
Chang sees a story in this painting. The wild flowers near the fountain pop up like dancing children. The columns are like guards watching the entrance that leads to an intriguing place. And where is that place? That's the mystery of the painting, the mystery Chang wanted to depict.
"I stood there for a long time and sketched," he recalls. "I was thinking I could paint the water alone, but those stairs and that dark entrance with a hint of light is intriguing. This leads you into some kind of infinite nature. You can walk up the stairs probably in the back and go in, and there may be another garden there. The mystery is in the depth of the painting – viewers will have that mystery of desire to discover. That's what I felt while I was painting."