UP Labs: Connecting the community with careers
JPMorgan Chase has funded a program that trains the unemployed and underemployed to take skilled jobs in the health care field.
Yessica Orellana was searching for a second chance at a fulfilling career.
She'd left college in 2013 without earning an associate's degree and was starting to worry she might not get another chance to unlock her potential as a professional – until she heard about FIU's Urban Potential (UP) Labs.
The unique, 14-week professional development program is designed to give those who are underemployed or unemployed access to the education, training and career skills necessary to land high-demand jobs in the health care industry in South Florida. Such jobs include nursing assistants, medical technology specialists,  patient associates, supply chain managers and administrative assistants.
"UP Labs has brightened up my path, my journey to know exactly what I want to do," says Orellana, who completed the program this summer. "With UP Labs, I've been able to do something I didn't think was possible for me: going back to school."
This is exactly why UP Labs was created.
The program was launched in 2019 in partnership with JPMorgan Chase, which donated a $500,000 grant to get the program running. JPMorgan Chase recently awarded the UP Labs an additional $200,000 grant to engage more than 50 new learners, provide scholarships to learners for additional certifications, and ensure there is talent to meet the ever-changing needs of health care during COVID-19.
"JPMorgan Chase is always seeking ways to connect and make a positive impact in the communities in which we do business," says Maria Escorcia, vice president of Philanthropy and Program Officer for Florida for the JPMorgan Chase Foundation. "One of the best and primary ways to do that is through job skills development – helping people develop new, in-demand job skills in the short term that will help them build a lifetime career. Working with FIU and UP Labs is helping us deliver on that commitment to the people of South Florida."
Karla V. Hernandez, executive director of Corporate Relations at FIU Foundation, adds: "As an anchor institution, FIU partners with organizations like the JPMorgan Chase Foundation to make an impact in our community," she says. "It is through JPMorgan Chase Foundation's ongoing support of FIU and our community at large that we are able to make a difference in the lives of so many.  We are grateful for this transformational partnership."
Uplifting the community
At its core, UP Labs is about serving the South Florida community. The program is founded on FIU President Mark B. Rosenberg's commitment to making the university a haven for lifelong learning, and was inspired by his call for the Panther community to equip learners to thrive in the future workforce.
The team at the Office of Engagement decided to focus initially on one set of interrelated needs in the community: People need good jobs that pay a living wage and the health care industry needs skilled workers that will excel at middle-skill jobs.
Middle-skill jobs are those that require more education and training than a high school diploma but less than a bachelor's degree. They are in high-demand across the country and in the community, making up 54 percent of jobs in Florida, according to the National Skills Coalition. Additionally, health care occupations are expected to grow 14 percent by 2028, creating an expected 1.9 million new jobs.
Caryn Lavernia, assistant vice president of the Office of Engagement, says, "We are an office of community engagement and consistently hear from stakeholders – residents seeking financial stability and affordable training; employers seeking talent. This program bridges the two needs and creates a career pathway for learners.
"It may not always be the right time for a person to enter a four-year degree program, but, a short-term training program that can lead to a career and financial stability may make it possible for the learner to return to school and pursue a degree in the future."
Creating a cutting-edge curriculum
To develop a strong, experience-based curriculum for the program, the Office of Engagement worked closely with units across FIU including the Nicole Wertheim College of Nursing & Health Sciences and Academic Planning and Accountability - Continuing Education, as well as with industry professionals from organizations including Baptist Health South Florida, Memorial Healthcare System and Jackson Health System.
The team asked folks in health care a simple question: What skills do you need workers to have under their belts? They took those answers back to the academic side of the house to create the program.
UP Labs recruited an impressive line-up of educators, including professors from the Herbert Wertheim College of Medicine and the Nicole Wertheim College of Nursing & Health Sciences, and practitioners from Baptist Health and other local health care providers.
The team continues to collaborate with local health care providers to place program graduates in available jobs or internships.
UP Labs Director Umer Rahman says the program's innovative collaboration among higher education and industry has the potential to become a nation-wide model for training learners. UP Labs has already garnered recognition for this model, winning the Outstanding Program for Special Populations award from the University Professional and Continuing Education Association.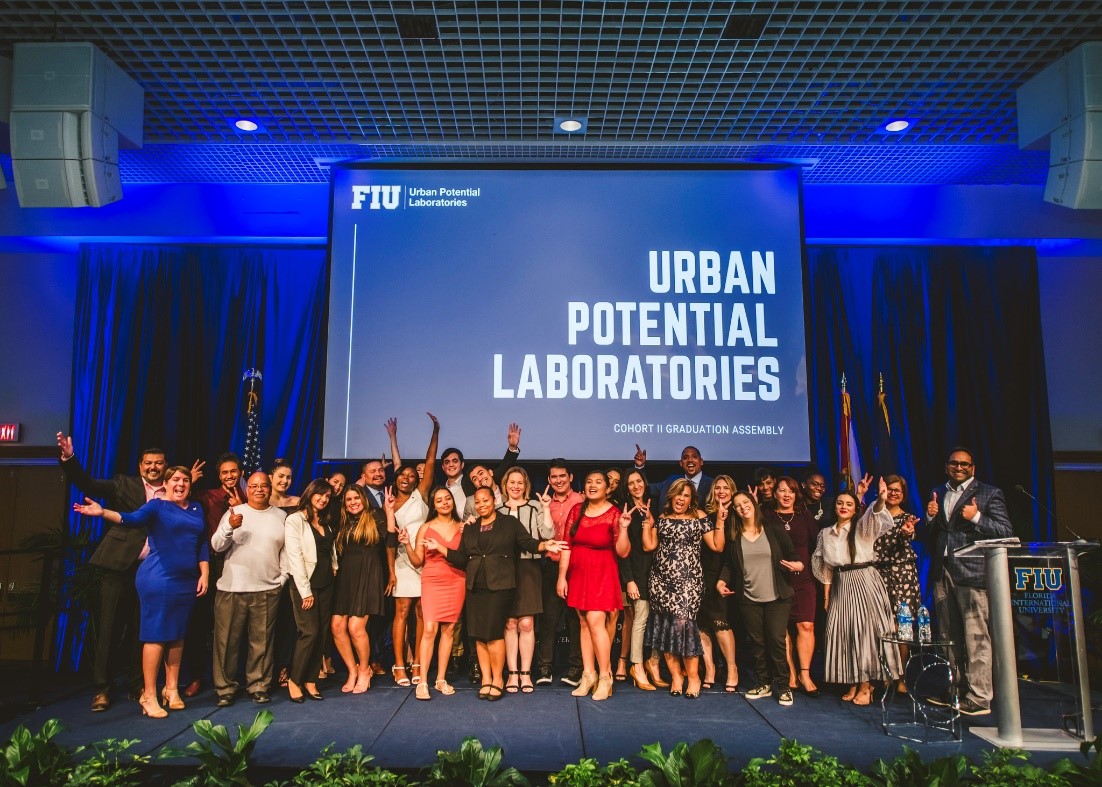 Making an impact
So far, UP Labs has successfully graduated three cohorts of students. One hundred percent of the people that have begun the program have completed it successfully.
More than 50 percent of the learners in the first two cohorts landed internships or experiential learning opportunities and 45 percent have either landed full-time jobs in health care or returned to school. The third cohort, which graduated recently, collectively scored the highest GPA in the program's history to date – a whopping 94 percent.
All this is part of the program's mission.
"We are looking at getting you into a career path," Rahman says. "What are you going to be doing in the next five years? Those are the kinds of questions we want you to think about."
For many participants, the support system they find through the team is the best part. "I really appreciate what UP Labs offered us," says Orellana, one of the learners who graduated recently. "That connection, that community. You see so many leadership programs but rarely do you see someone give their all to make sure you succeed."
Orellana plans to return to Miami Dade College to finish her associate's degree and possibly keep studying afterwards at FIU. 
"People just need an opportunity," explains the program's coordinator Vanessa Valdes. "This program gives people the springboard to do more, to go back to school or start a certificate program. Part of what UP Labs does is, it gives them the confidence to do it, to go for it."