Alumna working to ease hospital burnout during COVID-19
From fighting fires and counseling youth to helping hospitals during the pandemic, alumna Nicole Bramblett '16 has dedicated her life to serving others
---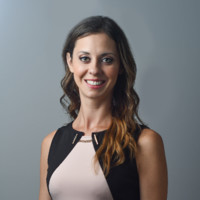 Nicole Bramblett '16 doesn't believe in wasting time. If there's a minute, there's a moment to serve.
Her passion has led her to places she never thought possible. She worked as a counselor at a juvenile detention facility in Pennsylvania. She served as a volunteer firefighter and rescue diver in the same state. And in Miami, she volunteered countless hours over three years at Nicklaus Children's Hospital.
Today, she's a foster parent to a 17-year-old and a dedicated professional in the health services industry. Since the pandemic hit, she's been working hard to help local doctors and hospitals stay afloat during COVID-19.
Bramblett is currently a client relationship manager at Scrivas, a local company specializing in medical scribe services for hospitals, urgent care facilities, private practices and other health care providers. Scribes are folks who assist doctors by taking notes during consultations and fill out the appropriate documentation related to each patient – paperwork that often weighs on physicians' minds.
The company trains scribes and works with health care providers to place the scribes. Bramblett–who worked as a scribe (with a different company) years ago–says she knows firsthand that scribes are essential.
"Two-thirds of a doctor's time is spent doing documentation," she says. "Many times, doctors are waiting to do the documentation after office hours or on the weekend, after working 10 hours a day all week." Scribes, she explains, eliminate the problem.
In her role at Scrivas, Bramblett regularly reaches out to local hospitals and health care providers and meets with CEOs and physicians to share insights about working with scribes from the company. She also writes a blog for Scrivas sharing educational tips about scribes.
Supporting hospitals during COVID-19
When the pandemic struck, life changed for everyone in health care – including Bramblett. "Hospitals were down on staff like health screeners and new positions," she says. "We had a hospital reach out to us and ask us for our support."
Scrivas shifted gears and began training folks to fill positions at hospitals and schools as contact tracers, health care screeners and other new jobs (including staff who conduct temperature checks and move patients between areas of hospitals).   
"I've seen burnout in larger scales since the start of the COVID-19 pandemic," Bramblett says. "It is not only the physicians but now the healthcare system as a whole from the nurses, support staff, both clinical and non-clinical, the hopsital's human resource staff and leadership."
She adds, "It was heartbreaking to hear the pain from hospital leaders as they explained they didn't have the staff to cover the much-needed shifts because so many were in quarantine from exposure or infected by COVID-19. For us to help find staff, to help with vaccine support, contact tracing and screening...there are no words to describe how meaningful that is. Being able to help the community during this time has been extremely rewarding."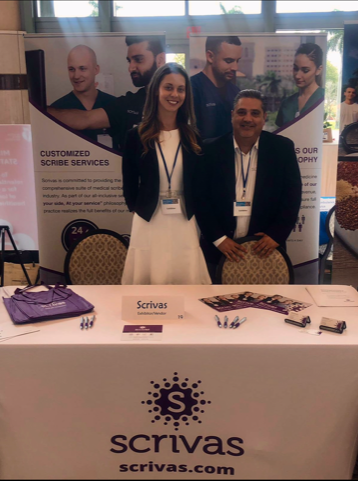 Bramblett and Christos Zaharas, vice president of operations at Scrivas, at a networking conference 
Serving as a student
When Bramblett arrived at FIU in her mid-20s, she knew she wanted to change her career path from counseling to medicine. She became an interdisciplinary studies major at the FIU Honors College and focused on pre-health coursework. She dove into a number of academic and service-oriented experiences.
She volunteered three times a week for three years at the Nicklaus Children's Hospital. In 2015, she earned the President's Volunteer Service Award, a national honor that recognizes individuals for their outstanding number of service hours.
Her coursework also opened the doors for many rewarding experiences, Bramblett recalls. After taking a medical ethics course through the Honors College, Bramblett was able to sit in on the medical ethics committee meetings at the Nicklaus Children's Hospital. Bramblett also took an art history elective that allowed her to work with a small group of students to curate an exhibit on children's propaganda during World War II at the Wolfsonian-FIU.
"I absolutely enjoyed going to FIU," Bramblett says. "I really enjoyed the Honors College and the group we had. It's the small-class feel that is really able to cultivate that experience of getting to know your professor, being able to know your school. We'd get to have study groups. I never had that previously. And I had never gotten to know my professors at my previous college. At FIU I did."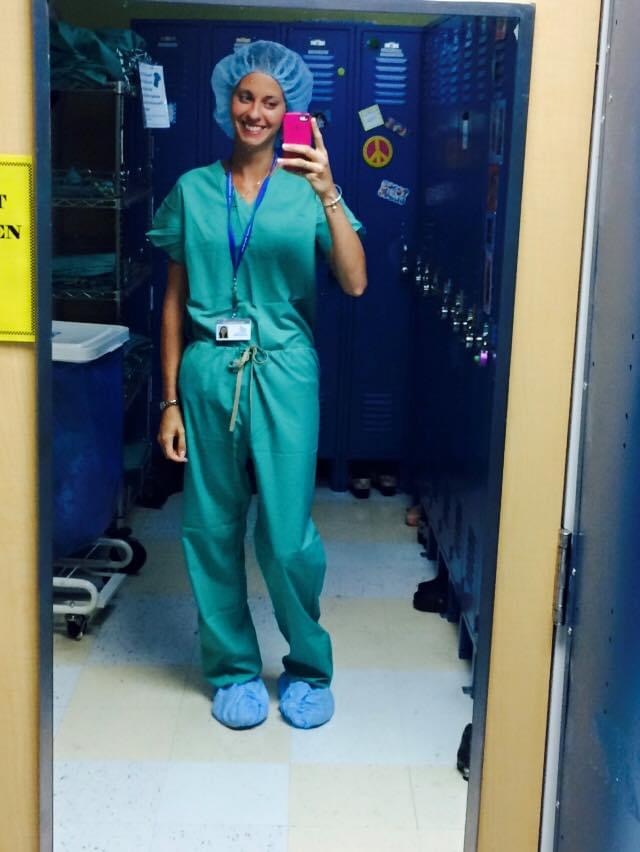 Bramblett while volunteering at the Nicklaus Children's Hospital
Facing your fears
How does she do it all? How has she served others in so many different roles? One of her secrets: Take chances.
As a counselor at a juvenile detention facility years ago, Bramblett came across a patient who called her out on her fear of fire. To overcome the fear, she decided to head to her local firehouse and ask if there were workshops she could take to soothe her aversion to fire.
The firefighters were enthusiastic. They were hoping to recruit more female firefighters and achieve more gender balance on their team. They offered to train her to become a volunteer firefighter and EMT as part of a free program.
She took a leap of faith and said yes. When the firefighters heard she knew how to scuba dive, they asked if she'd also like to be a rescue diver. She said yes again.
And, with that, she opened herself up to a whole new possibility – one that she thoroughly enjoyed. "It was a very cool experience," she says. "And it was free! It was amazing."

She says her motivation comes from her desire to live a full life. "People often think living is about experiencing all the amazing aspects of life and living 'their best life.' It's not just that," Bramblett says. "It's about working together as a community, building each other up and making a way for a better future. When you can make an impact on someone's life, that's everything."
Her advice for students: "Life is like a heartbeat," she says. "Your life will always have its downs. Even if you're at your lowest low, don't give up. Keep moving forward. Find your passion, cultivate it at school, set your goals. And keep improving. Life will also have its ups."