Center explores role of free market economies in advancing prosperity, connects students with international leaders
The Adam Smith Center for the Study of Economic Freedom is bringing to campus former public servants to mentor students. The center aims to study the impact of free enterprise systems on government.
October 28, 2021 at 3:09pm
---
As a child in his native Colombia, Elías Castilla Márquez remembers watching the country's then-Vice President Francisco Santos Calderón speaking on TV.
He never imagined that one day he would sit across from Santos – let alone learn from him in a classroom setting. But that is exactly what Castilla is doing this semester at FIU.
Thanks to the university's Adam Smith Center for the Study of Economic Freedom — which was created by legislation in July 2020 — Castilla is now part of a small group of students participating in an 8-week non-credit seminar with Santos. The students are learning about Latin American politics, free markets and global national security threats from a man who himself has lived the real-world reality of governance.
This one-of-a-kind experience is part of the recently inaugurated Senior Leadership Fellows program at the Adam Smith Center, which is housed under the Office of Research and Economic Development. The program is currently hosting a group of distinguished public servants who are leading seminars, called study groups, with students focused on public leadership, decision-making and free-market policymaking
Currently, the resident fellows include Lenín Moreno Garcés, who served as the 46th president of the Republic of Ecuador from 2017-2021; Ileana Ros-Lehtinen, an FIU alumna who served as a member of the U.S. Congress representing South Florida from 1989 to 2019; and Santos, who was elected vice president of the Republic of Colombia in 2002 and reelected in 2006.
The fellows and other invited leaders host public talks and panel discussions. Most recently, Mauricio Macri, former president of Argentina, led a discussion about public service, democracy and economic freedom. The center will soon announce its next round of fellows, which will arrive in the spring of 2022.
This is all part of the center's mission to serve as a world-class, independent, non-partisan think tank that aims to inform, influence and inspire current and future leaders to develop and implement innovative and effective policies to advance individual freedom and prosperity. 
Propelled by rigorous research, the center aims to study free-market economies and their effects on government. The goal is to offer a better understanding of the free enterprise system and its impact on individual freedom around the world, with an emphasis on the United States, Latin America and the Caribbean.
"FIU brings an unwavering commitment to academic excellence," says Carlos Díaz-Rosillo, the center's founding director and the former director of policy and interagency coordination to President Donald J. Trump.  "We want to make sure our students are exposed to cutting edge theoretical ideas, but also to practical solutions to address real-life issues."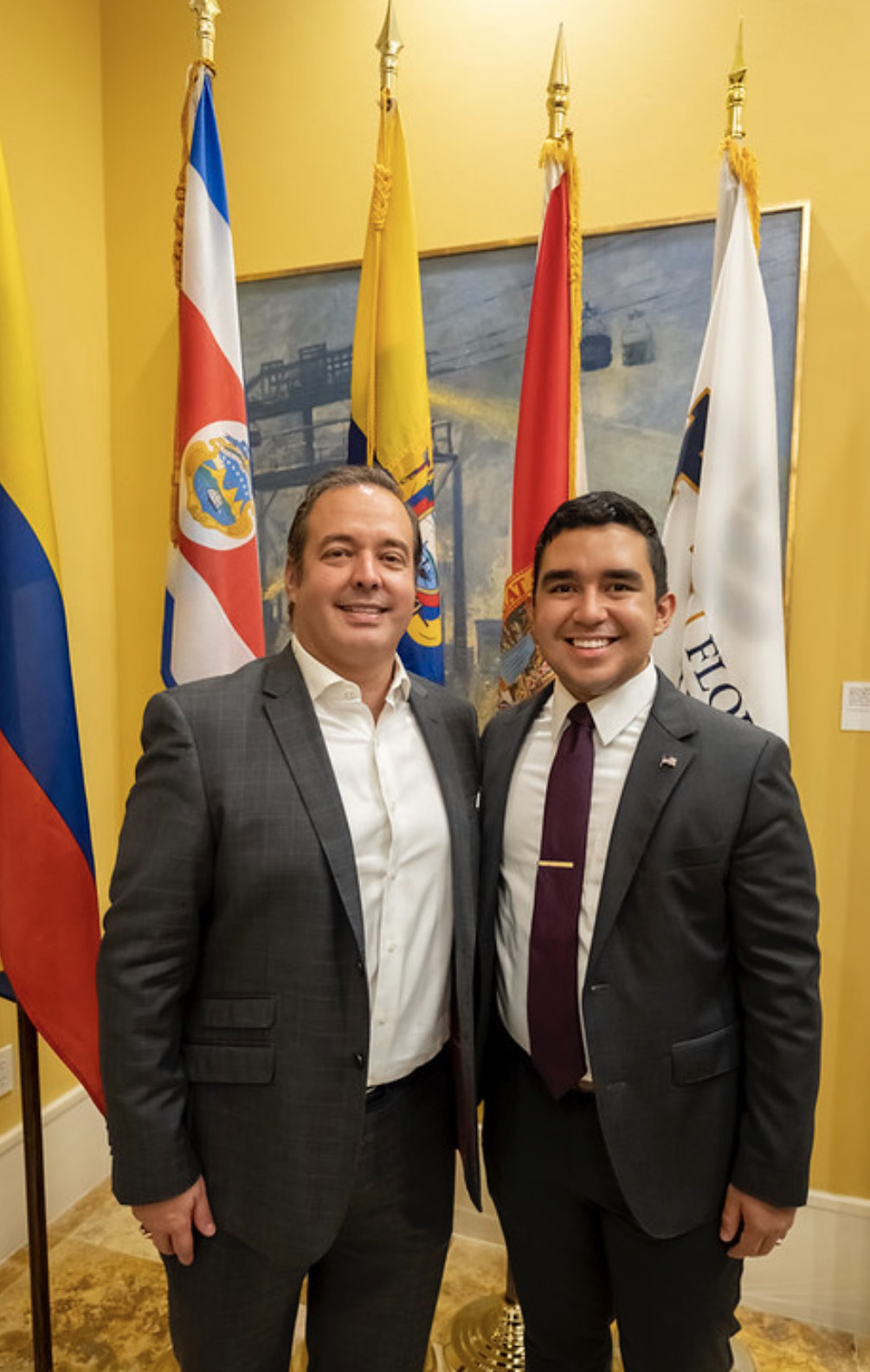 Carlos Díaz-Rosillo, the Adam Smith Center's founding director (left), with student Elías Castilla Márquez (right)
Examining the impact of free markets on freedom
Economic freedom is a key topic of discussion for future leaders, Díaz-Rosillo says.
The Heritage Foundation's 2021 Index of Economic Freedom, which measures the impact of liberty and free markets around the globe, has once again found a formidable positive relationship between economic freedom and progress within countries.
"Economic freedom is about much more than a business environment in which entrepreneurship and prosperity can flourish," cites an index report. "With its far-reaching impacts on various aspects of human development, economic freedom empowers people, unleashes powerful forces of choice and opportunity, nourishes other liberties, and improves the overall quality of life."
For Díaz-Rosillo, that means one thing: It's crucial that students be exposed to the principles of free market economies so they can better understand, and ultimately, tackle some of the most complex issues impacting the world.
Free enterprise, he adds, is one of the freedoms that Americans hold most dear – and one that's sometimes taken for granted.  
"People all over the world live in places where they don't have basic freedoms: freedom of the press, freedom of religion, freedom of assembly, political or economic freedom," Díaz-Rosillo says. "If you ask these people, they'll tell you what it's like not to have these freedoms. By exposing students to the importance of these issues, we're allowing them to understand how the free enterprise system works in a democratic society."
He says the beauty of the center lies in bringing diverse perspectives in conversation with each other.
"We're committed to making sure we present a meaningful debate," he says. "We want to promote discussion in a thoughtful, civil manner. It doesn't do any service to have a one-sided event. On any important policy matter, there's always a good argument to be had. We'll bring in people who disagree [with each other] and let the students decide which argument is better."
Díaz-Rosillo envisions the recently launched center will one day become a research hub where decision-makers from around the globe can seek analyses that will help them make informed policy decisions.
"I am fueled by my motivation to bring the greatest good to the greatest number. To do that, I need certain skills and assets. I need the education to be able to come up with new ideas and to succeed where others failed. That's the reason why I decided to be part of the Adam Smith Center."
— Elías Castilla Márquez , international relations and political science major
Mentorship that inspires
The center's dedication to mentoring students is particularly dear to Díaz-Rosillo's heart.
"The crown jewel of our mentoring effort is the Senior Leadership Fellows program," says Díaz-Rosillo, who plans for the seminar-style study groups to become full-fledged courses at FIU in the future. "The reason to emphasize mentorship is because I want our students to know that the sky is the limit. They too can be president, they too can be world leaders, they too can implement policies that lead to more democracy, more freedom and more prosperity."
Díaz-Rosillo notes that fellows are candidly answering questions from students, often being critical of themselves and sharing their opinions about both their successes and failures. Students in turn are taking full advantage of the opportunity and reaching out to the fellows, asking questions (sometimes tough ones), attending office hours and even discussing concepts with the fellows over lunch.
Students like Castilla are ecstatic about the mentorship program.
"This is a once-in-a-lifetime opportunity, and I knew I couldn't let it go," Castilla says. "This is something that every FIU student should be aware of, regardless of major. It's totally free and will help you become a well-connected and more informed citizen."
Castilla, who is majoring in international relations and political science, is wholeheartedly devoted to civic engagement. He is currently a congressional intern for congresswoman María Elvira Salazar. He worked as a summer analyst for a financial crimes' compliance division at Goldman Sachs and previously interned at the British Consulate General in Miami.
His future goal is to become a public servant and work on policy related to the Latin American region. He says being part of the fellowship program is another crucial step in his journey. 
"I want to come up with solutions that help people in Latin American and Caribbean nations create work opportunities, tackle corruption and take on poverty," he says. "As an immigrant, I came to the United States with my mother. She believes the American dream is still alive. I do too, and I am fueled by my motivation to bring the greatest good to the greatest number. To do that, I need certain skills and assets. I need the education to be able to come up with new ideas and to succeed where others failed. That's the reason why I decided to be part of the Adam Smith Center."
"Every FIU student that would like to avail him or herself of this opportunity now can have access to a meaningful mentoring relationship with a high-level public servant, whether a former head of state, a former member of Congress, or a former cabinet official, during their time at FIU. It is one thing to learn from a textbook, but it is something else to meet these public servants and to recognize they are regular human beings, who made good decisions and bad decisions, just like everyone else."
— Carlos Díaz-Rosillo, founding director of the Adam Smith Center