Students lead real-world projects through prestigious UN-affiliated fellowship
Twenty-six students have been named Millennium Fellows and will be working throughout the semester to help solve major issues impacting the globe
Earning good grades and landing great jobs are just the tip of the iceberg for FIU students. Making a positive impact in the world? Now, that's the real goal.
This semester, 26 students committed to civic duty and service have been selected to receive the prestigious Millennium Fellowship. These are stand-out students – many of whom are enrolled in the Global Learning Medallion program, part of the Honors College or involved with FIU in DC as Hamilton Scholars – digging deep to create and implement projects designed to help their communities.
Run by the Millennium Campus Network and the United Nations Academic Impact, the fellowships allow undergraduate leaders around the world to receive training, gain connections and earn credentials as they work to advance the 17 United Nations Sustainable Development Goals. Each student develops a community project and carries out that project by the end of the semester.
The students were selected from more than 25,000 applicants on more than 2,200 campuses across the globe. FIU is one of only 136 campuses around the world hosting Millennium Fellows this year. This is the third year that FIU students are designated for the honor.
Hilary Landorf, executive director of Global Learning Initiatives – which is the unit that spearheads recruitment of students for the fellowship – says the achievement speaks volumes about FIU's mission to serve. 
"To have been selected as a Millennium Fellowship Campus for the third year in a row? Wow! What a testament to our students' commitment and resolve in working with local and global communities to effect positive change, and proof of the value of global learning at FIU," she says.
This year's fellows are working on projects tackling a variety of topics from affordable housing, women's empowerment, HIV research and equity in education to incarceration reform, unemployment, food insecurity and judicial transparency.
Take a sneak peek into some of the projects and the fellows who are working to create a positive change in the world.
Leading women empowerment efforts in Vietnam
International relations major Ha Le is passionate about sustainable development.
When the pandemic hit her native Vietnam, she knew she needed to help them. In June 2020, Le co-founded an organization to fundraise for emergency aid, food, clothes and medicine for those most in need.
"It turned out to be a great success," says Le, who is part of the FIU Honors College. "People really appreciated our help."
So, the group continued working.
Today, the organization is comprised of about 70 people, mostly high school and college students (and some even from the local region). The students conduct surveys in rural areas, asking questions to determine pressing needs or problems. Then, they craft solutions in collaboration with the local townspeople and help fundraise and kick off projects to address those issues. Throughout the process, the team works closely with local authorities.
For her Millennium Fellowship project, Le will be working through her organization to empower women in a village in the Dak Lak province, by creating a job training program. Le's organization has partnered with a garment workshop in the local area to teach women how to sew and knit clothes so they can help provide for their families.
"The majority of the population in the Dak Lak region doesn't speak the official Vietnamese language," Le explains. "This leads them to be isolated and unemployed or working dangerous and unstable jobs. In our survey, we found women who don't speak the Vietnamese language are harvesting pepper on the tips of mountains, a dangerous task. This program will give them a safer work alternative."
Le decided to apply for the fellowship because she wants to infuse her work with best practices as identified by seasoned experts. Part of the beauty of the fellowship is that it connects students with thought leaders around the globe including CEOs, journalists and diplomats.
"What I'm most looking forward about the fellowship is having actual conversations with people who are making an impact," she says. "I want to be given the resource or experience of people who have more skills, so we keep building this project in a way that is beneficial. The people deserve that from us."
Le is set to graduate at the end of this year and is planning to return to Asia and pursue a career in the change-making field.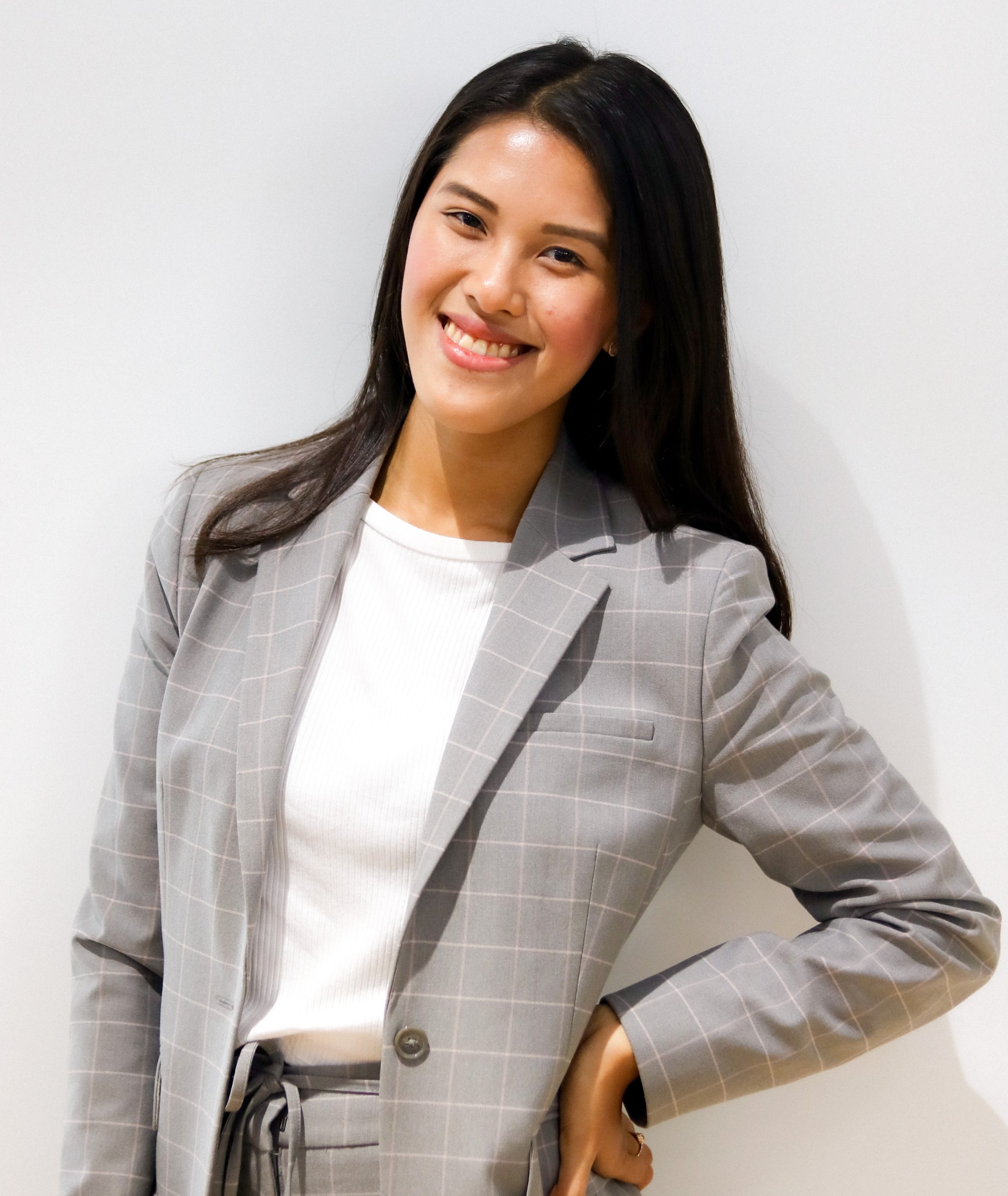 Ha Le
Connecting students with mentors
Luis Moros knows the power of networking.
An Honors College student majoring in political science and criminal justice, Moros arrived from Venezuela as a teenager.
"When I was in high school, I didn't receive the support or guidance I needed," he says.
He would've have given anything to have someone sit down with him and tell him how education – and everything else – worked in his new country.
When he arrived at FIU, Honors College advisor Grisel D'Elena changed his life. She gave him advice, shared knowledge of resources at FIU and pointed him toward internships, programs and other one-of-a-kind opportunities.
"She became my number one mentor," Moros says. "Through her, I discovered the power of mentorship, having someone who believes in you more than you do."
Today, Moros is currently interning at the prestigious Cato Institute in Washington, D.C. (and is the first FIU student ever to do so), was selected as a Hamilton Scholar at FIU in DC, is an FIU student ambassador and has a long list of accomplishments that include being recognized as a high school student by Senator Marco Rubio and Miami-Dade County Public Schools Superintendent Alberto Carvalho as the most influential student in the county (in recognition of a school supply drive Moros organized for students in Venezuela).
His project for the Millennium Fellowship focuses on helping FIU students understand all the resources available at the university and ways to network.
"We have so many different departments, the Center for Student Engagement, so many things," he says. "Sometimes students don't know we have access to those resources or students are scared to reach out to staff and faculty. I want to help students find mentors. It's not just about reading books and getting 4.0 GPAs. It's also about knowing that you have the power to connect with others."
Moros will be sharing resources and hosting a line-up of Instagram live events discussing ways to start partnerships with nonprofit organizations and featuring guest speakers who are immigrants and have found success.
His long-term goal is to establish his project as a mentorship program at FIU. He sees this as his chance to give back to the university.
"FIU provided me everything I have right now — the opportunity to represent FIU in our nation's capital and they provided me with the American dream," he says. "It's my responsibility to give back to the community the way they've given to me."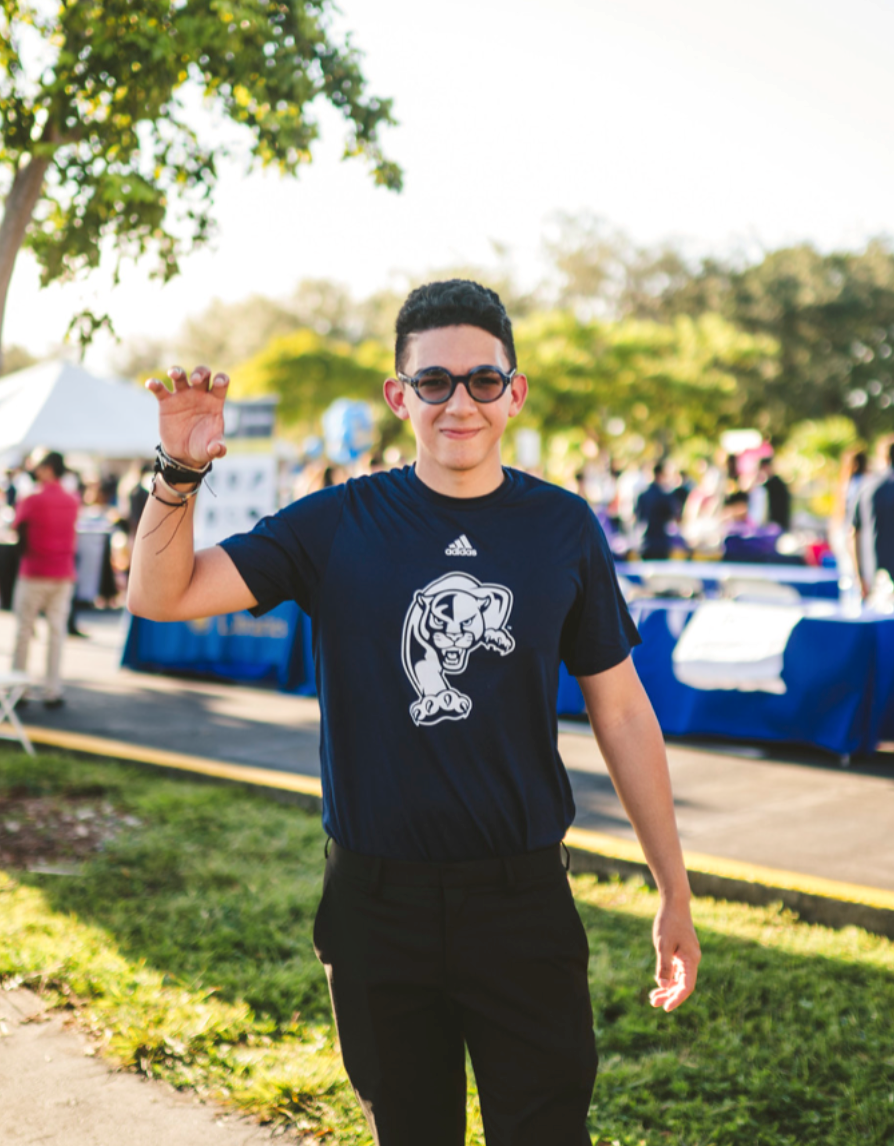 Luis Moros
Helping high school students access college
Sophia Jaimes' parents worked up to three jobs to make sure she received an excellent education at a private Catholic school. Her parents' sacrifice taught her to respect education – to value it, cherish it.
In the fall of 2020, she began her journey at FIU. The Honors College student majoring in political science and international relations quickly took advantage of a number of opportunities such as joining the group of FIU student ambassadors who host visiting dignitaries at university and community functions.
Another example: In March of her freshman year, she landed a spot as a scholar with the Clinton Global University. Through that program, she and a group of colleagues started a project to help underserved high school students learn about college applications, admissions processes and college entrance exams. The goal was simple: to help underrepresented groups access higher education.
For her Millennium Fellowship, Jaimes is continuing the project and has already hosted her first event. She and her colleagues created an Instagram page and reached out to all their contacts. They have recruited a group of 45 local high school students, mostly from low-income households.
Jaimes and her team members lead presentations and workshops on a wide variety of topics that high school students aspiring to higher education crave to learn more about: SAT/ACT prep; FAFSA applications; college essays; and application processes for specific institutions. They offer all their insights for free.
"We're teaching what schools don't always teach you," Jaimes says. "We share our experience based on what we learned throughout our college entrance process. As a Latina, first-generation college student, I know how hard this can be."
When she herself was preparing for college entrance exams, Jaimes found an SAT and ACT prep course that featured 10 sessions for $400. It was the most economical price she could find – and it still drained her family's resources for that time period.
"Not everyone has that money lying around," she says. "I know what it feels like for everything to be expensive and difficult."
Her mission is to provide a helping hand to students who are going through the struggles she deeply understands.
"I want to help these students. I know what's it like."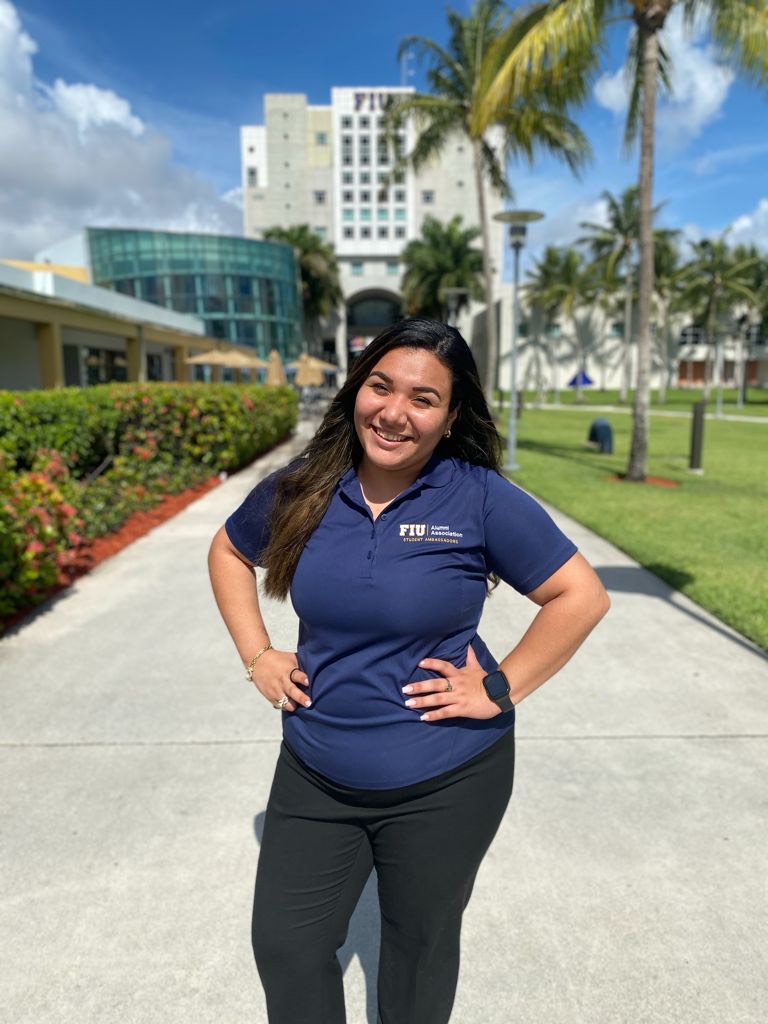 Sophia Jaimes
Leading leaders
How are all these students getting their projects off the ground? Thanks to a lot of support, and peer-to-peer leadership.
One of the unique aspects of the fellowship is its student-led philosophy. The Millennium Fellowship team provides a curriculum to help students learn about changemaking; FIU's Office of Global Learning Initiatives provides support; and student leaders take it from there.
This year, two students were selected to be campus leaders, facilitating meetings with the fellows and providing guidance as they all work to complete their projects.
D'Andria Hollins is one of these students. She is no stranger to leadership. She has been on the executive board of the Black Student Union for two years. She is a head team member of the Academy of Leaders, the premier leadership development program at FIU, offered through the Center for Leadership and Service (CLS).
She is also part of the CLS' Panther Community Action Board, which awards mini grants – based out of CLS and funded by Wells Fargo – to student-led service projects.
When Hollins heard about the Millennium Fellowship, she knew she wanted to be a fellow – and a leader in the program. She applied and was selected to become both.
Hollins, who herself is working on a project focused on increasing equity and empowering underserved groups through discussion forums with stakeholders and institutions, is not too busy to help her peers out.
With all of her years of experience on leadership boards, she's learned a lot, and she wants to share it.
"I recently got a call from a fellow who was anxious about what to do next with her project," says Hollins, who is majoring in biology and interdisciplinary studies. "We talked through it, and I gave her five ideas of what she could do next to get her project off the ground. It's so rewarding. I'm helping her live her dream."
She says service is a way of life for her – and for the Panthers she's working with.
"A lot of institutions talk about community service, but FIU is one of the few institutions that really makes it the focal point of its entire entity," she says. "Leadership and service is our main mantra. Through this fellowship, we are utilizing the skills we learned in the classroom."
She adds, "A lot of people graduate college with big dreams, but they don't know how to make that a reality. This program gives you that foundation of information and that experience that will help you later in life."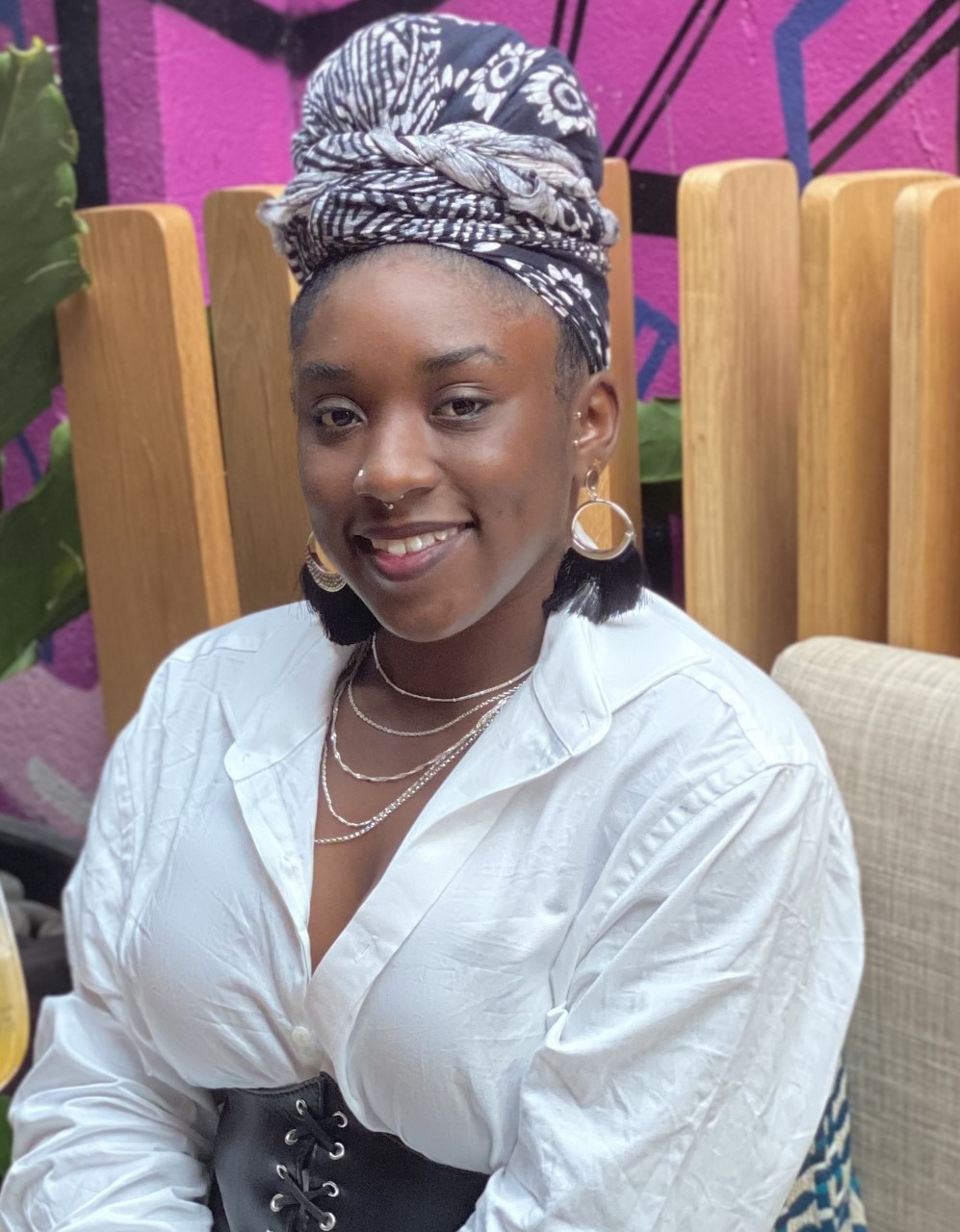 D'Andria Hollins
---
Students shine as future generation on TV show
Moros and Jaimes tackled global issues on TV. D'Elena, their Honors College advisor, recommended they apply to appear on an innovative show called 4 Days to Save the World. 
The Panthers landed spots on the show, and Moros and Jaimes already appeared on the first season, which aired recently. 
The show dares the world's top investors, executives and CEOs to solve real-life social issues influenced by the United Nations goals, all in four days and alongside teenagers. The program pairs up a civically engaged student with 10 leaders such as entrepreneurs, CEOs, philanthropists and changemakers to create teams. Each team is tasked with coming up with a solution to one of the world's major issues.
Jaimes was chosen to tackle ways to improve the education system and Moros was selected to focus on ways to end world hunger.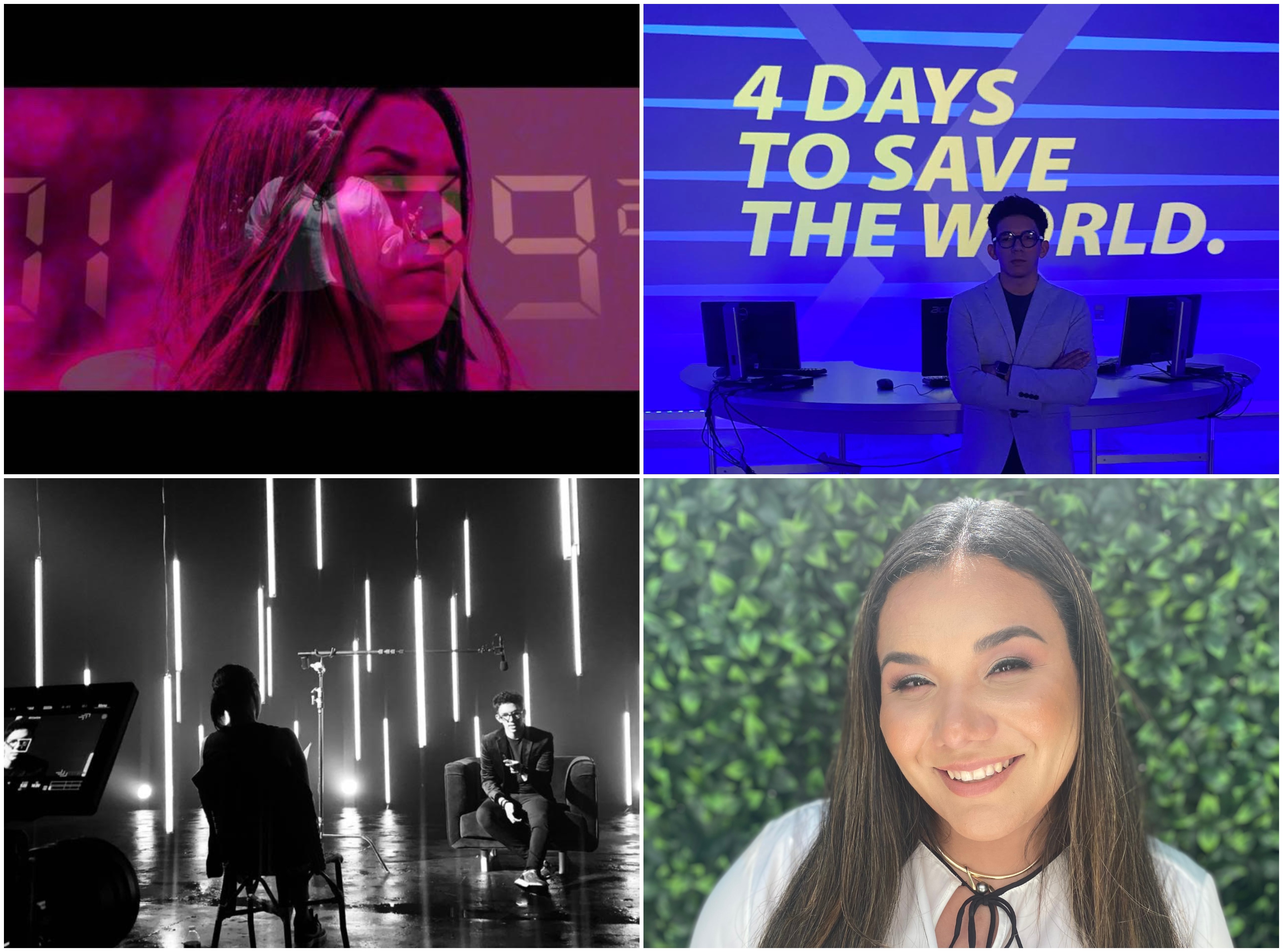 "It was a great experience," Jaimes says. "I went into it terrified. You're a student talking with all these big-minded entrepreneurs. At first, they weren't listening to me. I had to get through to them. You're in that production team four days, 8 a.m. to 10 p.m. It was a lot of pressure, but you just had to suck it up and just do it. You grow a thicker skin."
Jaimes says the experience helped her become a stronger student once she returned to her daily life.
"I came back to FIU and I started having discussions," she says. "I was more mature, I knew how to talk about things more, how to be more reserved when I needed to be. I learned that even in a room with 10 full-on wealthy, adult strangers, my opinion matters just as much as everyone else's."
For Moros, the show was also a dream come true.
"The most amazing thing about the show is that it demonstrates the power to network, to connect, to tell your story," says Moros, who is interested in using TV as a way to lead change. "You need to allow yourself to be vulnerable, so you can feel the troubles of the world."
He adds, "The production was amazing, I was having fun 24/7. We were working, but it didn't feel like we working. It was really amazing. Beyond words. The docuseries shows us that people are the most important thing on earth."
One of the biggest lessons he learned on the show: "Invest in people. They are the ones that are going to make things happen."
---
The application for the 2022 Millennium Fellows cohort is now open. If you are interested, check out the application form or if you have more questions, reach out to Yenisleidy Simon Mengana at ysimonme@fiu.edu. 
To learn more about becoming a Hamilton Scholar at FIU in DC, visit the program's website. Applications to be a Hamilton Scholar for Spring 2022 close October 18 at 9 a.m.