Rx for law and medical students: teaching those under unique pressures how to care for themselves
Future doctors and lawyers are learning how to safeguard their mental health and wellbeing as they navigate demanding academics and enter high-intensity professions
---
"Doctor, what do we do?"
Alumna Chika Nwosu '20, a resident at Michigan Medicine, wondered who the med school interns were talking to. Then she realized – they were talking to her. She was a doctor now. "I was literally them yesterday, and now they are asking me questions." It's a jarring change. "You get imposter syndrome. You feel you don't belong, or you're not sure how you got here."
But the hardest part of the transition came later. "Taking care of patients who died [afterwards]…things like that really affect you," she says. "I had to declare someone dead. I was really emotional, I was crying, I was having a tough time."
She recalls the more experienced doctors around her were straight-faced. "They told me, 'You still have empathy.' And they said that even though [death is] sad, you learn to get used to it. That was really hard to hear."
Nwosu, who graduated from the Herbert Wertheim College of Medicine (HWCOM) just a few months ago, is starting to understand how real physician burnout can be. With a day-to-day that might involve patient deaths and high-stakes situations combined with long hours on the job, it's not surprising that many physicians are impacted by depression, anxiety and mental health concerns. An estimated 300 doctors die by suicide every year. Lawyers, who also work long days, often manage hundreds of cases at one time and continually deal with conflict, also struggle with high numbers of suicides and other health issues, including depression and substance abuse.
Even before hitting the "real world" of work, medical and law students across the country experience higher rates of depression and mental health issues than other students – a trend many attribute to the high-pressure academic environments and demanding training students undergo. Being a med or law student is an exhilarating experience – but it can also be overwhelming.
They juggle challenging classes, competitive internships, rotations, networking – and studying for dreaded exams that mean the difference between earning a license to practice or not. Often students struggle with imposter syndrome – feeling like they don't belong or they're not smart enough to be in the room – and with perfectionism. The result can lead to students putting off their own health and wellbeing in the hopes of excelling academically. "That is a major problem," says Rosario Lozada, associate professor of legal skills and values. It's a problem that FIU Law and HWCOM have been addressing head-on at the university.
"Law is a demanding profession. It's client facing. The case work is heavy. You have to figure out: What do I want to balance? I want to be good at this part of my job, but I'm not willing to sacrifice X, Y and Z, whether that's family time, eating healthy or exercising. You have to reflect on who you are as an individual and what you want." 
-Alumnus Daniel Cortes '19, now an immigrant rights attorney at Community Justice Project in Pennsylvania
Panthers step up to the challenge
For more than 10 years, HWCOM has offered a counseling and wellness center catering specifically to medical students – a trend medical schools nationally are embracing. The center provides a full range of free, crucial services, including counseling; psychological assessments; aromatherapy workshops; mindfulness and meditation trainings; and mental health boot camps. "Med students are people who are training to take care of others," says Nathaly Desmarais, director of the Medical Student Counseling and Wellness Center at HWCOM. "They need to be taken care of as well."
The College of Law has also been leading efforts to support its students. Before the pandemic struck in 2020, the college launched Wellbeing at FIU Law to provide strategies that help students engage with the physical, intellectual, occupational, spiritual, social and emotional dimensions of wellbeing. Students taking care of themselves, Lozada says, is of utmost importance – and it's also essential in helping them achieve their own goals. "Wellbeing is associated with performance and learning," she explains. "Law students who are proactive about their wellbeing are better equipped to reach their academic potential." 
Just a few other resources for law students: An upper-level course that explores the intersection of wellbeing, ethics and professionalism; the FIU Law Dean of Students' weekly newsletter featuring wellbeing tips and mini-videos; and a book club that focuses on managing stress proactively and developing tools for resilience, led by FIU Law Dean of Students Angelique Ortega and Lozada, who is a trained mindfulness facilitator with UCLA's Mindfulness Awareness Research Center.
Most recently, Lozada and Desmarais teamed up, along with a group of students and administrators, to launch a unique collaboration to reach out to students in both law and medicine, bring them together and provide resources for navigating wellness. The team has hosted a virtual step challenge; workshops on mindfulness and resilience; and conversations about nutrition and wellbeing with FIU faculty as well as national experts. The initiative – rolled out virtually due to the pandemic – was instantly met with warm enthusiasm and hefty online attendance.
"You often strive for perfection and you want to be this superhero, but it's important to take the time to realize, 'I don't have to know everything or learn everything at once.'"
- Elisa Diaz, president of the Student Bar Association
"The fact that Professor Lozada and [Desmarais] have opened this door for us, it's amazing," says Stephanie Peña, a first-year law student and member of the law book group. "Having these events creates a really safe space."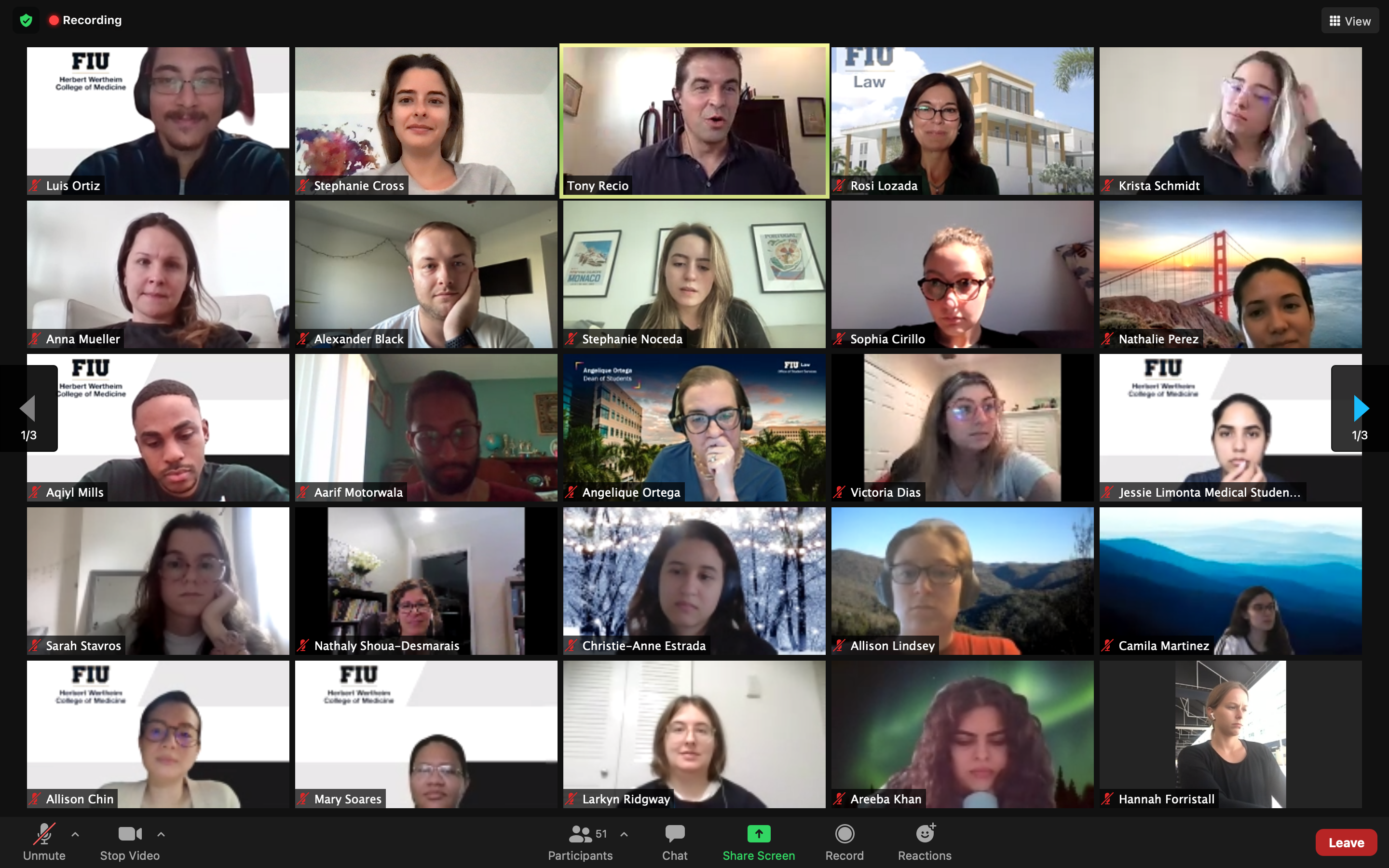 For Jenna Bergman, a medical student who regularly participates in HWCOM's wellness center, attending events with law students (and meeting them for the first time) helped her embrace her Panther community and realize how similar both groups of students are. "You feel sometimes you're going through it alone," says Bergman, who will graduate this semester and start her residency at the University of South Florida's hospital. "Just to share your worries, hear your peers and get advice…it makes you feel like you have other people to reach out to."
"Just to share your worries, hear your peers and get advice…it makes you feel like you have other people to reach out to."
-Jenna Bergman, fourth-year medical student
Building solidarity is a critical aspect of these programs, says Elisa Diaz, a third-year law student and president of the Student Bar Association. Diaz, who will graduate in May and is currently interning at the Miami Dade State Attorney's Office, was part of the team that helped organize the HWCOM-FIU Law collaboration.
Her words of wisdom for students starting law or med school: "Be self-aware. You often strive for perfection and you want to be this superhero, but it's important to take the time to realize, 'I don't have to know everything or learn everything at once.' I've learned a lot about asking for help. As an FIU student, there are so many resources through the law school or through the university in general."
"Those sessions [at FIU] helped me to identify when I'm not okay, and helped me to know that it's okay to not be okay."
- Alumna Chika Nwosu '20, now a resident at Michigan Medicine
Creating resilient professionals
At the end of the day, all these initiatives have one goal: To help students thrive – and to help them go out into the world ready to bounce back from adversity. It truly makes all the difference, says Nwosu, the alumna at Michigan Medicine. Back when she was in her first year at FIU, Nwosu enrolled with the HWCOM's wellness center, began meeting with Desmarais and regularly attended events through the center. It's having a lasting impact.
"I've learned basically what to do and how to recognize signs of stress and emotional instability," she explains. "I've learned deep breathing. I've been doing it for the last four years. I've started doing it unconsciously. I'll try to meditate before going to bed. Sometimes I come home and sit on the floor in my scrubs with the light off, and just meditate. Those sessions [at FIU] helped me to identify when I'm not okay, and helped me to know that it's okay to not be okay."
Desmarais and Lozada hope to continue championing wellbeing at FIU by growing the law-medicine initiative – and they hope to inspire other universities across the country to create cross-campus collaborations that allow students to connect, recharge and learn that helping others also involves helping yourself.
UPDATE: In August of 2021, FIU Law's well-being program won the 2021 American Bar Association's E. Smythe Gambrell Professionalism Award. The award recognizes the nation's exemplary, innovative and on-going professionalism programs established by law schools, bar associations and other legal organizations that help ensure the maintenance of integrity and dedication to the legal profession. The recognition comes with a $3,500 award, which will be added to the hardship fund at FIU Law, in support of students in need.
"I am very proud of this initiative, led by Professor Lozada and Dean Ortega, to promote student health and well-being," says Antony Page, dean of FIU Law. "Law school, like the practice of law, can be very stressful, and learning skills that can help our students manage that stress is critically important to their academic and professional success. I am delighted that the [American Bar Association] has chosen to recognize FIU Law's work in this area."