True grit, real talent: Class of 2025 starts at full speed, hungry to succeed
Our newest Panthers are a group of high-achieving, no-nonsense students ready to make a difference in the world – and to fully embrace their college experience
August 13, 2021 at 4:13pm
---
The Class of 2025 is a class of fighters.
They mastered the transition to remote learning during their final year of high school. They experienced the uncertainty and anxiety caused by the pandemic. And when traditional rights-of-passages like prom and graduation were limited or canceled, they wiped off their tears and moved on.
They kept focused, excelled at school – and decided on FIU as their university.
The new Panthers are turning heads with their accomplishments. Freshmen entering FIU during the early fall and fall semesters boast an average GPA of 4.17. Among the incoming class are five National Merit Scholars, one Silver Knight winner and five Honorable Mentions as well as three African American and 10 Hispanic students recognized by the College Board of National Recognition for Academic Honors.
"This is a very strong class academically," says Jody Glassman, director of University Admissions. "To start in the summer or fall after the year they've had, to keep their education going, trying to get through everything…They're definitely resilient."
This group of Panthers, Glassman adds, has grown stronger in the face of adversity.
"They went through a global pandemic at the end of their high school year," she says. "They adapted quickly. Many of them had to grow up fast. They've had to be very independent and go through changes in their lives that they may never have thought they'd have to go through."
Glassman says FIU is here to help them through it all – and most of all, to help them enjoy their college adventure.
"They missed a lot of major milestones, so we need to help them create some of those memories in their collegiate environment," she says. "We need to make things a little more special for them."
Class of 2025, welcome to FIU! 
To get a sneak peek about the class, meet three of our newest Panthers.
"Being a Panther means everything to me. It means proficiency in academics. It means success. I've been working toward this moment for my entire academic life, ever since I learned what scholarship and leadership meant. I'm finally here, and I'm ecstatic to fulfill this dream."
- Isabella Garcia, freshman math major
Nicholas Quintana
Major: Theatre
High School: Miami Arts Studio at Zelda Glazer
Just a few accomplishment(s): Winning a Silver Knight Award; earning an award as the best supporting actor from Thespians, District 8
Describe yourself in three words: Artistic. Intuitive. Thoughtful.
Blue and gold runs in freshman Nicholas Quintana's blood.
His mom and dad – local theatre educators Nicole '01 and Ozzie Quintana '00 – both graduated from FIU's Department of Theatre. Twenty years later, Quintana started FIU as a theatre major during the early fall semester of 2021.
"I do feel like I'm holding a legacy," he says. "I know the Theatre Department is outstanding. My parents told me wonderful stories, and I just want to experience it for myself. I want to experience this place where my parents studied."
Some of his parents' professors are still at FIU and will be his professors. While that prospect is a little daunting (Quintana wants to make sure he lives up to his parent's reputation), he's also proud to keep the roar going in the family.
"My first day coming to campus, my dad came to help me find my classes," he says. "We also sat down and had lunch together. It was nice."
Panther lineage aside, Quintana is a stand-out student in his own right. Instead of feeling discouraged during the pandemic, he doubled down on his academic pursuits. He organized a theatrical project that earned him a prestigious Silver Knight award – a coveted recognition. The project shed light on the struggles and triumphs of the country's heroes: Veterans.
Quintana and a group of students interviewed veterans who served during the 20th and 21st centuries. They wrote scripts inspired by the veterans' stories. Then, they performed and recorded the plays they'd written.
"They were plays about how veterans are trying to come back to every-day life and the difficulties of coming back to being a civilian after fighting in a war," Quintana says. "There were topics like alcoholism, finding work, post-traumatic stress disorder, coming back to family members or starting new families."
He says the process proved eye-opening for him. He learned about these courageous men and women, and he put his love for the arts into action, shining a light on heroes. CBS 4 recently featured Quintana and his project in a story highlighting his work.
Quintana hopes to one day become a screenwriter and actor. He says what he's most looking forward to at FIU is performing on stage at the Herbert and Nicole Wertheim Performing Arts Center.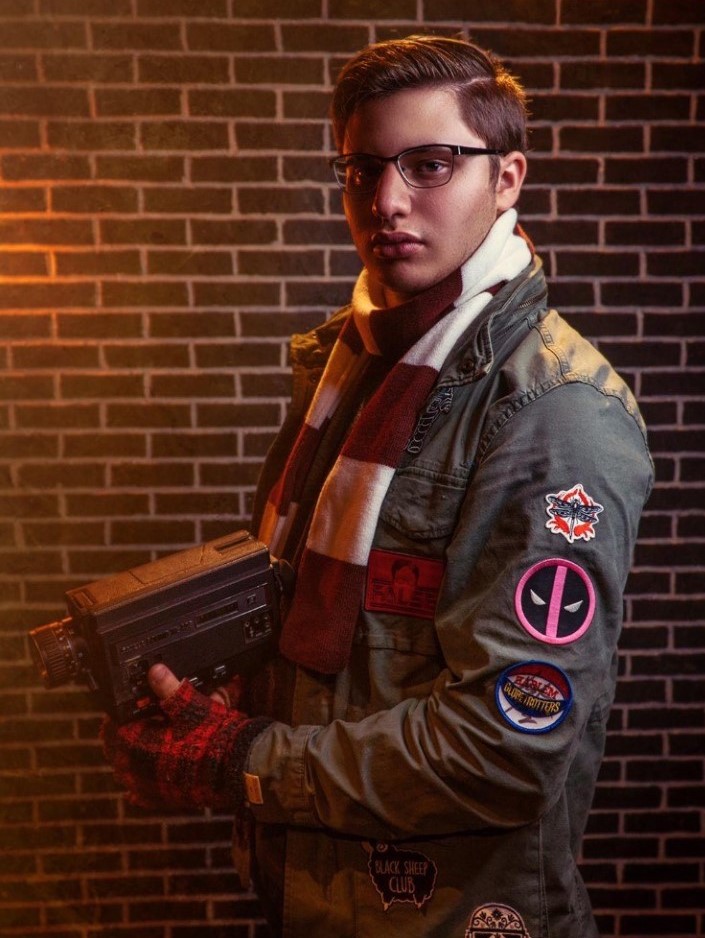 Nicholas Quintana in full costume for a high school performance
Grace McCullough
Major: Hospitality Management
High School: Teaneck High School, New Jersey
Just a few accomplishment(s): Recognized by the College Board of National Recognition for Academic Honors; graduated in top 5 percent of high school class
Describe yourself in three words: Determined. Optimistic. Outgoing.
When Grace McCullough started looking for colleges, she was intent on finding one with a top-notch hospitality program. FIU was her answer.
"It really is perfect," McCullough says. "FIU has an amazing hospitality program. Also, the location, the Miami area, the tourism industry…there are a lot of career and internship opportunities. Diversity was another thing that was really important to me. I come from a very diverse town, and I wanted to attend a truly international school."
McCullough has packed her bags and moved to Miami from her hometown of Teaneck, New Jersey. She will be starting FIU in the fall semester as a student at the FIU Honors College.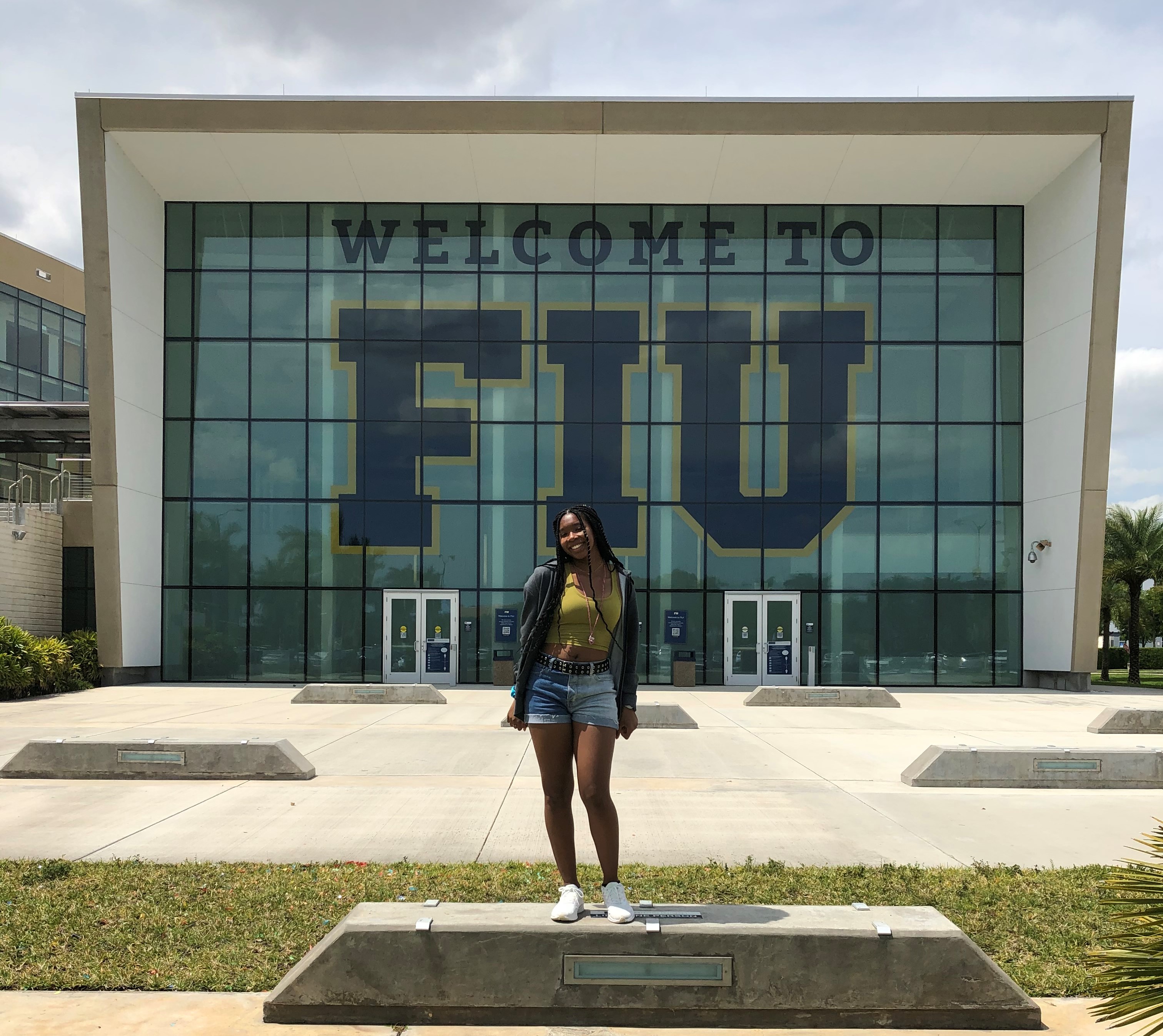 Her career choice stems from her passion for connecting with people and hosting five-star celebrations.
"I'm the party planner in my family," she says. "I plan birthdays, Mother's Day parties—I put together celebrations. It's been a dream of mine to plan bigger events. It would be really cool to plan a music festival or events in the entertainment sector. It would also be cool to do tours with a concert company or convention center."
Her goal is to become an incredible event planner – and she knows FIU is going to help her get there. Among its many rankings and awards, the Chaplin School of Tourism & Hospitality Management was ranked as a top 10 hospitality & leisure management school among public U.S. universities, according to the 2021 QS World University Rankings by Subject.
FIU provides a number of real-world and academic opportunities for students like McCullough, who are interested in planning major events. Just one example: the Chaplin School offers a master's degree with a specialization in mega-events – festivals, trade shows, major conventions, sports events and concerts of 10,000 people or more.
McCullough, who graduated high school with a 4.8 GPA, is no stranger to working hard – and achieving success. She was recognized by the College Board of National Recognition for Academic Honors and graduated No. 11 in a class of more than 300 students.
She's now ready to dive into her studies at FIU. "What I'm most looking forward to is getting into my classes," she says, adding that she's enthusiastic about taking courses that directly speak to her career path.
She's also excited to embrace everything that FIU has to offer.
"FIU has been so welcoming," she says. "I'm looking forward to the community. I'm always looking to work out of my comfort zone and experience something new. I'm going to be staying in the dorms on campus, and I'm really excited to meet new people. I am ready for the college experience."
"FIU has been so welcoming. I'm looking forward to the community. I'm going to be staying in the dorms on campus, and I'm really excited to meet new people. I am ready for the college experience."
- Grace McCullough, freshman hospitalty management major
Isabella Garcia
Major: Mathematical Sciences
High School: Coral Reef Senior High School
Just a few accomplishments: Graduated with a 4.92 GPA; member of the National Honor Society, Science National Honor Society, Thespain Honor Society and Psychology Honor Society
Describe yourself in three words: Ambitious. Analytical. Studious.
Isabella Garcia always knew FIU was for her.
As a toddler, Garcia attended her mom's graduation at FIU. As a kid, she returned to campus with her mom. She remembers walking around Barnes & Noble and staring in awe. One day, she told herself, she'd come back to this place. The desire became ingrained in her soul.
Years later, after applying to a slew of universities, Garcia weighed her options one more time. She received acceptance letters from other institutions, including the University of Florida, Florida State University and Nova Southeastern.
"When I saw the lineup and the letters I had received, nothing else compared to FIU," she says. "It was always FIU, since the beginning. I want to continue the legacy of being a Panther."
When she came to her freshman orientation, she fell in love with the university all over again.
"It was the first taste of really walking around campus," she says. "I'm lucky enough to have all of my close friends coming here with me. I love it here, just walking around, feeling the sense of independence and comfort, because I'm in the place I want to be. It's so great."
A mathematical sciences major, Garcia is very aware of her role as a woman in STEM. She's ready to dive in, promote greater opportunities and join the ranks of women excelling in the field.
Garcia is grateful to her Panther mom, Ismary Garcia '05, for teaching her how to be a hardworking, prepared student. "My mom has been my number one supporter. She is always there for me."
Joining the FIU family, says Garcia, is proof that she's achieving excellence.
"Being a Panther means everything to me," she says. "It means proficiency in academics. It means success. I've been working toward this moment for my entire academic life, ever since I learned what scholarship and leadership meant. I'm finally here, and I'm ecstatic to fulfill this dream."