Welcome back! Students enjoy a socially distanced concert to celebrate the beginning of the semester
The concert is one in a line-up of events that mark the beginning of socially distanced campus events
The spring semester kicked off with a one-of-a-kind, in-person concert to welcome back students and celebrate the new semester.
Tailgate chairs were spread throughout the GC Lawns at MMC. Representatives from student organizations doled out goody bags with FIU gear and treats from Salty Donuts. Students sat back and relaxed – or stood up and strutted a couple moves – to live music in the socially distanced company of their Panther family.
The concert, hosted by the Division of Academic and Student Affairs on Jan. 12, is one of the first in-person events held for students since the start of the COVID-19 pandemic. And even though it looked different from past concerts (with everyone sporting a mask, a hand sanitizing station available and 6-feet apart guidelines), the concert proved a success.
More than 150 students stopped by the concert throughout its two-hour program – and enjoyed some much-needed community time, even if socially distanced.
"Students were very happy," said Jose Toscano, senior director of Student Life and Development. "The students that came by were curious. It was a breath of fresh air. They asked questions, engaged with our student leaders and hung out. We received notes of encouragement, thanking us and thanking the administration. We are very thankful for the opportunity of engaging our students."
The concert featured live music by singer-songwriter and producer Levi Stephens and FIU student DJ Of Silence, who most recently dj-ed for the virtual Homecoming concert.
To organize the event, Toscano's team worked with the Event Protocol & Community Relations team, part of the Division of External Relations, Strategic Communications and Marketing, as well as with student groups, including the Student Government Association (SGA), Student Programming Council, Council for Student Organizations, Fraternity and Sorority Life and Relay for Life.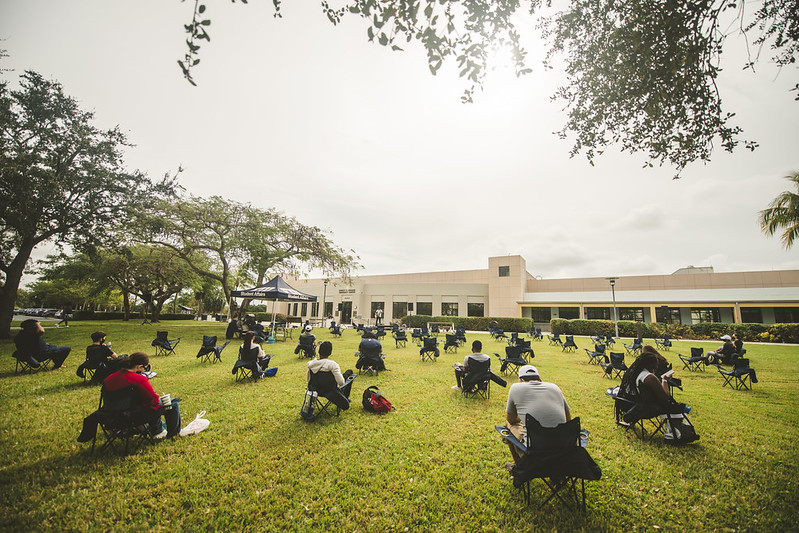 Concert attendees enjoyed free donuts from Salty Donuts and 60 lucky students feasted on free lunch meals from Miro's and/or Almazar, sponsored by SGA, and provided in collaboration with the Office of Business Services and Chartwells Food Service. Concert goers also got another unexpected gift: The tailgate chairs were not only convenient sitting spots, but giveaways. By the end of the concert, all the tailgate chairs had been claimed.
Students relished the opportunity to engage on campus, celebrate the semester and embrace some sense of normalcy in their lives.
"It's nice outside, a good environment. Everyone is really positive," said freshman biology major Gabrielle Murad. "With everything going on, it's a really nice change. It's nice to see everyone outside walking around. Especially like yesterday, when I went outside for lunch, there were a lot of people coming from class. That made me really happy. It made me feel like the campus was coming back to normal."
Marketing major Maverick Weidenbaum, who is a student leader of the Interfraternity Council, emphasized the importance of the personal connections students crave during college. "In-person activities allow you to grab onto those connections and get a full experience."
The concert is just one in a series of events FIU is planning to host in-person this semester. In the works are events such as a possible outdoor yoga session; hybrid and in-person summits and retreats; and movies on the lawn.
To learn about available in-person and hybrid events, keep up to up to date with FIU, student organization and FIU Campus Life social media channels, emails and Panther Connect portal updates. Check out the full list of Week of Welcome events.  
David Drucker contributed to the reporting of this story.