Alumnus completes prestigious pre-law program at Harvard
Daniel Simon '22 gained valuable experience as he prepared for law school through the exclusive TRIALS program
Just a few months after graduating from FIU, Daniel Simon '22 packed his bags and headed for Harvard to complete a top-notch program that will prepare him for his future: law school.
Simon was selected as one of only 20 students in the country to join the Training and Recruitment Initiative for Admission to Leading Law Schools (TRIALS) law prep program — a partnership between Harvard Law School, New York University School of Law and the nonprofit Advantage Testing Foundation. 
The prestigious summer program caters to students with limited economic resources and whose backgrounds are underrepresented at the country's top law schools. Students get comprehensive LSAT tutoring; take practice LSATs in simulated testing conditions; attend lectures by prominent lawyers and scholars, as well as faculty from Harvard and NYU; and forge connections with peers and instructors. 
"It is a life-changing experience," Simon says. "This program [has given] me guidance to overcome struggle and tools to seize opportunities. Meeting some unique individuals, I discovered freedom in authenticity and a passion for defying the odds and building a future to uplift others."
A few years ago, law school didn't even seem like a possibility to Simon. He arrived in the United States from Cuba as a teenager. A violin player, he worked various gigs to help his mom — who worked three jobs — make ends meet. Simon also worked hard at school, taking dual enrollment courses and logging hours upon hours of study. He was accepted into many universities including FIU, NYU, the University of California-Berkley, the University of Miami, University of Florida and Florida State University. He chose FIU.
As a music performance major, he dove into his art as a violin player. In his first semester, he also took an FIU Honors College course on the foundations of law. It changed his life. He connected the content with his experiences as a musician — seeing how friends unknowingly signed their copyrights away for the music they created. He found his calling.
"The class taught me how much good you can do with a legal degree," he says. "I have this knowledge of the arts as a musician, the vulnerability to transform the soul into a melody. And there is so much that is unknown to artists about protecting it [their music and talent], about navigating rough waters in the legal world. So, I decided to change that. I decided to pursue the legal profession."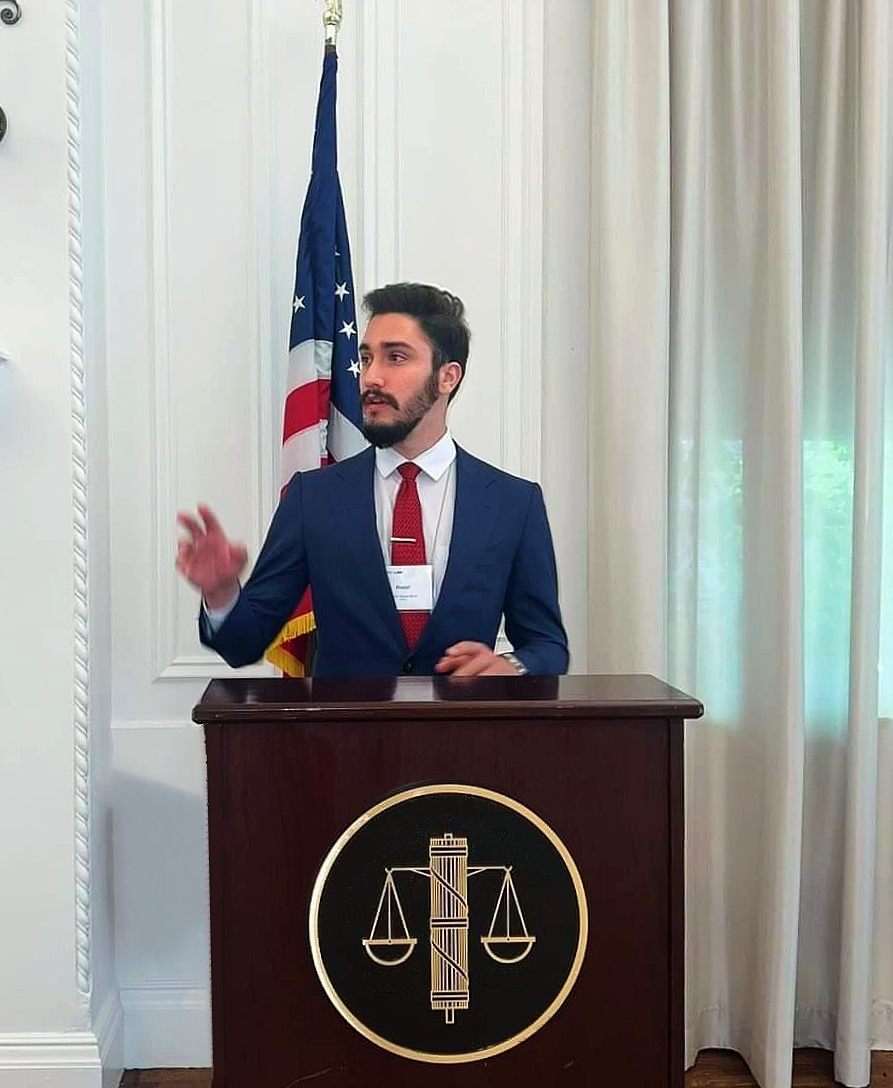 He added political science as another major to his studies. He joined the Panther Mock Trial team at FIU, which is a student organization housed in the Honors College that competes at tournaments run by the American Mock Trial Association. He also became a student assistant for Kristen Corpion, who at the time was an instructor at the Honors College and taught the legal introductory course that impacted his career.
Eventually, Corpion offered him an internship at her practice, CORPlaw, which later turned into a job offer. Since 2020, Simon has worked as a legal clerk at her firm. In his role, he drafts documents, conducts research and attends meetings with clients under the supervision of legal counsel. He's also participating in the FIU Law Path Journey program, which helps students prepare to enter law school.
"What sets Daniel apart is his unwillingness to give up," Corpion says. "He's the type of person that constantly challenges themselves and raises the bar, with no excuses. He has 100% accountability."
His earning a spot in the TRIALS program, she adds, speaks volumes to his talent and commitment – and will help set him up for even more remarkable accomplishments.
"The type of student that gets into TRIALS is phenomenal," adds Corpion, an alumnus of the TRIALS program herself. "The program is great. It gives you that boost to get you into one of those T-14 [top fourteen] law schools. You get tutoring, you get to network with admissions departments and alumni. I am confident that whatever doors Daniel wants to open, he will bust them down one way or the other, but a program like this gives him extra support in doing so."
Simon completed the in-person portion of the TRIALS program at Harvard and conducted virtual sessions until the fall. He hopes to attend law school at a top school – potentially Harvard. In the long term, he plans to continue both making music and pursuing law.
In fact, throughout his time at FIU, he never quit music. He was the concertmaster (the first chair violinist, a position of leadership) of the FIU Symphony Orchestra. He learned from musicians and educators Misha Vitenson, of FIU's Artist-in-Residence Ensemble Amernet String Quartet, and Javier Jose Mendoza, conductor of the FIU Symphony Orchestra.
Simon taught violin, piano and music theory to children every semester. After graduating in the spring of 2022, he joined a group of students on tour in Bolivia through FIU's Herbert and Nicole Wertheim School of Music & Performing Arts to perform at the International Festival of American Renaissance and Baroque Music "Misiones de Chiquitos".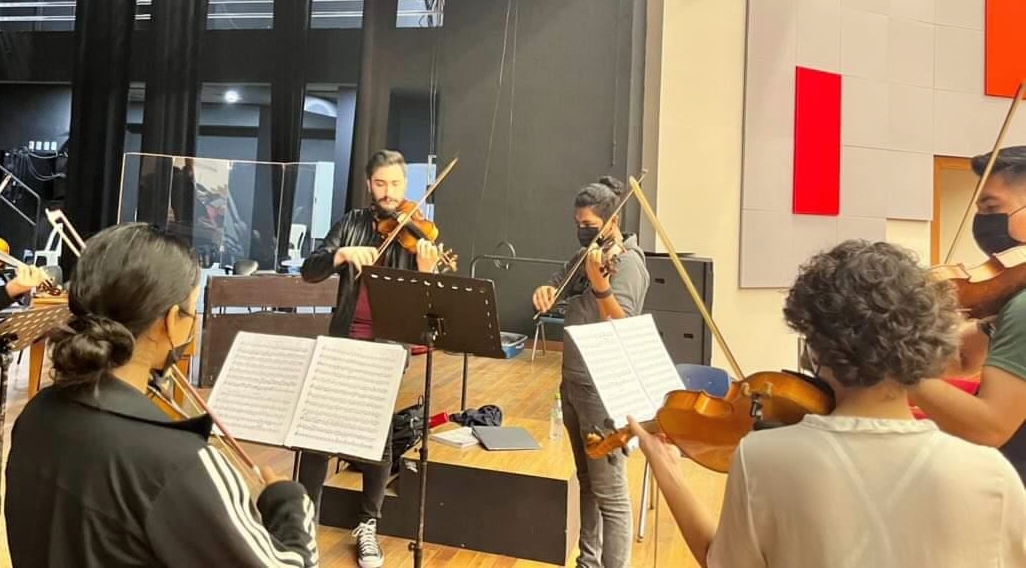 He says the mentorship of Corpion and his FIU family has been crucial to his success.
"The value of FIU lies within its community and faculty," Simon says. "There's an underlying mission of hope, knowledge and opportunity that binds us all together. The things I've accomplished are in one way or another related to the support, advice and guidance that I received from FIU and the Honors College."
One of his goals is to give back in the same way he received: to return to FIU and help the next generation of Panthers be successful, too.