Art student wins Florida Biennial's top award
Sophia Lacroix earned a cash prize and a solo exhibit for 2023
As a child in Haiti, Sophia Lacroix relished trips to the market. She loved the sights, sounds and incredible foods. Most of all, she loved her homeland.
Little did she know that one day — years after moving to the U.S. — her appreciation for her culture would inspire her creative energies and lead her to become an award-winning artist.
Recently, Lacroix earned the top award at the 2022 Florida Biennial: Installations, Portraiture, Materiality, and Magic Realism contest. She was selected from a pool of nearly 350 applicants and only 24 finalists across the state. She will receive a solo exhibition in 2023 at the Art and Culture Center/Hollywood, along with a $1,000 honorarium.
The piece that earned her the honor was a commissioned portrait of a woman named Sandy Dorsainvil, which was inspired by a photo taken by acclaimed photojournalist Carl Juste.
"My art is about the beauty of Haiti and the beauty of people," Lacroix says. "I want it to bring pleasure. I want people to see the beauty of the moment. It's for people like me who are afraid to go back to Haiti because of all the turmoil and insecurity. In my paintings, you can go to the market or walk to the mountainside safely. You can be in Haiti."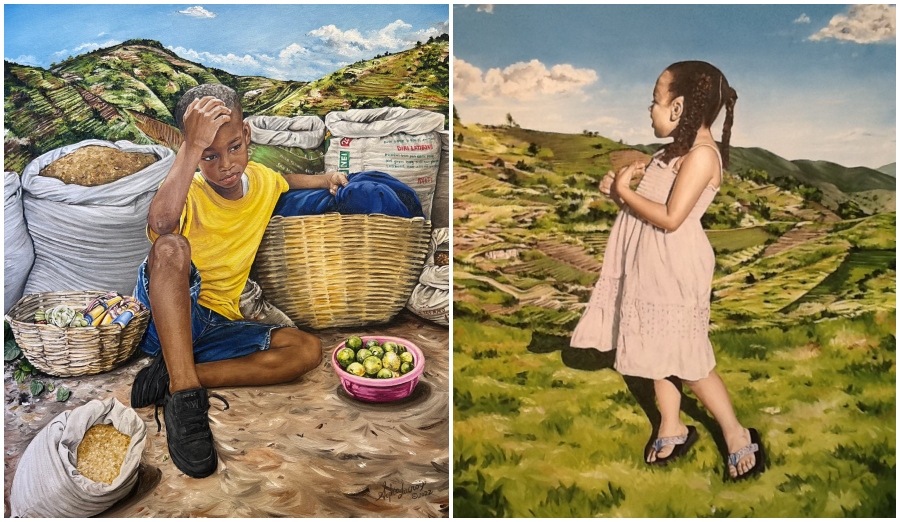 Lacroix is already brimming with ideas for her solo exhibit.
"I know the first room [of the exhibit] is going to feature still lifes. Then the next room is going to be figurative," she says. "But the figurative pieces are going to be about people that fascinate me…things that I've wanted to do and market scenes because that's still in high demand."
For decades, Lacroix has been in the art business and has traveled across the country to exhibit her work at shows ranging from the New York National Fine Arts Show to the New Orleans Jazz Fest. She developed a distinctive, realistic style all her own. She has won various awards and has been featured in numerous publications. She is beloved by art lovers and especially, those in the Haitian community.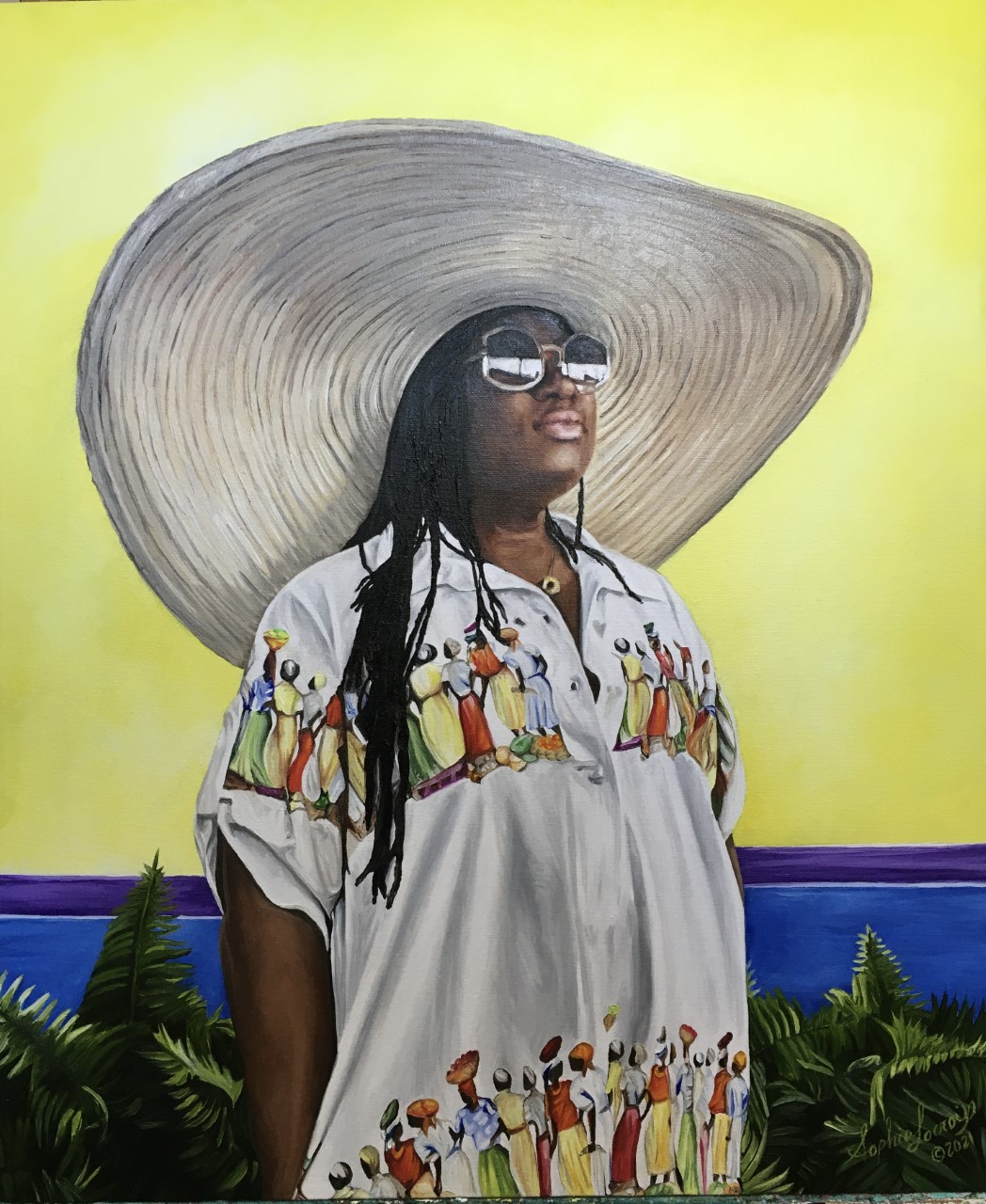 Portrait of Sandy Dorsainvil
, which won the Florida Biennial
Back to school
Lacroix was only missing one thing: a degree in the field. When she attended college the first time around, she chose a seemingly more practical major — nutritional sciences. But, at 50, she decided it was time to get the degree she'd always wanted.
Lacroix is an assistant program director at the Herbert Wertheim College of Medicine's Green Family Foundation Neighborhood Health Education Learning Program (NeighborhoodHELP) outreach team. She decided FIU was the perfect place to work and study. She enrolled in the university's BFA in art.
"I started taking classes and realized all the things I didn't know," she says. "Art history has opened my eyes. I discovered so many artists and it all clicks now. I was concerned since I'd been working as a professional artist for 25 years. I didn't know what my classmates would think of me sitting in class. But, everyone was so welcoming. They felt they could learn from me. I've learned from my professors and from the young people in class, too."
Through the program, she met a newfound source of wisdom — David Chang, Frost Professor of Art, founding director of the Academy of Portrait and Figurative Art and director of art education.
"Professor Chang is so talented," says Lacroix, who is part of Chang's Academy of Portrait and Figurative Art. "He's a hyper-realist. And he knows the business of art. If I had met him earlier, I would not have been taken advantage of as an artist. I would not have been paid 10% of what a painting was worth." 
This year has marked incredible successes for Lacroix. She earned "Best in Show" award for one of her paintings from Studio 18 in the City of Pembroke Pines. Lacroix has also been selling her paintings like hotcakes. She chronicles her progress on paintings through videos on social media. That's where customers see her works, and even before she's finished with the paintings, she's already received offers and sold them.
Earning the top award at the Biennial is further proof of her chops as an artist.
"Having had Sophia at the Academy of Portrait and Figurative Art and witnessed her commitment and growth, I am not surprised by her success today," Chang says. "Not only does she have the talent, but more importantly, she possesses the kind of drive and diligence that warrant success professionally. I am very proud of Sophia."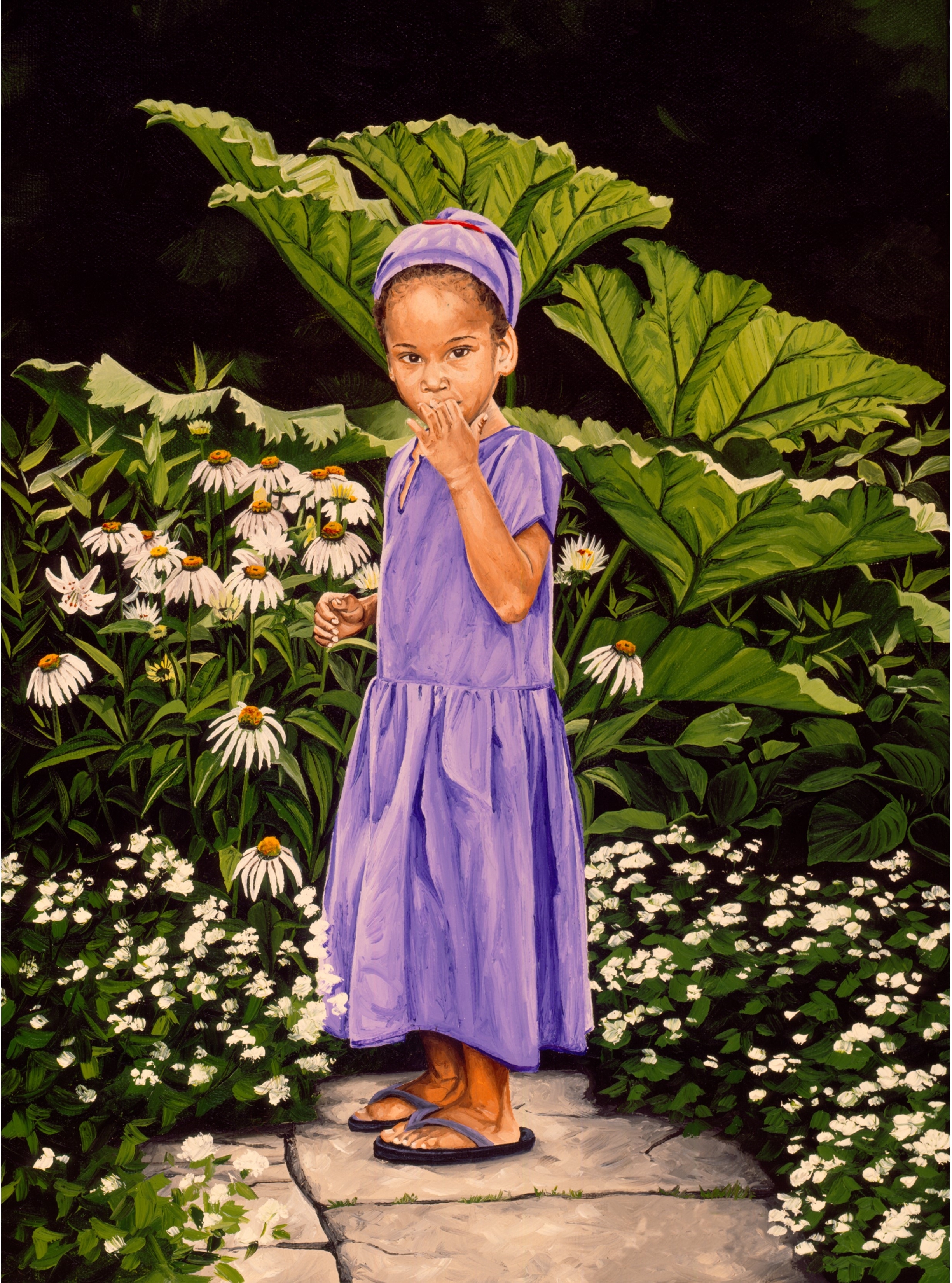 Cornflowers
, an oil on canvas painting. 
This is one of three of Lacroix's images that were selected in 2021 by the City of North Miami as part of the U-Wrap NoMi, a project that reproduced various pieces as wrap-arounds on utility boxes. The utility box featuring this particular image can be found on the southwest corner of Biscayne Boulevard and 123rd Street in North Miami.
Panther journey
For her part, Lacroix is proud to be a Panther. She began working with the outreach team at NeighborhoodHELP when the program — which allows medical students to work alongside nursing, social work and physician assistant students, as well as law students when needed, to provide health care during household visits in the community — was still in its fledgling stages.
She landed the job at FIU back in 2009 after she and her husband had been laid off from previous jobs — and she had just given birth to her daughter.
"FIU was God-sent to me," Lacroix says. "This is the best job I've ever had because of the way FIU values employees and their quality of life, and the mission that we have at the Herbert Wertheim College of Medicine. On top of that, being able to go back to school to learn the stuff I always wished I'd had the opportunity to learn is invaluable. It's such a privilege. I hope my daughter goes to school here. It's such a blessing."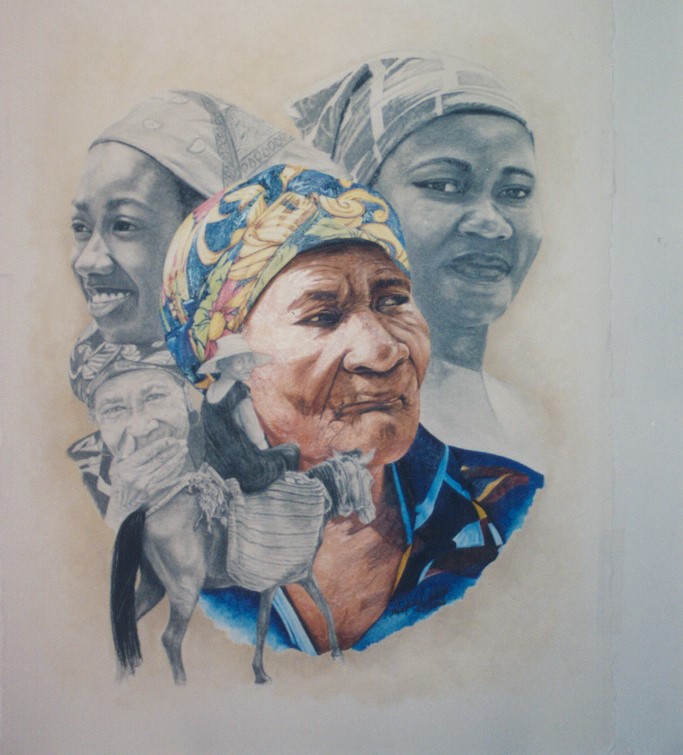 La Face de L'Economie Haitienne
(The Face of Haiti's Economy), a mixed-media graphite and oil on watercolor paper on an acrylic base. This piece depicts the strength of the Haitian woman as the center of Haiti's economy.