Class of 2026: Rising stars ready to make a difference
Meet some of our newest Panthers
August 23, 2022 at 9:50am
---
It's day two of a historic fall semester. With a slate of exciting campus events, a new era for FIU athletics and a bright, energetic Class of 2026, the university is full of promise and teeming with life.
To celebrate our freshmen, FIU News is introducing the Panther community to some of the students who have begun their journey at the university this semester.
Meet two talented Panthers and tune in tomorrow for the next installment of the series. 
Karam Abilmouna: Medical researcher
Karam Abilmouna has launched his FIU journey as a neuroscience major. He comes with a list of science-related awards, experience as a researcher and a clear vision of his passion — to become a doctor and researcher.  
A National Merit Scholar and Burger King scholar, Abilmouna graduated high school with a 4.86 GPA and 10 AP classes under his belt.
He also served as the Science Olympiad coordinator for the Science Honor Society at his school. Science Olympiad is the premier team STEM competition in the nation, which hosts hundreds of tournaments.
Abilmouna won three bronze medals at the regional competition and snagged an additional one when his school placed third overall a couple of years ago. 
He was in band all throughout school and has been playing the drums since he was 9 years old.
He also gained real-world scientific experience conducting research on non-syndromic hearing impairment at the University of Miami (UM) through a JJ Vance Memorial Summer Internship — a paid internship that allows high school juniors to participate in an eight-week research course.
When senior year came, Abilmouna applied to the University of Florida, UM, Florida State University, Georgia Tech and Boston University. He was accepted into all of them. He chose FIU.
He was already sort of a Panther, as his sister is studying at the university. He also believes FIU provides him with the greatest opportunity.  
"I'm really excited about getting research experience at FIU labs," he says. "I've been looking into the labs. A lot of them specialize in areas I'm really interested in. I've been thinking about neurotechnology or medical physics, somewhere between tech and medicine or genetics. There's just so many opportunities and so many ways I can get involved at FIU."
Abilmouna says he is thankful for the opportunity of an education.
"My whole family [consists of] immigrants," explains Abilmouna, whose cultural heritage is Lebanese and Venezuelan. "Getting an education is really hard for immigrants. I'm very grateful to have been born in the U.S. and have [had access to] an education my whole life."
A career in medicine is his way of saying "thank you."
"I feel like being a doctor and doing research is a career I will love, do well in, and [will] allow me to give back to society, which has given the most to me," he says. "I want to do my part and give back to the world."
Karam Abilmouna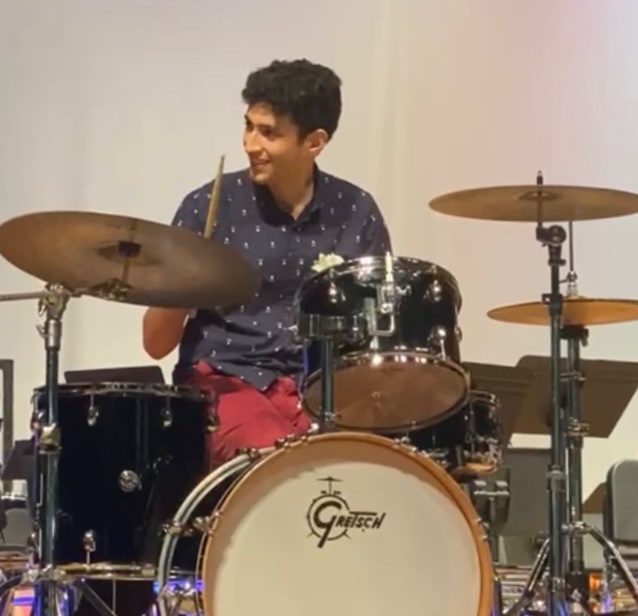 Abilmouna has played the drums for nine years
Gabriella Bravo: Leader with a heart to serve
When the pandemic hit, Gabriella Bravo realized that many children were struggling to keep up with online classes. 
She decided to help. She began tutoring children of friends, family members and others in her community. One of her pupil's nemeses was spelling. The troublesome word? "Because." Bravo taught him a trick to emerge victorious — think of the mnemonic device, "Big elephants can always understand small elephants." And, just like that, he could spell "because." 
To this day, the little boy proudly tells Bravo that he still uses her technique, and, every time he does, he thinks of her.  
It was a defining moment for Bravo. 
"I realized I can use English and my abilities to connect with people to create a long-lasting impact on their lives and help them care about the subject," she says.  
A first-generation Cuban-American, she also knows adult immigrants often need someone with English skills to translate legal documents, restaurant menus and much more. Wherever she went — whether to a clinic with her grandmother or a neighbor's house — she made it her mission to help people break through the language barrier.  
"As a bilingual, you can always help someone," she says.  
Passionate about giving back, she began teaching adults in her community how to speak English. For her work tutoring children and adults, she received a Silver Knight Honorable Mention and made history at her school, becoming the first student ever to receive a Silver Knight recognition at South Dade Senior High School.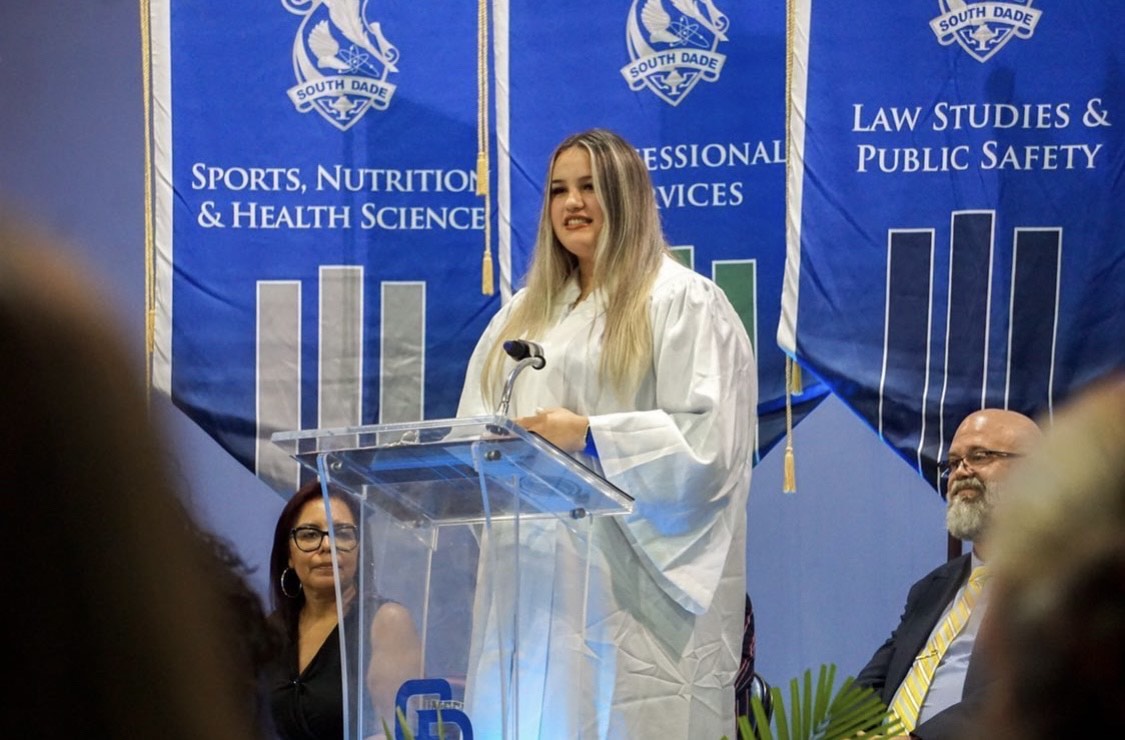 She also flourished in school— excelling in the IB program, becoming the president of the National English Honor Society and joining the school's Best Buddies Club, which creates opportunities for students to foster one-to-one friendships alongside people with intellectual and developmental disabilities.  
She led her school's team in the regional Aspen Challenge competition, which provides a platform for young people to create solutions to some of the world's most pressing problems.  
She graduated high school summa cum laude, with 50 college credits to her name.   
She began at FIU this week as an English major, becoming the first in her family to attend college. After graduation, she plans to earn a law degree from FIU, and, to one day, pursue a Ph.D.  
For this Panther, the sky is the limit. 
Read the other stories in the series celebrating incoming students.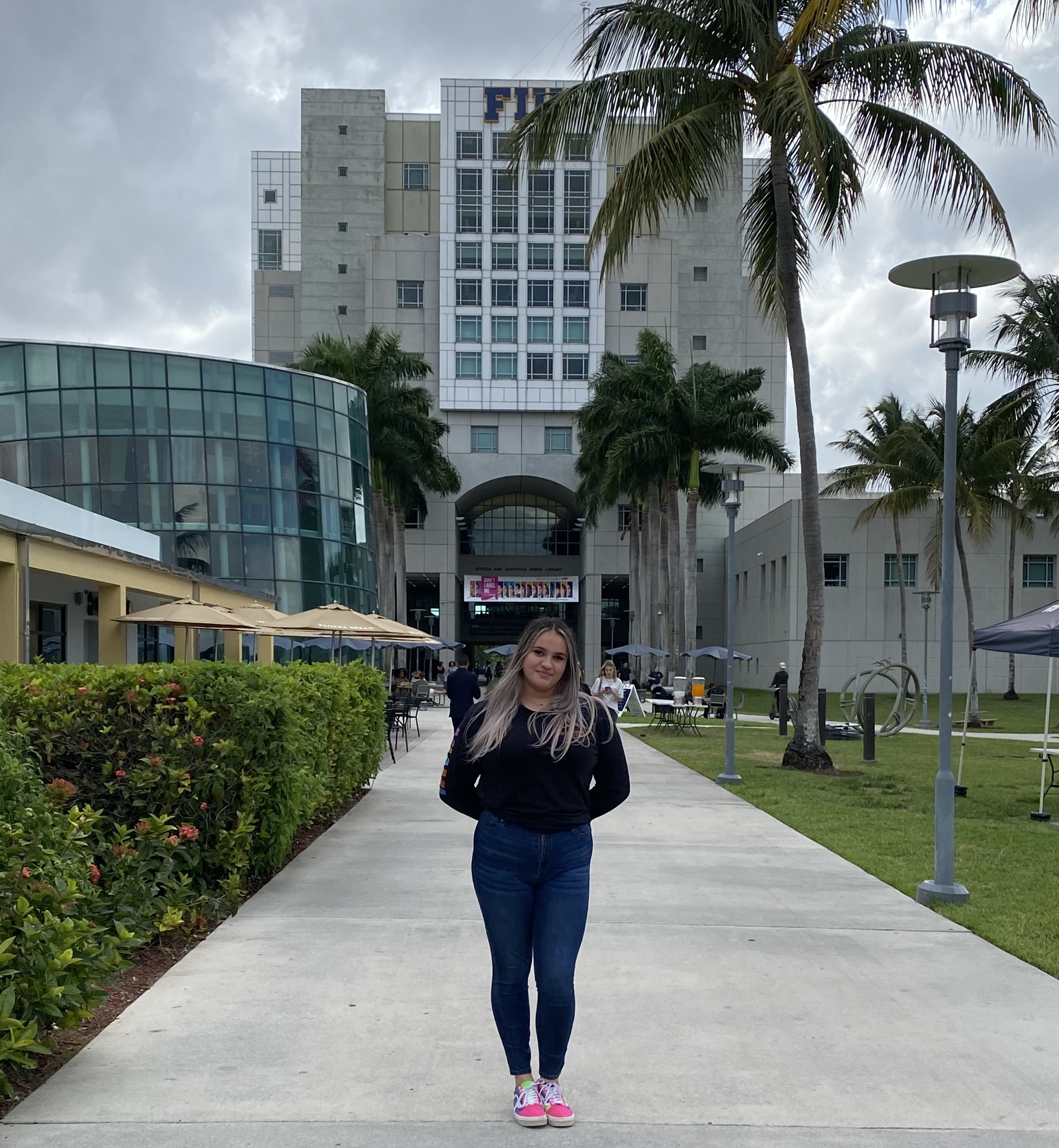 Gabriella Bravo