FEMA announces national initiative to modernize building codes at FIU Wall of Wind
Since 2012, Wall of Wind research has fueled life-saving innovations
---
With FIU's Wall of Wind (WoW) as a backdrop, FEMA Administrator Deanne Criswell announced a new initiative by the Biden-Harris administration to modernize building codes, improve climate resilience and reduce energy costs. The announcement came on Wednesday – the first day of hurricane season.  
Nearly two out of every three communities in the United States have outdated building codes and, as a result, are vulnerable to climate impacts and higher energy costs. This initiative will help state, local, Tribal, and territorial governments adopt current building codes and standards, enabling communities to be more resilient to hurricanes, flooding, wildfires, and other extreme weather events that are intensifying due to climate change.  
"Resilience is a team sport, and us coming together in an event like this really demonstrates how when we work together, we can really make great things happen," said Criswell. "I'd like to thank the university. I've been looking forward to this day since they told me about this Wall of Wind. I am so excited to be able to share this announcement today from such a great example of how our academia is really such a tremendous partner in our ability to advance resilience." 
Criswell was joined by National Science Foundation (NSF) Associate Director for Engineering Susan Margulies, White House National Climate Advisor Ali Zaidi and other local and federal officials including Miami-Dade County Mayor Daniella Levine Cava at the NSF-funded WoW facility, the only university research facility capable of simulating a Category 5 hurricane.  
"It's good to be back on a college campus, one that is not only on the front lines of the climate crisis but also on the front lines of solving the climate crisis, said Zaidi. "We are here today to announce an initiative that will help us become stronger in the face of this climate crisis, that will help us save money, save lives and that is the announcement of our first-ever National Initiative to Advance Building codes all around the country." 
The event at FIU followed the morning hurricane season kickoff at the National Hurricane Center, located on FIU's main campus. In the afternoon, the officials toured the WoW facility and saw, up-close, the research currently being done there. 
Since opening in 2012, research at the WoW has led to improved building codes and life-saving innovations that have been used to mitigate the effects of hurricanes and extreme weather systems. These discoveries and solutions have saved lives and prevented millions of dollars in structural damage from storms. A recent Conversation article by FIU researchers details the impact of 10 years of research at the WoW.

Some of the innovations credited to WoW research include: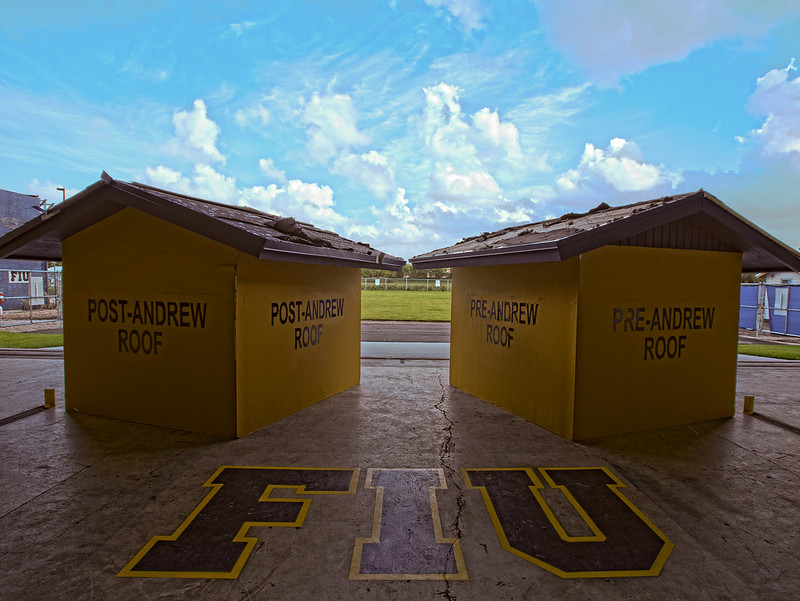 Researchers discovered that replacing a smooth nail with a ring shank nail, which grasps wood better, made roofs more resistant to hurricane winds. These nails are now standard in Florida roofing.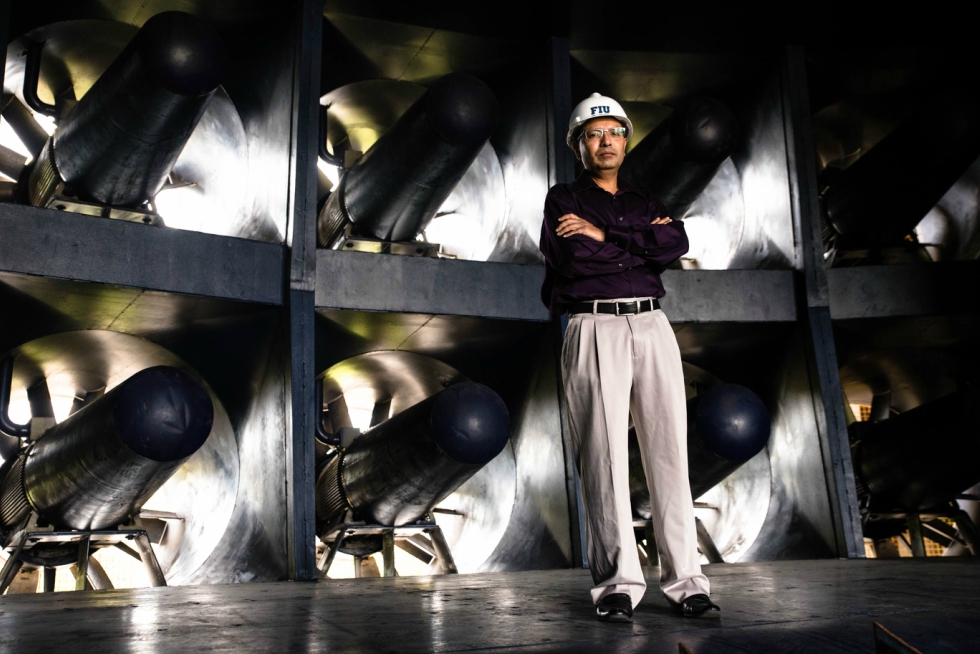 A patented concrete roofing system that is better at handling strong winds, and also, with factory-built panels, would allow the kind of quality control that is often impossible with current roof systems. The cost of these panels also would be lower than traditional roofs, take less time to install.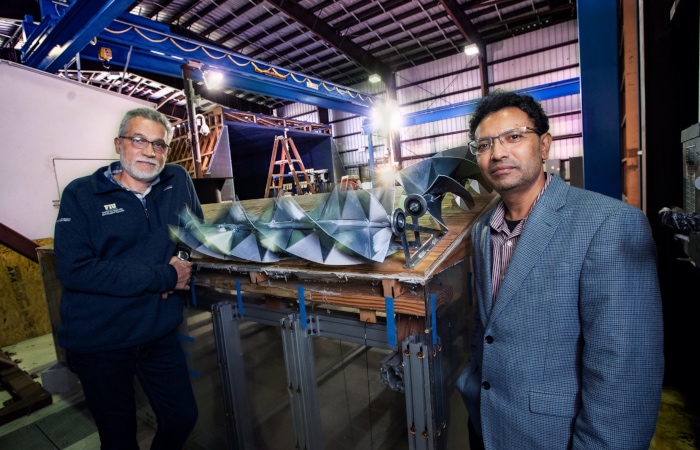 The Aerodynamic Mitigation and Power System (AMPS) is a series of turbines created at FIU's WoW that can be positioned on rooftops of houses and corners of tall buildings to interrupt the flow of destructive winds that might otherwise lift shingles or even entire sections of roofs. AMPSalso can use wind energy to feed into a power grid or store it in batteries – a benefit during blackouts.  
Professor Arindam Chowdhury, chair of the FIU Department of Civil and Environmental Engineering in the College of Engineering and Computing, is currently using the WoW to research how to make manufactured homes less vulnerable to wind events. It is the first time this type of high-wind research has been performed on manufactured housing. 
WoW researchers also will lead a multidisciplinary team of researchers and practitioners from eight other universities and the private sector to design a national full-scale testing facility capable of wind speeds of up to 200 miles per hour, combined with a water basin to simulate storm surge and wave action up to 20 feet.  
The NICHE project (sometimes referred to as the "Cat 6 project") is funded by a $12.8 million, four-year NSF grant. It is intended to become part of NSF's Natural Hazards Engineering Research Infrastructure (NHERI) – a distributed, multi-user national facility that provides the natural hazards engineering research community with access to research infrastructure that includes earthquake and wind engineering experimental facilities, cyberinfrastructure (CI), computational modeling and simulation tools, high-performance computing resources, and research data, as well as education and community outreach activities. 
"As we kick off the 2022 hurricane season, I cannot think of a more relevant place than Miami – and of course the Wall of Wind here at FIU - to announce this national initiative," said FIU Interim President Kenneth A. Jessell. "We are grateful for the recognition of FIU's impactful contributions to finding real solutions for the challenges of today and of the future."