FIU is the country's future: Preparing public servants for the highest levels in foreign affairs
---
FIU is powering the next generation of foreign affairs professionals.
The university is turning out leaders ready to tackle the most pressing issues of the day. FIU alumni have forged careers at all levels of the federal government in Washington, D.C. and students are increasingly capturing the attention of recruiters and agencies as the intelligent, diverse representatives that the government needs.
In particular, in recent years, FIU alumni have ascended to high roles in foreign affairs, including Under Secretary of State for Public Diplomacy and Public Affairs; administrator of the U.S. Agency for International Development (USAID); lead travel aide to the Secretary of State; and director of social inclusion at the Organization of American States and federal judge, to name a few. Alumni have also been recognized as groundbreakers. For example, up until President Joe Biden was inaugurated, Nilda Pedrosa '96 (who passed away in 2021) was the highest-ranking woman at the State Department and the second Hispanic to serve as Under Secretary for Public Diplomacy and Public Affairs.
This alumni network also forms the foundation from which the university is able to provide additional mentors and support to FIU students. More than 100 students intern for Washington-based organizations, and another 300 participate in thematic career "fly-in" seminars through FIU in Washington, D.C., the university's hub in the capital. Students and recent alumni have also earned top awards, including Rangel Fellowships and a Payne Fellowship, which are catapulting them into careers with the U.S. Foreign Service. To continue growing the alumni network and capitalizing on student success, later this year, the university will open an expanded facility on Capitol Hill.
Many agencies and branches of government also regularly come to campus and recruit students through events including FIU Career and Talent Development's annual federal government conference, which brings representatives from the military, FBI, CIA and many others to the university to engage with students.
In March alone, USAID Administrator Samantha Power visited FIU and signed a historic agreement to increase jobs, internships and research opportunities for students. U.S. Deputy Secretary of State for Management and Resources Brian P. McKeon came to the university and met with students and researchers. He discussed the agency's issues of focus for the next few decades and emphasized the need for the federal government to recruit young people with a variety of talents. Likewise, intelligence professionals spoke virtually with students to share tips for pursuing careers in the FBI, CIA and other agencies. 
Alumni leading the way
Ernesto Alfonso '11 is a U.S. Foreign Service Officer currently serving as a special assistant to Deputy Secretary of State Brian P. McKeon. He is a prime example of FIU students landing significant positions in government thanks to preparation they received at the university.
"FIU was crucial for me," says Alfonso, who majored in international relations and economics. "It was where I cemented my international affairs background."
He says meeting the Diplomat in Residence at FIU — a senior foreign service officer assigned by the Department of State to certain colleges and universities — was a turning point for him. The diplomat was a first-generation immigrant.
"Just seeing yourself in somebody like that, it broke so many barriers for me," he says. "I realized, 'This could be me'."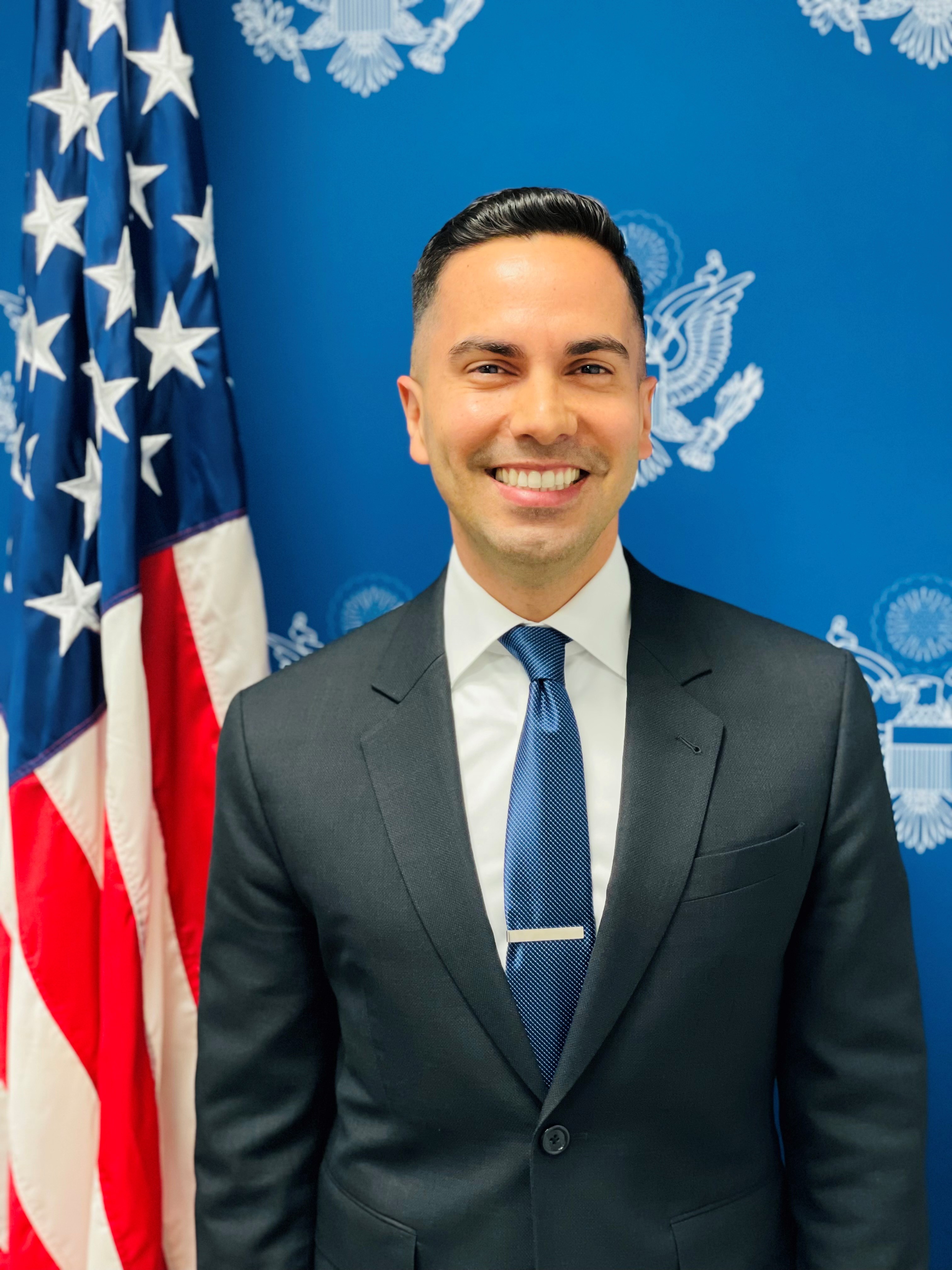 Ernesto Alfonso '11 is a U.S. Foreign Service Officer currently serving as a special assistant to U.S. Deputy Secretary of State for Management and Resources Brian P. McKeon.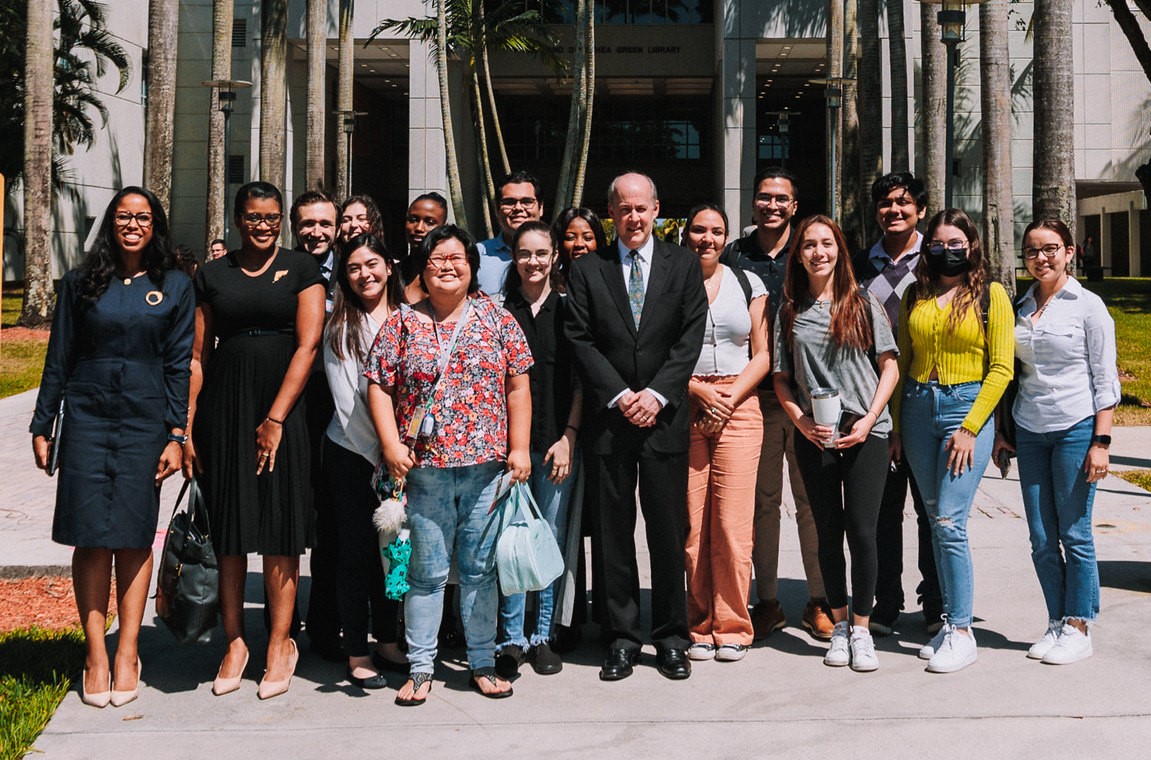 Alfonso packed his bags and moved to the nation's capital after graduation to intern with the university's governmental affairs office in Washington. He worked on advocacy efforts and became the main contact working with a delegation of foreign affairs professionals from the Republic of Georgia, eventually bringing them to FIU.  
"It was my first diplomatic engagement," Alfonso says. "It got me really excited about doing this line of work."
Alfonso became the first Panther to earn the prestigious Thomas R. Pickering Foreign Affairs Fellowship, which funded his graduate studies at Columbia University. The fellowship — funded by the Department of State – offers students interested in pursuing a career in the Foreign Service financial support for two years of higher education. Fellows commit to working in the Foreign Service for five years upon completion of their degree.
Alfonso has since worked as a Foreign Service Officer in Mexico, Afghanistan and Italy. He also served at the Department of State's Operations Center, which monitors world events and prepares written briefs for the Secretary of State and other senior officials. Currently, he advises the Deputy Secretary of State, particularly on European-U.S. relations. He helped coordinate the recent visit to FIU.
Alfonso says the diversity at FIU was crucial in preparing him for his career.
"Without knowing it, I was already working in a multicultural and multilingual setting at home," he says. "That is the key foundation of the work I do. The ability to represent people started at FIU."
He adds that FIU students interested in pursuing foreign affairs should boldly dive into the field.
"Students should know that across the board in federal government, we want people of diverse regions and populations, to mirror what America looks like," he says. "They also need to be the best and brightest, committed to representing our country."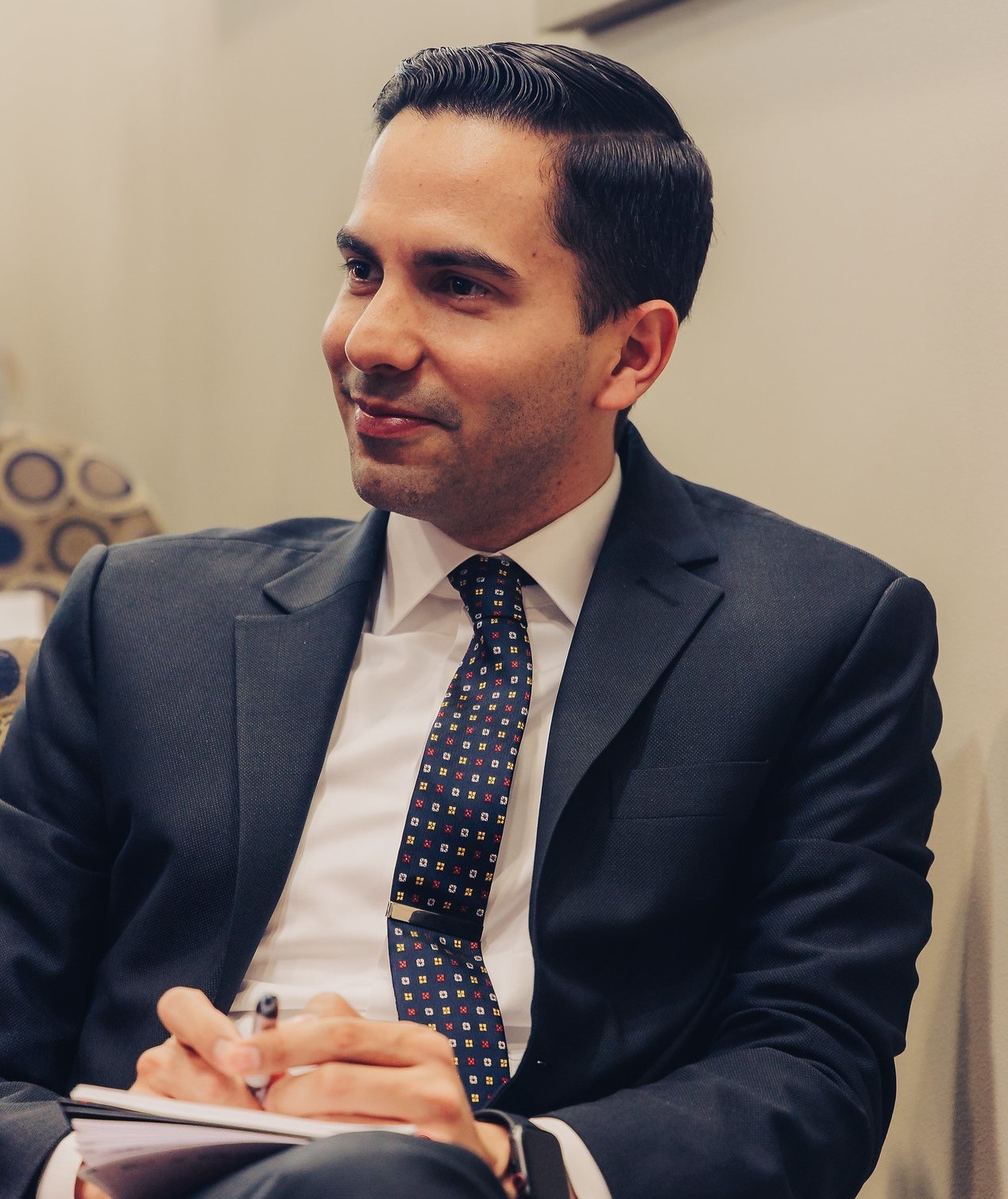 Alfonso on campus during McKeon's visit.
The future of foreign affairs
Panthers are heeding the call and increasingly filling the ranks of the Foreign Service. Recent alumna Pierina Anton Lopez '20 found her inspiration to serve while on a trip through the FIU Honors College to Thailand, Cambodia and Vietnam. She taught English to students and helped raise money to buy school resources for students in need in the area.
The international relations major earned a spot on the university's top-ranked Model United Nations team. She participated in two "DC fly-ins," which are seminars that provide students unprecedented access to representatives on the hill and career-building tips. She completed several internships, including one with the International Rescue Committee and another at the USAID's Bureau for Africa's Office of Sustainable Development, Education and Youth Division. She earned the university's Global Learning (GL) Medallion and conducted research on education and resilience in conflict-torn regions as a GL fellow. She also conducted research on foreign policy in the Latin American and Caribbean region with a student team and presented findings to representatives of the Department of State.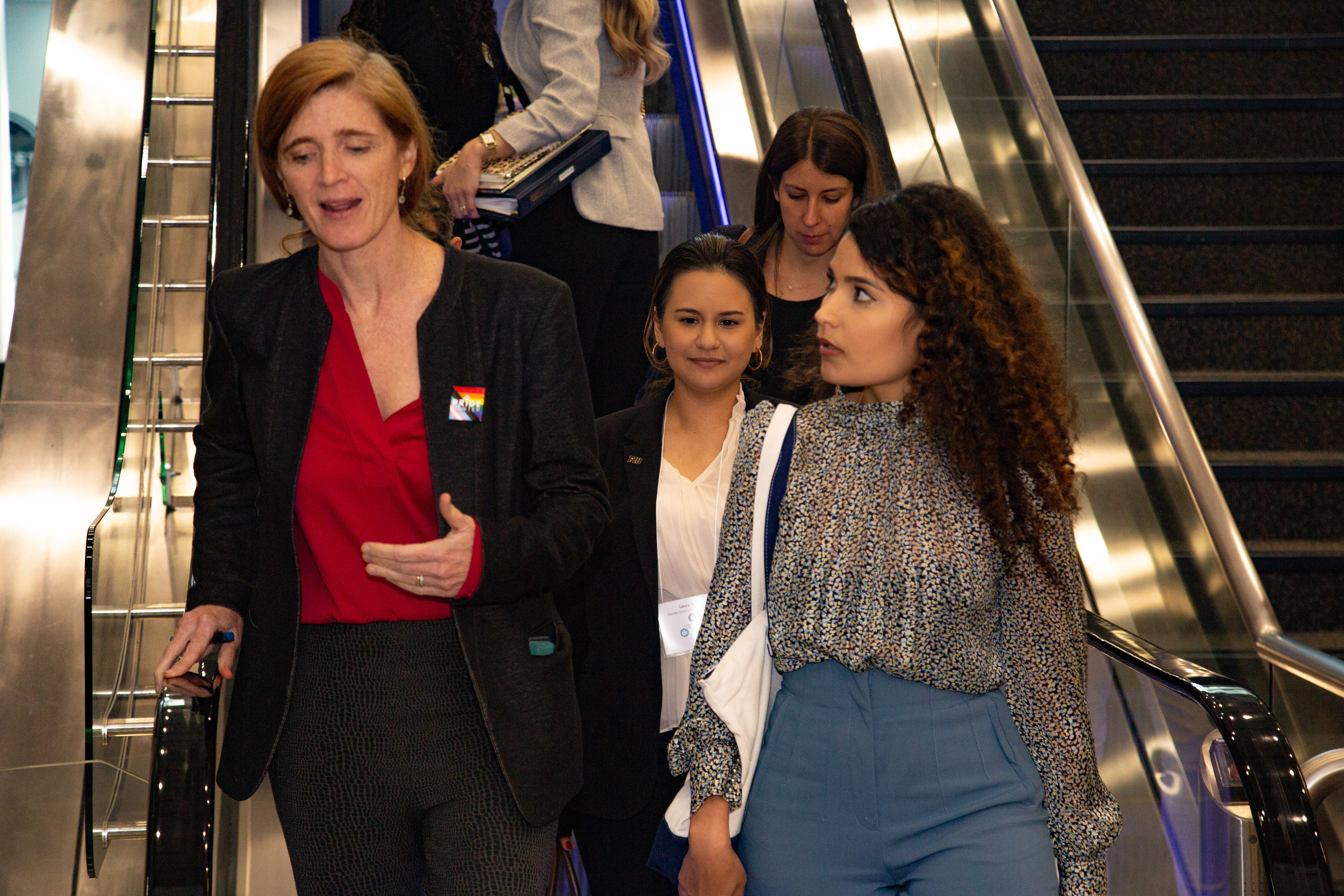 In 2021, Anton Lopez became the first Panther to earn the prestigious USAID Payne Fellowship, which provides young individuals up to $96,000 in benefits over two years toward a pathway to working at the USAID Foreign Service.
She is currently pursuing a master's degree in global human development from Georgetown University and is also a fellow for the Global Campaign for Education, working on advocacy and communications for the advancement of inclusive, quality education for all. After graduation, she will begin her career in the Foreign Service.
"FIU was the perfect training ground for me," she says. "At FIU, we don't place any limits on ourselves. I have no doubt in my mind that FIU will produce the country's next leaders."
The future of foreign affairs is in good hands.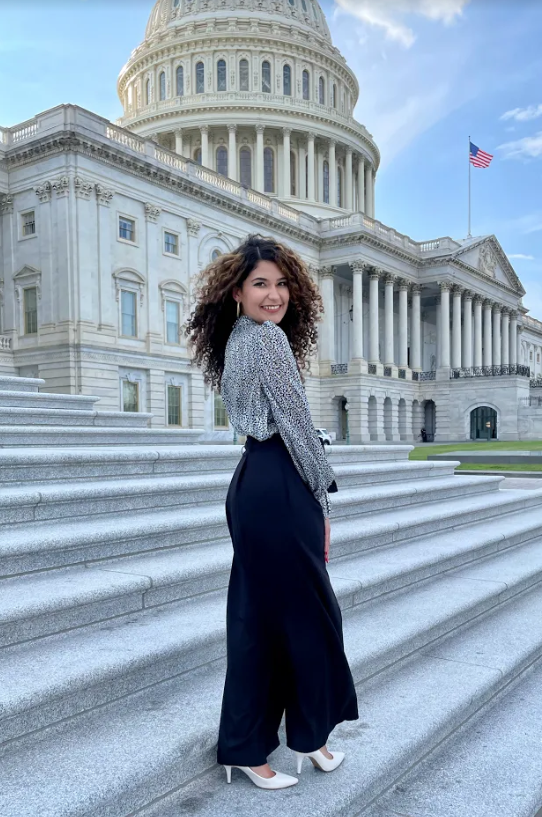 Pierina Anton Lopez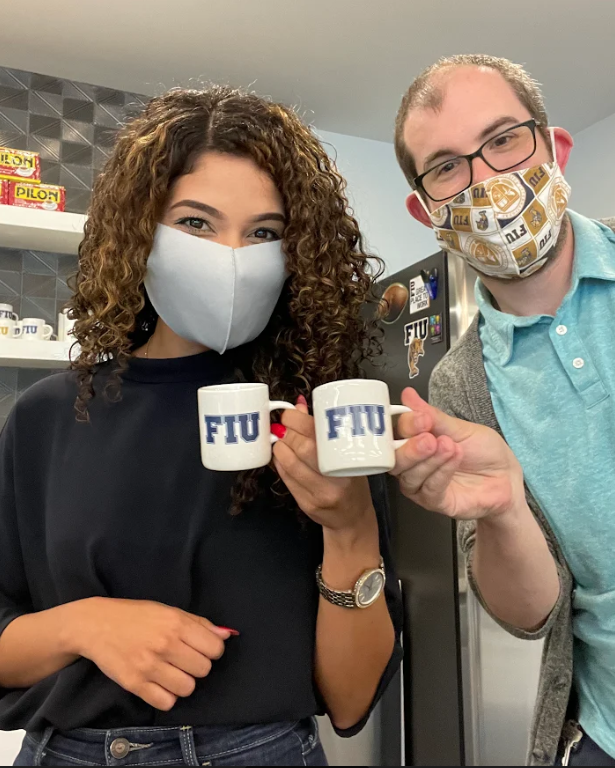 Anton Lopez and FIU in DC's Associate Director Eric Feldman at FIU's facility in the nation's capital.