FIU Model UN recognized as one of the best high school conferences in the world
Team selected as one of nine best high school conferences by Best Delegate
---
FIU's Model UN team continues its winning streak this year, receiving another top designation for 2021-22.
The team, recently ranked #3 in North America, has also been named one of the "Best High School Model UN Conferences" in the world – one of only nine conferences selected by Best Delegate for this honor.
FIU's high school conference, known as FIMUN, is now in its 34th year and draws hundreds of high school students to the Modesto A. Maidique campus. Held in March, this year's conference was the first in-person event held in two years due to the pandemic.
"FIMUN is not only known to be fun, but it has been known to help high school delegates to transform into (better people and delegates) than they were before the conference," noted the announcement by Best Delegate, the organization that ranks collegiate Model UN teams. "Students come out of this conference stating that it has truly changed their lives and encouraged them to join collegiate Model UN."
Nominations were submitted by faculty advisors and student leaders from around the world. Also making the list were conferences run by Dartmouth College, George Mason University and Georgetown University.
"I salute the leadership, ingenuity and passion for the study of international relations of our FIU Model UN delegates,'' said John F. Stack, dean of the Steven J. Green School of International & Public Affairs, which houses the Model UN program.  "I am so proud of our students."
Hosting the conference is a labor of love for FIU's delegates, many of whom attended FIMUN as high schoolers.
The team handles all of the planning and logistics for the three-day event and spends countless hours researching the various issues the high school students will debate – from how to guarantee the safety of refugees around the world to combating racism and xenophobia. There was even one group that tackled a futuristic battle of humans versus machines.
"This past year we covered almost every continent and time period ranging from prehistoric to modern,'' said FIU Model UN Director Ashley Weathers, a former head delegate of the team. "The dedication and research it took to create 10–20-page research documents for 16 different committees demonstrate our students' commitment to making our conference one of the highest in quality."
"The impact FIMUN has on students is profound as we watch these younger Model UN delegates utilize their skills in their future endeavors following the conference," she added.
By inspiring future leaders, FIMUN provides an important service, noted Estefania Urdaneta, one of two secretaries-general for this year's conference.
"Through 34 iterations of FIMUN, the FIU Model UN program has given back to the community through the development of future leaders," she said. "This year, FIMUN encouraged delegates to discover their passions while working with their colleagues to make an impact."
Incoming senior Lidia Llompart is looking forward to the 35th FIMUN, for which she has been named secretary-general.
"Every year, FIMUN works hard to give students safe spaces to debate issues they care about and have fun at the same time, which is why the entire FIU MUN team goes all hands-on deck for the conference,'' she said. "For FIMUN 35, I am excited to continue to foster that environment as secretary-general, while encouraging students to put solutions into practice in their committees and their communities."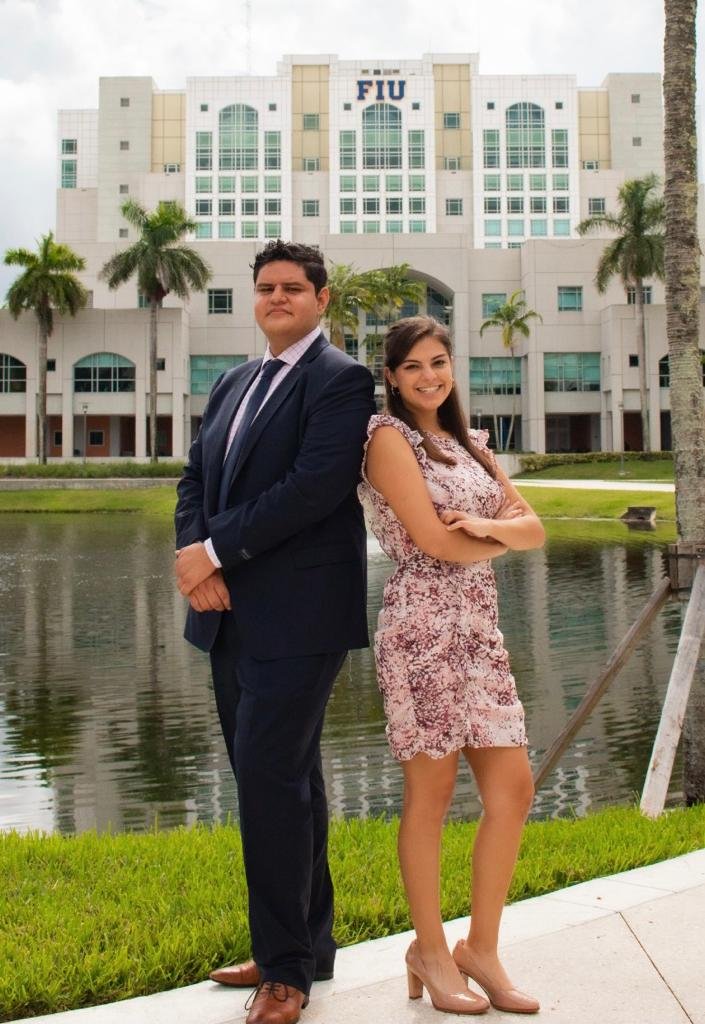 Ricardo Vazquez and Estefania Urdaneta, who led this year's Model UN high school conference, FIMUN34, as secretaries-general for the event.