Fulbright sends FIU scholars to Canada, Portugal, Trinidad & Tobago and Spain in 2022-2023
At the annual Fulbrighters Homecoming/Sendoff, the 2021-2022 cohort of scholars and specialists passed the baton to the 2022-2023 cohort consisting of professors Pouyan Esmaeil Zadeh, Mark Macgowan, Amy Paul Ward and Minye "Michael" Tang. Their projects aim at solving global problems by sharing knowledge and collaborating with faculty at the host institutions abroad.
---
It's become a summer tradition that FIU celebrates the accomplishments of Fulbright scholars and specialists who have returned from abroad, while also recognizing those who are about to depart abroad on their Fulbright fellowship during the commencing academic year.
At the 2022 Fulbrighters Homecoming/Sendoff gathering on July 22, Interim President Kenneth A. Jessell and Vice President for Regional and World Locations Pablo Ortiz congratulated the Fulbrighters on their respective awards and accomplishments.
"I am thrilled that Fulbright recognizes the expertise of our faculty and funds them to collaborate with institutions across the world," said Jessell. "This is the essence of human progress: to reach out and cross borders, to respect, to be curious, to participate and collaborate, and to be generous."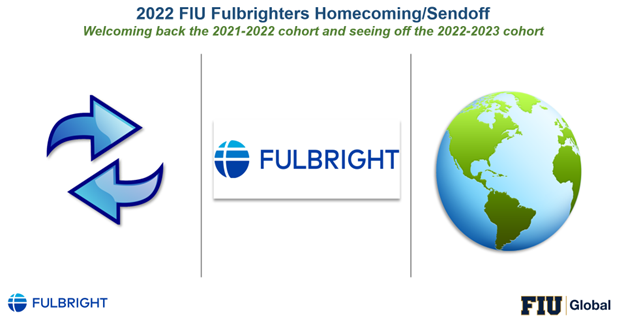 Most of the 2021-2022 Fulbright scholars and Fulbright specialists are now back home at FIU and shared their successes with their peers. The outgoing Fulbright Scholars and their 2022-2023 projects are summarized here:
Pouyan Esmaeil Zadeh is an assistant professor in the Department of Information Systems and Business Analytics. He was awarded the Research Chair in Health Studies Fulbright grant at McMaster University in Canada. His topic of research is focused on the use of Artificial intelligence (AI)-based applications for managing mental and physical care. He will attempt to distinguish features suited for managing mental disorders and physical problems using AI algorithms. This study will have practical contributions to application designers.
Mark Macgowan, professor of social work and associate dean in the Robert Stempel College of Public Health and Social Work, will be hosted by Universidad Murcia, Spain, in Spring 2023. His project focuses on the development of global standards for group work toward community wellbeing. The COVID-19 pandemic and other mass casualty events more than ever before have called for remotely-delivered group work as a modality for helping those in need. However, there is no tool to guide the quality of the modality for Spanish speakers. Using methods from previous studies and collaborating with his host, Macgowan will refine and test a Spanish-language inventory of online group work competencies derived from global standards while in Murcia.
Macgowan's work in Murcia will build upon his project conducted during his Fulbright Fellowship to Edinburgh, Scotland, in the U.K. in 2012-2013. Deeply committed to the Fulbright mission, Macgowan is a peer application reviewer for Fulbright and often supports on-campus events promoting the program and assisting other faculty with creating competitive applications.
Amy Paul-Ward, associate professor in the Department of Occupational Therapy, will travel to Trinidad and Tobago as part of the Fulbright Western Hemisphere Scholars Program. This award will allow her to conduct research on disability access and inclusion across the Trinidadian life span. While on the Fulbright, she will work with master's students in the occupational therapy program at the University of the Southern Caribbean as they prepare to conduct research on various rehabilitation topics. As part of her work, she aims to work collaboratively with stakeholders in Trinidad and Tobago to advocate for greater inclusion for persons with disabilities in all aspects of community life.
Minye "Michael" Tang, assistant professor in the School of Accounting, will join the University Institute of Lisbon Business Research Unit in Portugal, and his project will focus on researching corporate environmental, social, and governance (ESG) practices, policies and disclosures, with a special interest in comparing the United States and the European Union. ESG issues are timely and relevant to today's business world, and they are closely related to United Nations' sustainable development goals. He expects that his collaborative research will result in new Collaborative Online International Learning (COIL) courses and other continued collaboration and exchanges and result in high-impact research papers that inform regulators and business leaders across the Atlantic.
The Fulbright Program is the flagship international educational exchange program sponsored by the U.S. government and is designed to forge lasting connections between the people of the United States and the people of other countries, counter misunderstandings and help people and nations work together toward common goals. FIU currently counts 42 Fulbright Program alumni amongst its faculty. 
Since its establishment in 1946, the Fulbright Program has enabled more than 390,000 dedicated and accomplished students, scholars, artists, teachers, and professionals of all backgrounds to study, teach and conduct research, exchange ideas, and find solutions to shared international concerns.
The Fulbright Program is funded through an annual appropriation made by the U.S. Congress to the U.S. Department of State. Participating governments and host institutions, corporations, and foundations around the world also provide direct and indirect support to the program, which operates in more than 160 countries worldwide. Last year, the Fulbright Program celebrated its 75th anniversary.
To learn more about Fulbright exchange opportunities for faculty and professional staff, visit http://www.cies.org or http://fulbrightspecialist.worldlearning.org and contact FIU's Fulbright Program campus liaisons Assefa Melesse at melessea@fiu.edu or Gitta Montoto at gmontoto@fiu.edu.
Please join us in congratulating FIU's most recent Fulbright faculty awardees!