FIU lights a fire on the new Miami Tech ecosystem
With local and industry leaders calling to make Miami the next Silicon Valley, FIU is leading on the computing front
---
FIU is a driver of the new South Florida tech boom. With a history of turning out highly qualified graduates who together have laid a foundation for the growing industry, the university is redoubling efforts to meet the demands of an exciting, unprecedented era.
Miami Tech, shorthand for a technology hub now in the making, has a buttress in FIU's College of Engineering and Computing.
"This is our moment," says John Volakis, dean of the college. "We realize that we have a responsibility to enable the Miami Tech movement, and we are taking that responsibility seriously."
And that responsibility goes way back.
"We were here before #MiamiTech," says Steven Luis, executive director for technology at the college, referencing the hashtag that first appeared in early tweets that called for marshalling ideas and resources in support of a concerted, communitywide initiative. "FIU has been steadily contributing to the success of the industry in Miami for years."
ALL ABOUT THE PEOPLE
Chief among those contributions: graduating more than 5,000 computer science and information technology professionals in recent years.
"To have a tech boom, you need an educated workforce," says Jason Liu, interim director of the Knight Foundation School of Computing and Information Sciences. "Companies come here, and they're going to look for talent, and FIU is the No. 1 feeder into this market."
Already the country's top producer of minority graduates in STEM, FIU has a commitment to honing local talent. "Why import tech workers when we can grow our own?" ask folks like Miami Mayor Francis Suarez '01 and others within the community. Enrollment in computing and information technology majors at FIU has doubled in recent years and, nationally, experts predict an unprecedented demand for tech employees. According to the U.S. Bureau of Labor Statistics, jobs in computer and information technology are expected to grow 13% by 2030, resulting in more than 650,000 jobs. According to one analysis, Florida ranked among the top five states for information technology job postings.
FIU alumnus Miami Mayor Francis Suarez '01 talks about converting the "brain drain to the brain gain." Courtesy of the Miami Herald
It was growing demand – from Miamians who are increasingly seeking careers in tech and from companies that need skilled talent – and FIU's steps to meet the demand that motivated the Miami-based John S. and James L. Knight Foundation to invest $10 million in the school last year (which has since been renamed in recognition of the donation). The contribution, says Raul Moas, senior director of community and national initiatives at the foundation, "is leveraging an undeniable trend of increased demand from our community to break into tech and FIU's commitment to meeting those aspirations head on."
FIU has since promised $100+ million over the next few years to advance tech education. Already the university has broken ground on a nearly $75 million, six-story building complete with makerspaces, active learning classrooms and research labs.

Propelling women of color to entrepreneurial success
FIU and the city of Miami have partnered to help businesswomen of color get the attention of venture capitalists. The new initiative aims to fix a problem that threatens the success of the Miami Tech movement: Women of color attract disproportionately less investment money than their white and male counterparts. Read more.
AN EDUCATION IN TUNE WITH INDUSTRY
The heart of FIU's efforts to turn out workforce-ready graduates remains hiring top professors and working with industry partners to ensure a robust curriculum that meets real-world needs.
"We're asking companies to work with us so that we develop students' core competencies in the skills that are needed in the region," FIU's Luis says. "We can't do this alone. We want to create a strong tech ecosystem with companies."
Industry goliaths such as security software company Kaseya and human resources software company Ultimate Kronos Group, both based in South Florida, began partnering with FIU years ago. Company and school leaders met together to discuss ways to ensure a primed workforce, and hundreds of students and graduates have since accepted internships and jobs with the two firms in recognition of the high-quality education and ready-to-go skills behind them. Kaseya and Kronos have followed up with in-kind donations to the school and support for a variety of student activities as well as on-campus trainings in specialized areas.
More recent collaborations include a joint $2.25 million investment from the Knight Foundation that will allow expanded programming with national nonprofit CodePath to increase diversity in computer science and engineering. FIU is also powering the new SoftBank Operator School to prepare students to run tech startups and partnering with Break Through Tech to propel women and members of other underrepresented communities into technology careers.
THE PROOF IS IN THE OUTPUT
Wildly successful alumni like Rachelle Tobkes '16, who within a few short years earned the title of "Rockstar Engineer" among the more than 2,000 software engineers at multinational tech giant Citrix, can't say enough about the launching pad she found on campus.
"FIU prepared me for being a software engineer in the real world," Tobkes says. "FIU not only developed me for my career, but also connected me to professionals, internships and job opportunities, which played a huge role in landing and excelling in my current position."
Another Panther in the field: Jason Dettbarn '02, MS '13, founder and CEO of Miami-based Addigy Technology. Following time at Motorola and elsewhere, he started the cloud-based IT management platform for Mac users in 2014. To complement his earlier FIU computer science training, Dettbarn applied for a spot in the highly competitive StartUP FIU entrepreneurship engine to hone his business skills. Soon he raised more than $9 million in venture capital to support a global expansion of his company, which today has 75 employees.
Dettbarn has returned frequently to campus to host quarterly meetings with his management team and mentor senior students as they complete required design projects.
"More than half of our employees come from FIU," says Dettbarn, who scoops up a handful of graduating seniors at the conclusion of each design-project showcase. "It's like going back to the wishing well and tapping into the finest of Miami," he says. "The people of FIU continue to be a big part of my journey and success."
#Miami Tech, here we come.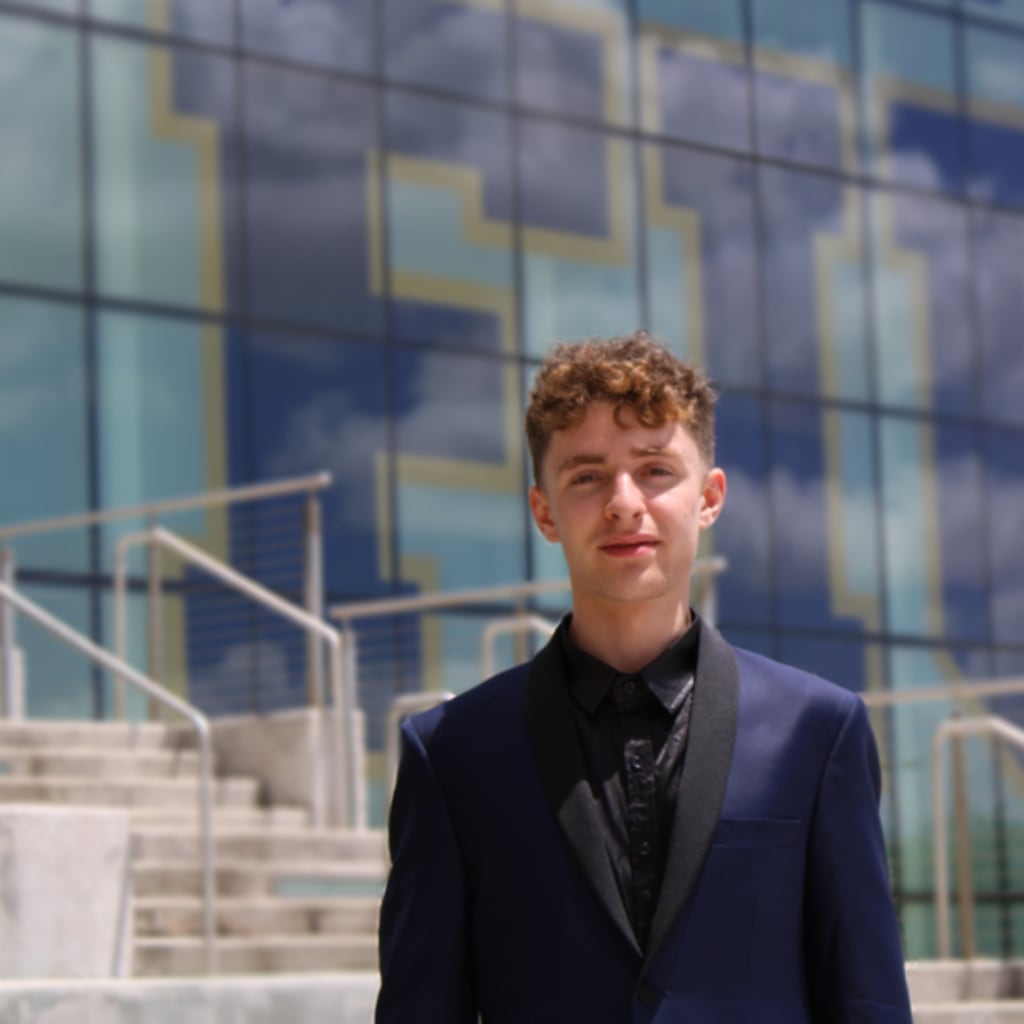 Computer honor society a national standout
One of the largest student tech organizations in the country is killing it at FIU. The university's chapter of the national Upsilon Pi Epsilon honor society has 800+ members and hosts the largest hackathon in Florida. Meet the organization's president, computer science major Nicholas Gonzalez and learn more about the group's work.