"Good beer brings good people together."
It's somewhat of a mantra for Alan Espino '07 — one that has guided him for years. Now, he's hoping to unite Panthers around a new FIU-themed beverage, which will be unveiled later this month.
Espino is the CEO and cofounder of Beat Culture, a craft brewery based in Miami that captures local culture while providing South Floridians a fusion of great food, beer, wine and an assortment of events designed to foster a sense of community for everyone, ranging from singers and poets to vintage car collectors and, of course, beer enthusiasts. Among its many accolades, the brewhouse has been named one of the best ten craft breweries in South Florida by Miami New Times and was most recently named one of Miami's breweries with the best food by The Infatuation Miami.
After just a few years of launching into business, Beat Culture is wildly successful — and making waves at home and abroad. You can find Beat Culture's canned beer at 30 Whole Foods across Florida. The brewery is also reaching worldwide markets, with beer in Puerto Rico and Aruba, and soon to be in Panama and Japan.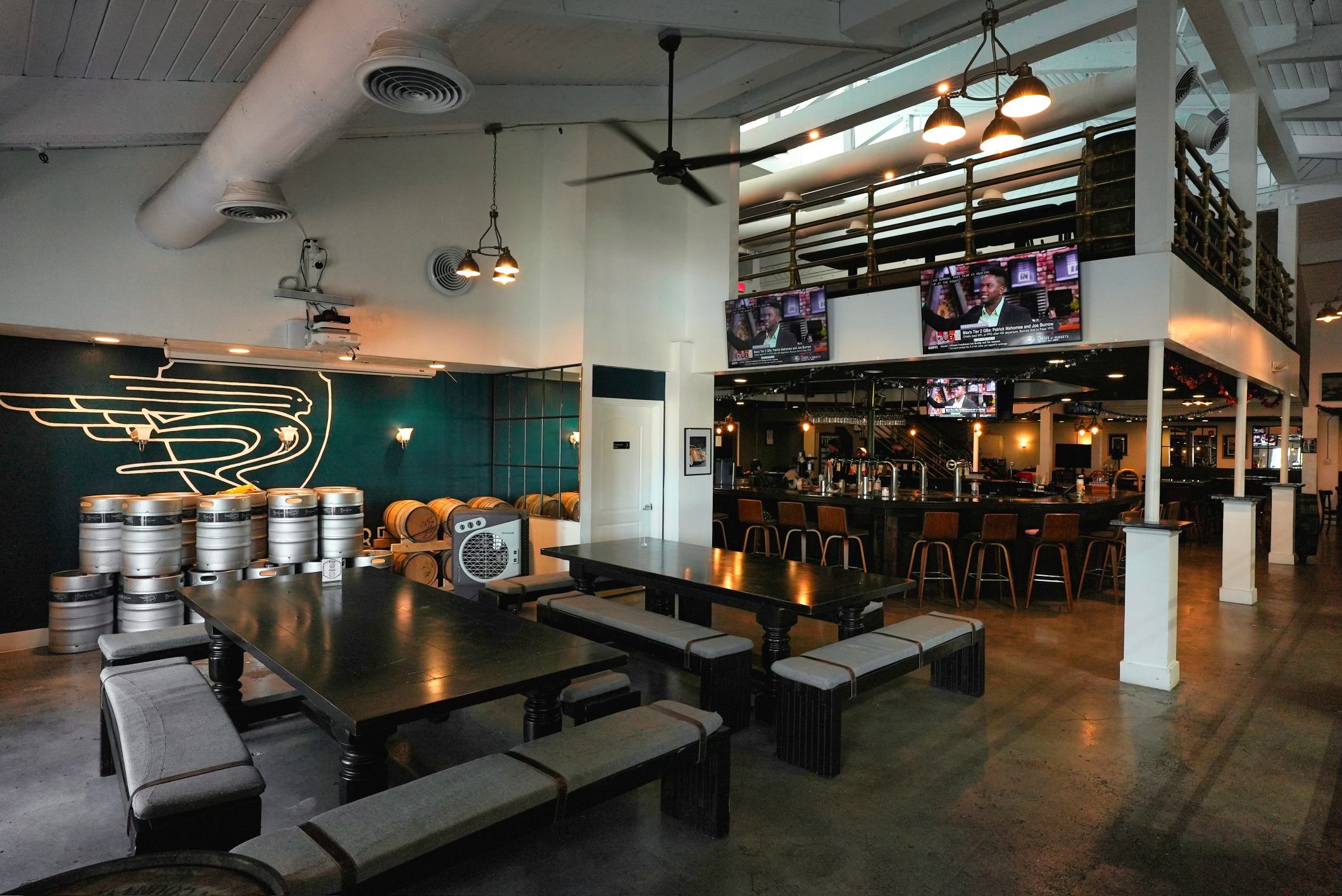 How did Espino, a trained scientist, become a successful brewhouse owner? From studying buffaloes in Africa and helping create diagnostic tests for Zika to brewing his own beer and going "all in" to follow his passion project, Espino's journey exemplifies the FIU spirit: real talent, a no-excuses mentality and a lot of grit.
FIU News sat down with Espino to learn more about his story — and what Panthers can expect with the new beverage.  
Tell me a little bit about your time at FIU.
I really enjoyed being a student. I always liked school. I also worked while going to FIU. It's what the young alums say: "The humble hustle." My parents are Cuban, and most of us at FIU are first generation students. So, it's the immigrant experience of working hard and getting a good education.
I studied journalism writing and biology. I wanted to go to veterinary school. So, I took pre-vet courses, calculus, physics, all that stuff, and compounded it with creative writing, English classes, the humanities... I spent a lot of time in the Green Library. I remember going into the GL, getting a chocolate chip Frappuccino from Starbucks, going to the second and third floor and studying.
How did you get into craft beer?
It started at FIU when I took a microbiology course with Dr. Stephen Winkle. He's awesome. That guy walks around in Grateful Dead t-shirts. He taught me so much. I loved that class.
I was just enamored with microorganisms. I remember we discussed fermentation. Anaerobic fermentation happens in oxygen-deprived environments. One of the organisms that we studied was yeast. In the whole planet, that's the only way to make alcohol.
I was working in veterinary medicine when I wasn't in class at FIU. Knowing me and my interests, Winkle said, "Consider if you might get bored at veterinary school." I thought about it, and that's why I went into the field instead.
What did you do after graduating from FIU?
I lived in South Africa working in infectious diseases, zoonotic diseases [diseases that spread from animals to humans] like foot-and-mouth disease, anthrax and tuberculosis. I worked with wildlife, big game and did laboratory time and field time. I also worked in Botswana and Mozambique. In Kilimanjaro, I isolated some yeast from there. Later I actually made a beer with that strain.
When I came back to the States, I needed to find more of a "big boy" job, so I got a job at Abbott Labs doing biotech work. I worked on the software development and hardware side. I worked on diagnostic data for viruses like Zika. We would determine which fluid to use when testing for Zika and how to tell a positive from a negative test. Then, we would send that information out to [all] the states.
How did you decide to start the brewing business?
I don't come from money. My parents and grandparents showed me hard work. They busted their butts so that I could have a fighting chance. My dad came here as a kid from Cuba all by himself [as part of Operation Pedro Pan], and my grandparents worked so hard when they got here. I needed to take advantage of all the opportunities. So, I went into science.
But, beer was always "Plan A" for me, especially after the microbiology class. Eventually, I raised money with friends and family, they helped me do it. It took me seven years to raise the money. I mortgaged my house for all the equipment. This was a "chips all in" thing. Eighteen-hour days were okay. I'd start working my day job at seven in the morning and then I'd go paint walls and get everything in the brewhouse ready. I'd end at one in the morning most days. We brewed our first beer in January of 2019.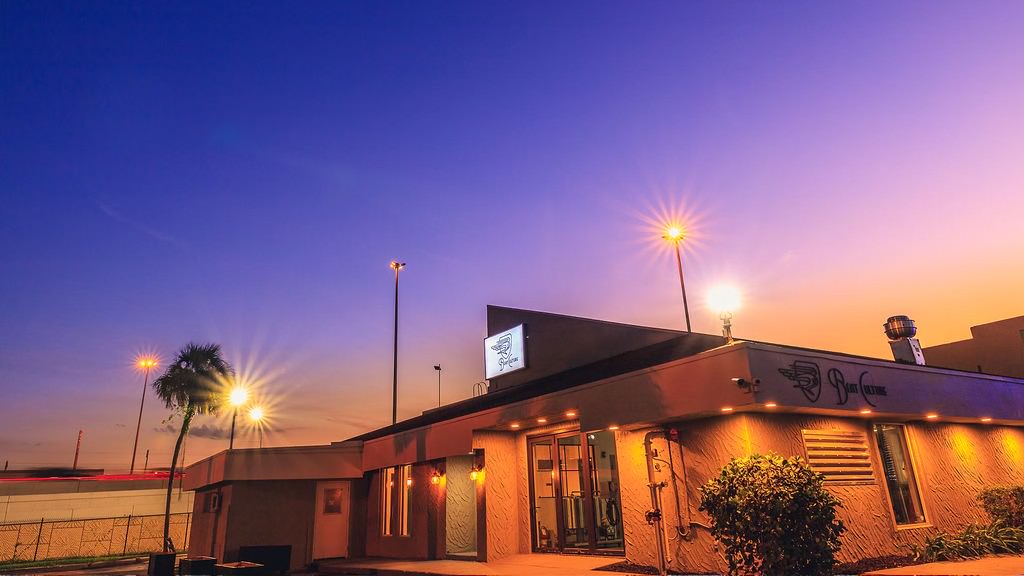 I heard there is a top-secret project that ties directly to your alma mater. What can you tell me? When will this be revealed?
The idea was to create a beer that encompasses a style and a palette that could address a really big swath of people. And, FIU is a huge swath of people. FIU has nearly 300,000 alums. The students are international. It was important to identify the culture of FIU correctly. Quality is key. And, the ingredients are on point.
The press announcement to reveal the beverage will be made next week. For my company to be chosen for this project, to be appreciated and for FIU to say, "You're the guy for this," it's very humbling.
Who is this beverage for?
It's really about celebrating FIU spirit and also about creating a community surrounding craft beer. Typically, with good beer comes good people. I want to be surrounded by brilliant people. I want to build community and identity. If we can do it with a beer, then let's do it.
Why did you want to work with FIU on this project?
Since we've opened, I wanted to work with FIU. FIU is the reason I took this shift in my career. This spirit of wanting to appreciate your school, your city, having Cuban parents, having infrastructure like the Bright Futures Scholarship and having a university like FIU that is going to educate you and professors that will reward you and help you – that makes all the difference. FIU made me go outside my comfort zone. It gave me that confidence, that education, that backing, that when you do stuff like this and start a company, you can say, "I can do it."
Anytime FIU does anything, I'm like, "count me in." We do tours of the brewery with students, particularly those in hospitality. We worked in Brew Miami, which is organized by various FIU staff members and the Miami Brewers Alliance. During COVID, we dropped beer off for an FIU happy hour on Zoom.
I support the university because FIU is doing what's very valuable. FIU is helping people in our community succeed.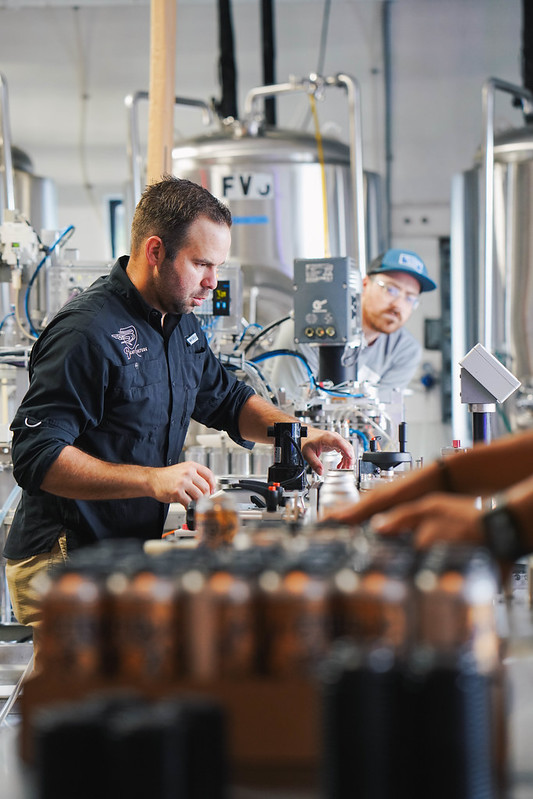 Espino during the canning of the FIU-themed beer