C.J. Christian has loved football since he was five years old. He would spend his days on a football field in his hometown of Normal, Illinois, watching his older brothers play, his sister cheerleading and his mom coaching the cheerleaders.
"I was around football 24/7," he says. "I couldn't wait to play." When he turned seven, the age minimum at his youth league, he threw himself into the sport and never looked back.
By the time he arrived at FIU, he had earned a reputation for his athleticism and can-do spirit. As a  Panther, he made a strong showing as a defensive back, earning his spot as an opening day starter. In his first few games, he totaled 17 tackles, including a tackle for loss and an interception. He registered six stops in the season-opening win over Bryant University.
In his fourth game, he suffered a season-ending injury, dislocating his shoulder. After working hard to recover, the communication major came back onto the field this fall ready to go. In just four games, he has totaled 21 tackles. And he was recently honored as a member of the ProFootballFocus' (PFF) College Football Team of the Week after recording an interception, six tackles and two pass breakups during FIU's victory over University of North Texas on Sept. 9.
"The good thing about CJ is that he always wants to keep getting better," says Head Football Coach Mike MacIntyre, who praises Christian for his athleticism. "He has excellent ball skills, good eyes, can judge a football and make plays on it. He can cover, he can run, he can fill the alley. He's a dual threat type safety. He's really, really tough. Like a safety should, he can erase other people's mistakes."
The road to playing college football hasn't been easy for Christian, though. Christian's athletic career has been marked by triumph over unlikely obstacles. What has kept him going? His faith.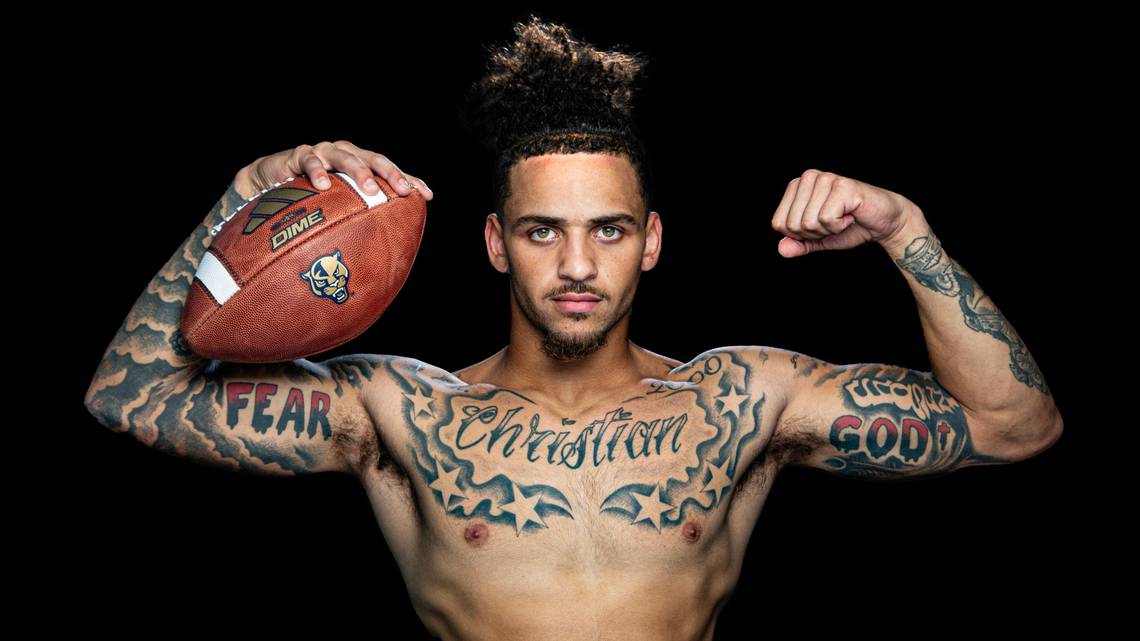 "You learn a lot about yourself in football. You're cramping up, you're sweating, but you keep going. If a bad play happens, okay, what are you going to do next? People could be edging you out, but by the end, you could be the champion."
— C.J. Christian

Rebirth
"I am the vine, you are the branches. If you remain in me and I in you, you will bear much fruit; apart from me, you can do nothing." These are the words of Jesus Christ, recorded in John 15:5. They are tattooed on Christian's left arm.
Along with "Christian" in bold script across his chest, "Fear God" on his biceps and a cross near his shoulder, these tattoos point to the uniting thread running across Christian's life: his faith in Christ.
"When I open the Bible and choose a passage to read," he says, "I feel that God's talking to me. And I know that He's still watching over me."
When he got injured last year, he trusted God.
"I know that God's got a plan for me," he says. "I told myself, 'I'm just going to keep working hard.' I never imagined myself in Miami, playing football. This is what I've prayed for. It's never supposed to be easy. You can never take it for granted."
He says his college football career has been all about overcoming adversity.
After a breakout season as a senior in high school, it seemed Christian would continue his journey at Augustana University in South Dakota. On his first day in college, though, his dreams were shattered. He found out he had narrowly missed the academic requirement for NCAA eligibility. He would not receive a full scholarship. Christian returned home, promising himself to never let his grades hold him back.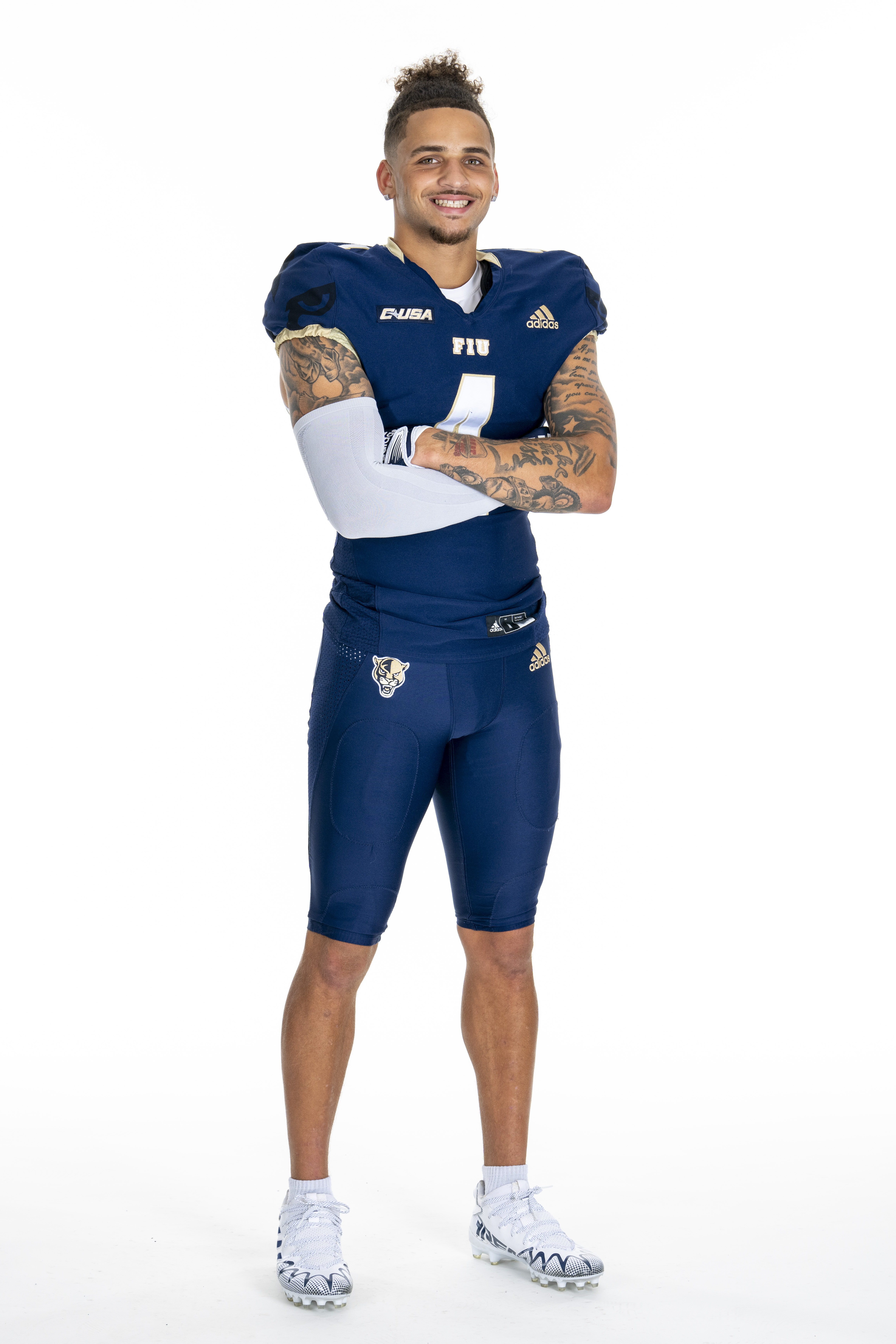 C.J. Christian
He took a job in dry cleaning and hoped to play football at a community college the next season. But the wait was hard. "It was my first real football season not playing," Christian recalls. "I didn't know where I was going to go." He wondered if he should give up on football altogether.
A friend suggested he talk to a pastor and consider joining Bible study to find some peace.
"I didn't have anything to lose," Christian says. The opportunity for a meeting arose when Christian, his friend and the pastor rode up to a college football game on a bus. "We were just talking, going over Scripture. He [the pastor] asked me if I wanted to give my life to Jesus. And I told him, 'I'm ready. What do I have to do?'"
Soon afterward, Christian was baptized. That moment changed his life.
"It was big for me," Christian says. "When I went under that water and came back up, I felt as if a big weight had been lifted off my shoulders. I knew everything would be okay, and that I'd be going to play at a school."
He made the team at Iowa Central Community College later that year. There, recruiters took note of his skills. 
Panther football
When it came time to transfer, he asked God to help him find the right university. He never expected the answer to come while visiting South Florida during spring break. A friend, who at the time played football at FIU, encouraged him to check out Panther Territory. Christian came to campus, and what he saw sealed the deal for him.
"I'm watching the [football] practice at FIU and there's news people there and kids watching," he recalls. "I was like, 'This is the kind of environment I want to practice in.'"
Christian contacted FIU Football folks and connected with Assistant Coach for Safeties Nate Taye. He was later invited to a formal campus visit.
His respect for MacIntyre also drew him to the university. "I believe in Coach Mac," he says. "When he talks, I listen."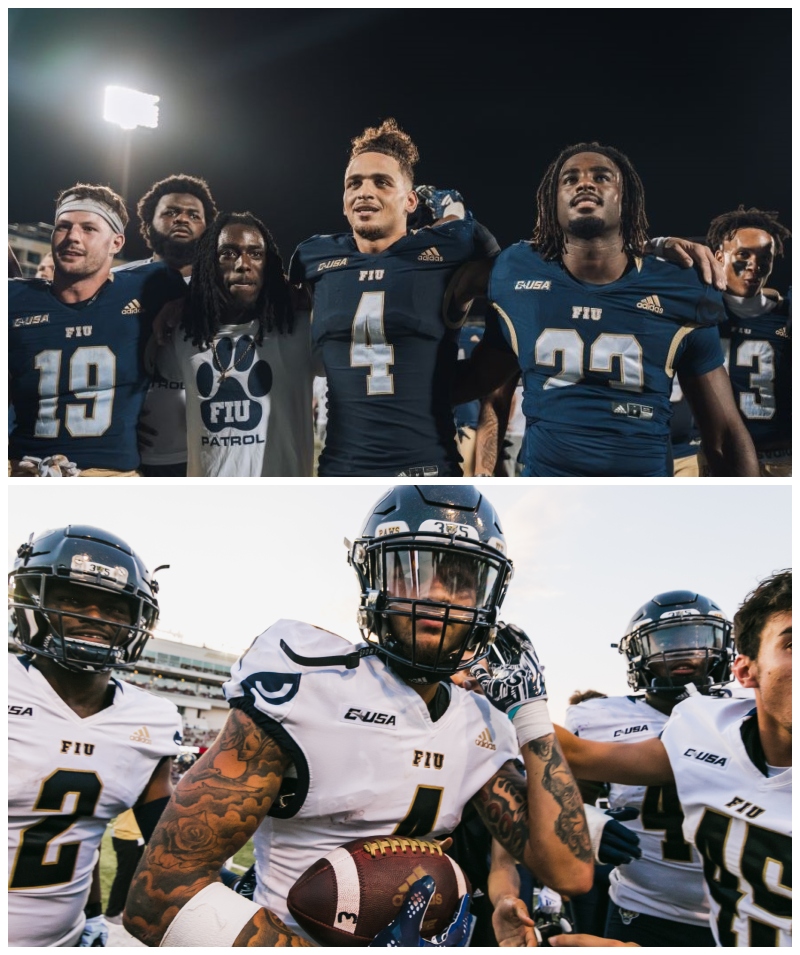 Christian turned down an offer from another Division I program in favor of FIU and began his journey as a Panther in 2022. He loves the diversity of the students, the beauty of the campus and, of course, the football program. He works hard on his academics and enjoys his courses — nonverbal communication is one of his favorites, so far.
On the field, Christian says he's ready to take his game to the next level. "I'm getting more comfortable," he says, "and as a defensive unit, we're getting closer, more unified."
What does Christian hope people take away from his story?
"I just want people to know that you should never stop chasing your dreams," he says. "It could be your worst day today, and the next day could be your best day." 
After all, he himself is proof that perseverance pays off, he says, and that God really does answer prayers. 
---
Cheer on Christian and the Panthers at the homecoming game as FIU takes on Liberty University on Saturday, Sept. 23, at 6:30 p.m. at the FIU Football Stadium. Tickets are on sale now.

Students get in free with their FIU One Card. Faculty and staff can claim free tickets while supplies last.