FIU launches new platforms showcasing faculty, connecting researchers
---
FIU is a force to reckon with. The university is ranked as a Carnegie R1 very high research activity university — something only 3% of the nation's 4,300 colleges and universities can claim. FIU has achieved a slew of prestigious recognitions, including its rise to No. 72 among public universities in the U.S. News and World Report's 2023 rankings.
One of the secrets behind FIU's success lies in its faculty. The cutting-edge research, creative excellence and dedication of faculty members are key to FIU's continued growth.
To bolster efforts to recognize and support faculty members' outstanding contributions to FIU, Provost, Executive Vice President and Chief Operating Officer Elizabeth M. Béjar announced the launch of two new tools that further promote and expand faculty success. These new resources — platforms that showcase the breadth and depth of FIU researchers and their achievements — are part of the Faculty Success Initiative, which strives to support faculty in finding collaborators and communicating their impact. The initiative is jointly led by the Office of Research and Economic Development (ORED) and the Office of Faculty Leadership and Success within the Office of the Provost.
"Our world-class faculty are the cornerstone of FIU," Béjar says. "These tools are key components of our initiatives to elevate faculty and student success. They harness the power of technology to share the work of faculty and to support and empower them in their mission to conduct groundbreaking research and educate the next generation of researchers and professionals."
Connecting with researchers
FIU Discovery — the next phase of a search portal previously known as Scholars@FIU — connects researchers within the university and across the world, and provides an integrated view of FIU faculty's works, findings, digital research profiles and accomplishments. FIU Discovery is a crucial resource for the local, national and global communities to engage with the university's researchers.
The portal provides profile pages for faculty members that are jam-packed with important information, including their bios, research interests, grants awarded (that were processed by the Office of Research and Economic Development) and links to other online platforms. It also provides information on FIU's research facilities as a way of sparking collaboration among colleagues outside the university who may be interested in teaming up with Panthers and using FIU's facilities for research.
Through the platform, students can look for mentors; researchers from other institutions can search for collaborators; and journalists can find experts to address breaking news. Anyone can type in a topic (for example, "the banking crisis" or "seaweed blooms") and will discover faculty experts in those areas.
"This amplifies the reach of our faculty," says David Driesbach, assistant vice president of research in ORED and co-lead of the Faculty Success Initiative. "FIU Discovery has been an integral component of our strategy over the past few years to implement the technology and data infrastructure required to support FIU's R1 research-intensive community in today's digitally connected world. We are excited to work closely with faculty across all disciplines to optimize their presence across all digital touchpoints, which will help them tell their impact story."
FIU Discovery, Driesbach adds, makes faculty members' lives easier. The platform, he says, can help faculty optimize their digital presence and reduce the amount of time spent maintaining the same scholarly data across various research-related platforms within and beyond FIU, such as ORCID, Panther180, Florida Expertnet and SciENcv. 
"This is a one-stop shop for finding collaborators," says Hakan Yilmazkuday, professor of economics and faculty fellow at the Steven J. Green School of International & Public Affairs. "Instead of trying to find people and visiting many websites, we can now go to this one portal. It's that easy."
Yilmazkuday says he is grateful for the tool. He and his Ph.D. students search the portal to find faculty members outside of their department who may be perfect additions to the students' dissertation committees. He also uses the platform when he's writing research grants or looking for collaborators and needs to find faculty working on topics of interest. Simply put, he says, the platform offers an incredibly efficient resource.
"FIU Discovery will facilitate and enhance interdisciplinary collaboration at FIU," says Andrés Gil, senior vice president of ORED and dean of the University Graduate School. "As a Carnegie R1 very high research activity university and Miami's only public research university, FIU is a research powerhouse. This platform will fortify FIU's position as a hub of research and scholarship in the community and beyond."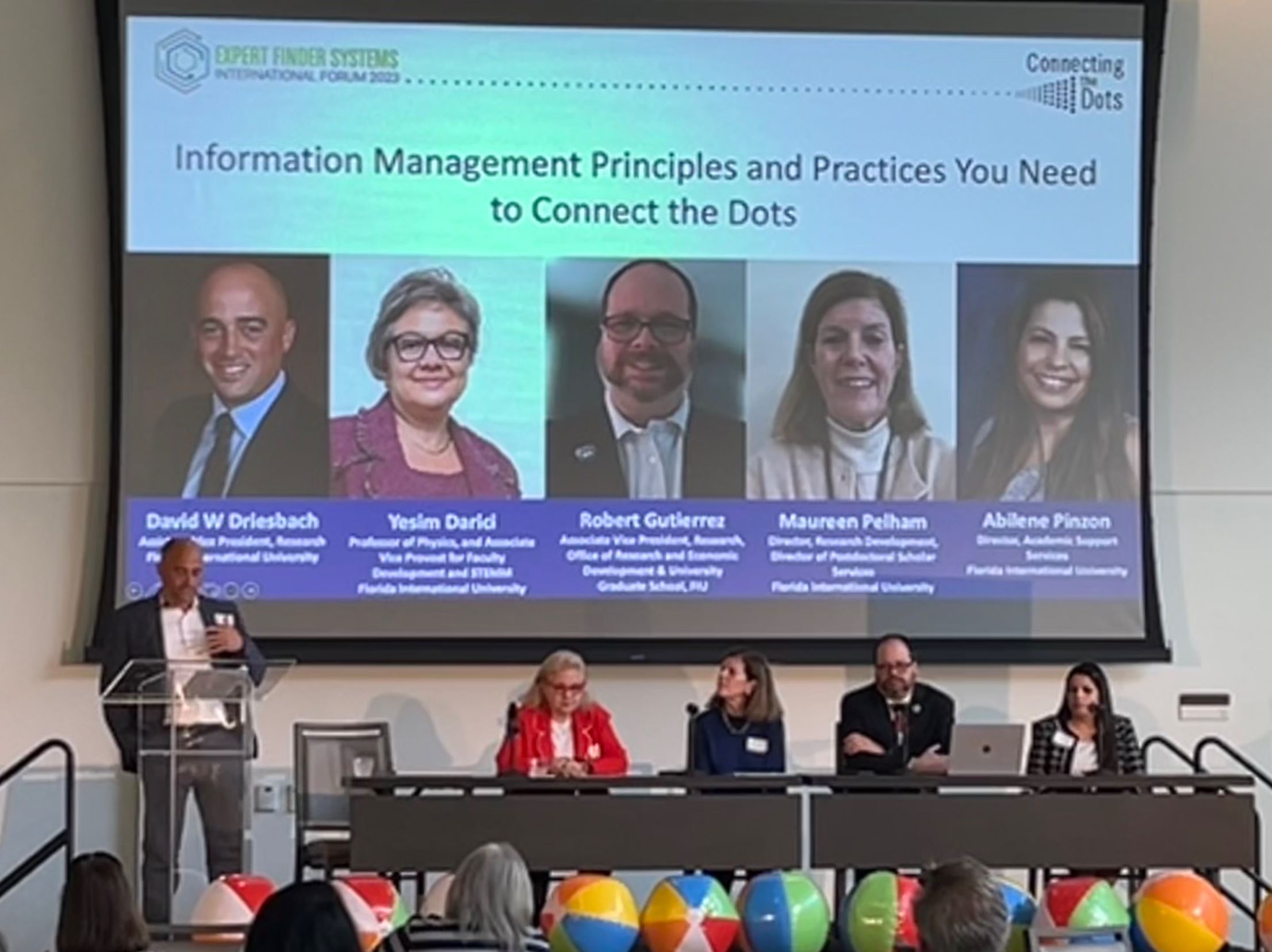 Sharing achievements
The faculty awards website is another important tool to help faculty strengthen their careers and showcase their achievements. The purpose of the site is to facilitate the process for faculty seeking external and internal opportunities for awards, and to share news of their nationally and internationally recognized honors. It is designed as the ultimate source for faculty on "all things" related to awards.
"This project is a gold mine with endless rewarding outcomes for faculty success," says Yesim Darici, associate vice provost for Faculty Development and STEMM (STEM and medicine), director of Women in STEM Initiative and professor of physics. Darici serves as co-leader from the Office of Faculty Leadership and Success (FLS) on this project. "As a physicist, it is exciting to implement technology for faculty success by managing high-quality data that promotes FIU faculty."
The website is particularly focused on sharing news of recognitions dubbed "High Value Faculty Awards and Fellowships." The awards are those recognized as particularly prestigious by the Association of American Universities, the Top American Research Universities and the Florida State University System Board of Governors.
Darici adds that both the search portal and faculty awards website will help drive FIU's continued ascent in national rankings, as they provide crucial resources for faculty to expand their innovative work while also displaying the strength of FIU research.
Heather Russell, vice provost for Faculty Leadership and Success, professor of English and a 20-year faculty member agrees, adding, "We know we have the most incredible faculty at FIU, but we no longer wish to be 'the best kept secret'. Working collaboratively across ORED and FLS, we have created a unique model to drive faculty success and to loudly and proudly tell the fully fleshed out stories of our faculty impact."
Both tools are ongoing projects, with the Faculty Success Initiative team adding new features and information continuously.
To learn more about FIU Discovery and the Faculty Awards website, contact Faculty Success Initiative co-leaders Yesim Darici at darici@fiu.edu and David Driesbach at driesbac@fiu.edu.