International law program equips students to thrive in a global setting
January 26, 2023 at 4:30pm
---
FIU Law is preparing students to become outstanding professionals ready to practice in an increasingly international and globalized landscape.
"Unlike most law schools in the U.S. which focus only on U.S. law, we have a mandate by institutional design to engage in international and comparative law and for our students to learn about these areas and connect them with U.S. law," says Manuel Gomez, associate dean for Graduate Studies and Global Engagement and professor of law.
What exactly is international law? The legal area that deals with rules, norms and principles, generally recognized as binding between countries in a number of areas that are important for order, progress, peace and security. It also covers corporations, civil society organizations and individuals. For example, the United States has treaties with other countries that govern the interactions between the countries and international investors and businesses.
FIU Law initiatives
The college offers foundational courses on international and comparative law in the first year of law school. It also infuses these themes throughout its entire curriculum, exploring topics ranging from the practice of international law in trade, climate change, human rights and more; how these areas are regulated by legal systems across the world; and the impact of globalization on the legal profession.
The centerpiece experiential learning opportunity in the area is FIU Law's participation in some of the world's most prestigious international moot court competitions. These competitions have law students participating alongside colleagues from other countries in simulated court or arbitration proceedings. Faculty members mentor and coach the team as the students prepare for competition.
FIU Law houses a master's program for lawyers from other countries who are interested in learning about U.S. law. The college also has established various partnerships with schools across the globe and international organizations, including a study abroad program in Seville, Spain. Through this experience, students develop professional and technical skills and gain exposure to foreign legal practice. Another program, headed by professor Charles Jalloh — the representative for Africa at the United Nations International Law Commission — takes FIU Law students to the UN headquarters in Geneva every summer to observe the work of the International Law Commission. 
Additionally, the College of Law offers various courses focused on providing Spanish language competence to students. The College of Law also frequently hosts foreign researchers who visit to pursue their academic projects and share their expertise with the FIU community.
"None of these [programs] would be possible if it weren't for the robust international law-oriented faculty that the College of Law boasts," Gomez says. 
Gomez adds that offering students an international and comparative perspective on every aspect of law is critical, especially as the world becomes more and more globalized. It is also particularly relevant for attorneys in South Florida.
"The vast majority of lawyers from FIU will practice law in South Florida or in a big metropolitan area," Gomez says. "Some of them may want to remain in a seemingly local area of law such as family law or real estate law. The mere fact that they live in an urban area that is so international like Miami and that has such an influx of foreign investors and connections with the rest of the world forces every lawyer to, at some point, understand the legal system of another country and to understand that there are treaties between the U.S. and other countries that affect business, family, human trafficking and governmental organizations."
He is proud to say that FIU is training lawyers to excel in the area.
"We do not just graduate more lawyers, but a different — and better equipped — type of lawyer," Gomez adds.
Meet three brilliant alumnae at the forefront of international law.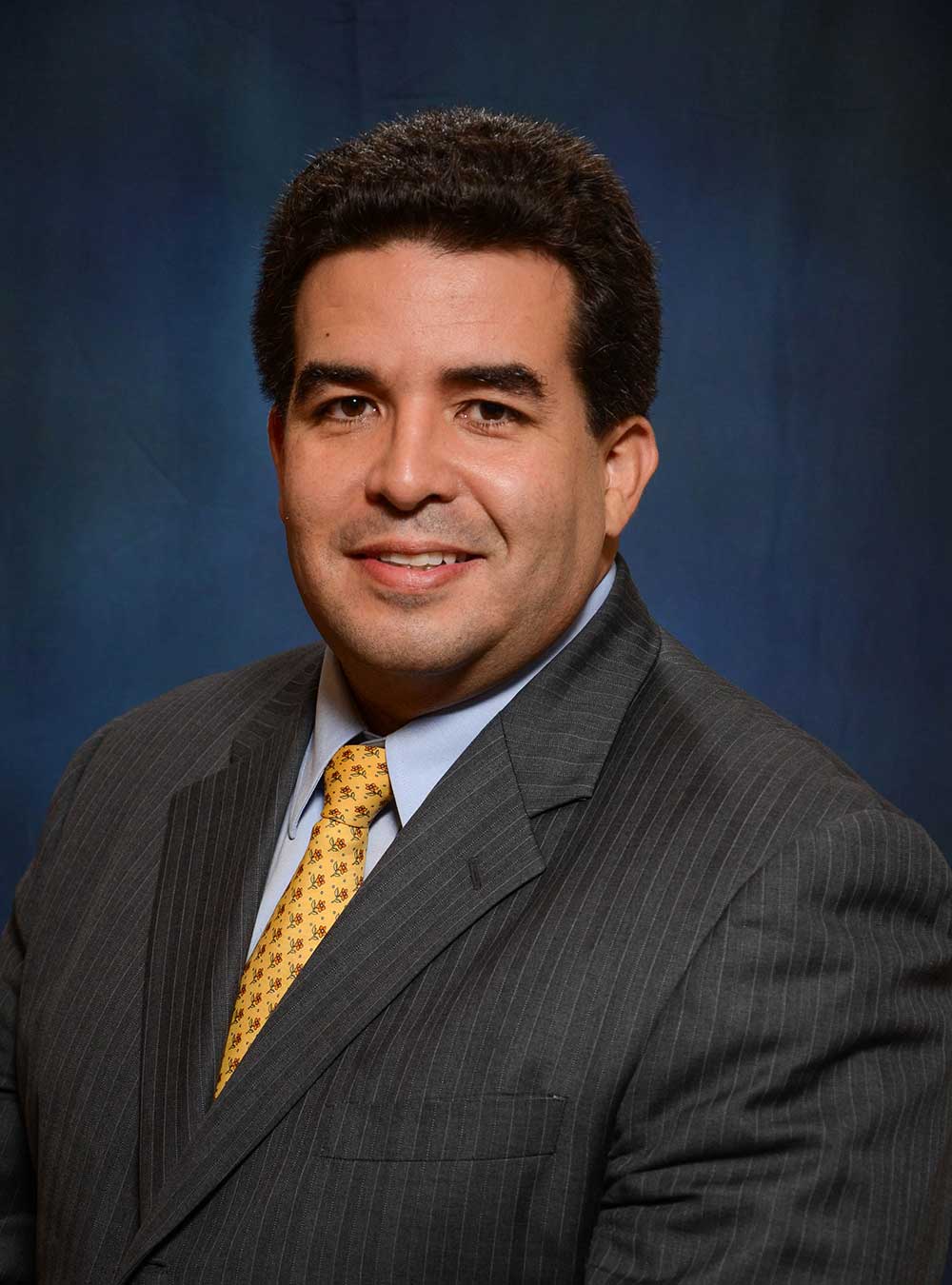 Manuel Gomez, associate dean for Graduate Studies and Global Engagement and professor of law
Alina Fernandez Portela
Alina M. Fernandez Portela '15, J.D. '19 is an associate at the Miami office of Hogan Lovells U.S. LLP, a global law firm recognized as one of the world's top firms advising on corporate, finance, litigation, regulatory and intellectual property law. It was listed in Forbes' America's "Top Trusted Corporate Law Firms" in 2019.
In her role, Fernandez Portela researches legal questions, drafts persuasive arguments and participates in all stages of complex arbitration proceedings – a process similar to litigation that takes place in front of one or three selected arbitrators – in English and Spanish and in diverse industries from construction to telecommunications.
After arriving from Cuba when she was 20 years old, Fernandez Portela earned an associate's degree from Miami Dade College, a bachelor's degree in English from FIU and went on to law school at the university.
While at FIU Law, Fernandez Portela was a member of the moot court team and received the "Outstanding Advocate Award". She was also the 2017 oral advocacy champion at FIU Law's 15th Annual Moot Court Competition.
She competed twice at the annual Phillip C. Jessup International Law Moot Court Competition, where she was awarded "Top 10 Orator" both times. She also participated in Moot Madrid, an international commercial arbitration competition in Spain. During law school, she worked for various law firms in Miami and served as a judicial intern for Maria M. Korvick of the Eleventh Judicial Circuit Court of Florida.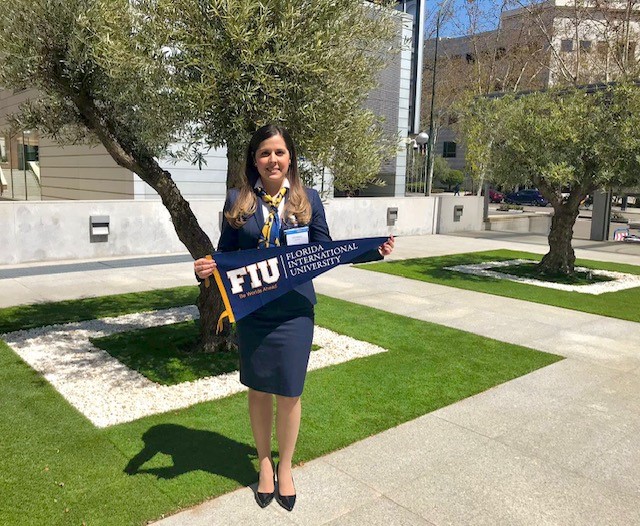 Fernandez Portela found her calling in international law.
"I felt there was an opportunity for me," she says. "I always pictured myself doing something at the international level that involved traveling and doing something important, meaningful. I speak Spanish and Latin America is an important and growing legal market, so I knew my language skills would be put to good use."
She says participating in FIU's moot court and the prestigious international competitions were pivotal for her career.
"It was the best thing that ever happened to me in law school," she says. "At one point, I felt I was just finding the opportunities within FIU. Maybe the opportunities were finding me. It was a matter of 'just keep going' and take advantage of those opportunities."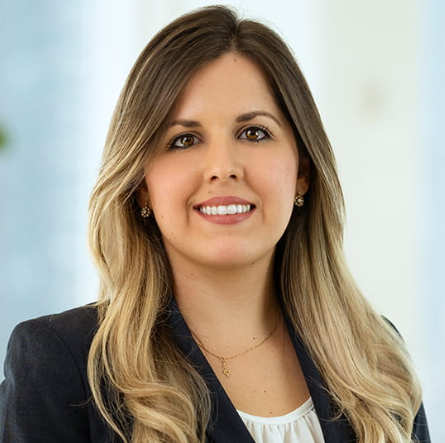 Alina M. Fernandez Portela
Kristin Drecktrah Paz
Kristin Drecktrah Paz J.D. '11 is a partner at the Coral Gables office of Perlman, Bajandas, Yevoli & Albright, P.L. (PBY&A), a boutique law firm.
She is a litigator with more than 10 years of experience counseling clients with cross-border and complex disputes in arbitration and litigation. She has arbitrated international and domestic disputes involving a number of areas including foreign states or state-owned entities; energy and natural resources, healthcare, financial services and technology sectors; and business, among others.
"When looking at international disputes, there are generally different sets of laws, different languages and cultures that may apply, resulting in many different factors to navigate," she says. "I find the complexity of it really fascinating and the uncertainties challenging. And, some cases require travel abroad, which of course is a bonus."
Drecktrah Paz studied Portuguese and Spanish during her undergraduate career and spent more than three years living abroad in Mexico. The Wisconsin native came to FIU to earn her law degree, already knowing she wanted to work in international law.
She took Gomez's course on the topic and later joined the international arbitration moot court team. She traveled to Vienna for the Willem C. Vis International Commercial Arbitration Moot competition and to California for the Foreign Direct Investment International Arbitration Moot, both renowned competitions.
She also became involved with the International Law Section of the Florida Bar and of the American Bar Association – the leader in policy development in the international arena, promotion of the rule of law and education of international law practitioners. She continues to be actively involved in these organizations to this day.
Her time at FIU, she says, was deeply formative.
"FIU Law gave me a really strong, solid foundation as a lawyer," she says. "I feel the professors were just really knowledgeable and experienced. I still use the tools that I gained through law school in my practice today."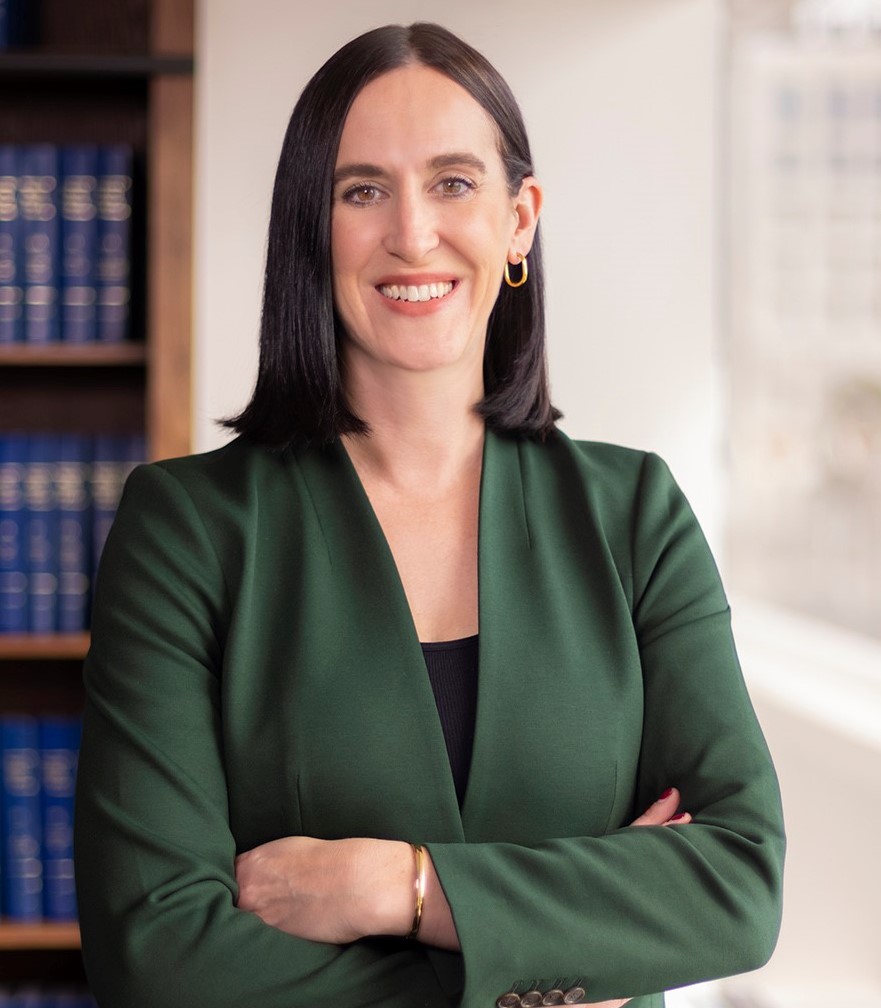 Kristin Drecktrah Paz
Ana Ulseth
Ana R. (Portal) Ulseth '13, J.D. '19 is an associate at Reed Smith LLP, a globally recognized law firm that recently ranked top 20 for innovation in North America by the Financial Times. Ulseth is part of a global commercial dispute group and focuses on international arbitration, as well as complex litigation in state and federal courts. 
In her role, she actively participates in all aspects of a case from the preliminary stages of factual and legal analysis to the ongoing determination of strategy. Her favorite parts of the job include representing clients in hearings, preparing witnesses and continuously re-evaluating the legal strategy.
"International law is important because we work in a highly integrated and global marketplace," she says. "The intersection of international law and business falls on our doorstep. It is vital to understand the synergies of different applicable laws to a client's dispute. It's a very exciting area of the law."
Originally from Venezuela, Ulseth earned a bachelor's degree in international relations and participated in the university's award-winning Model United Nations (MUN) team. She later worked as co-director of the MUN program, developing the curriculum and teaching international relations concepts, strategic writing and public speaking and debate.
While at FIU Law, she was co-president of the International Commercial Arbitration Vis Moot Team and traveled to Buenos Aires, Vienna and Hong Kong to participate in competitions. She interned at NBCUniversal, where she evaluated arbitration clauses in contracts and learned about international telecommunications regulations. Along with a fellow student, she organized a series of events connecting women attorneys with female law students. She also studied abroad in Seville and landed a clerkship in the U.S. at Shutts & Bowen, which then hired her as an associate after graduation.
She credits her growth to the mentorship, ongoing support and professional networking opportunities provided by faculty like Gomez. FIU, she adds, is the perfect place to continue preparing attorneys to meet the demands of a globalized world.
"Miami is the gateway to the Americas," she says, "and FIU Law as Miami's public law school is uniquely positioned to continue to be a leader on the international stage."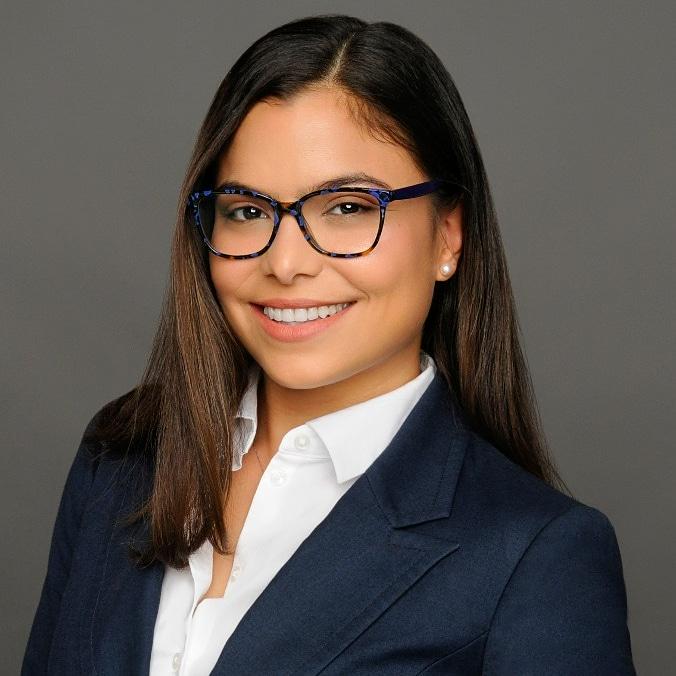 Ana R. (Portal) Ulseth