Live the Panther life virtually through student organizations, events
Find a student organization that is right for you and earn prize points for attending virtual events
August 26, 2020 at 10:00am
---
If you're looking to fully experience FIU and all it has to offer, one of the best ways you can get involved is by joining a student organization. 
From sororities and fraternities to academic honor societies and faith-based student organizations as well as cultural and service-focused groups, FIU is home to a number of student clubs that have transitioned to remote programming and are planning an exciting fall semester.
Participating in a student organization—and eventually taking on a leadership role in one of them – often allows students to collaborate with each other; network with faculty and staff; and gain valuable experience organizing events, fundraising, tackling marketing campaigns and serving the community.
"It truly enhances the student experience," says international business major Camila Mejia, who is the president of the Student Organizations Council (SOC) at BBC, which oversees the registration, promotion, development and distribution of funds for student organizations at the campus.
"One thing it has truly taught me is leadership, and being able to manage a team and understand the different processes it takes to make the system work. It is crucial for me to have this experience under my belt for when I enter the work sector."
Mejia says her involvement in the organization also helped her find her Panther network. "It gave me a purpose, trying to enhance the community [BBC] that I call my second home," she says.
"Being part of [student] organizations is a way for students to feel connected to the university and to make the large university feel more manageable," explains Campus Life Director Kerrie Montgomery. "Since we can't all be on campus bumping into friends like we usually do, or hanging out over lunch or a cafecito, students need to be intentional about getting involved in things beyond just logging on to their classes every day."
Mejia adds that incoming freshmen can take advantage of all the remote activities to start finding their niche.
"When things fully get back to normal, students will have a place they can feel at home," she says. "They'll have a group of friends they've already met through virtual events. Our main purpose this semester is to host as many virtual events as possible and to emphasize that e ven though we're far away [from each other], there is still that sense of community. We're all together in this."
Finding a student organization
So how do you discover the right student organization for you? 
You should consider registering for the virtual Club Fair, taking place on Sept. 2 from noon to 2 p.m., so you can learn more about different student organizations. Registration closes on Aug. 28 at midnight. 
One tip Mejia shares: It's okay to get involved in an organization that seems more general in nature than your professional interests. For example, if you're a marketing major you can, of course join an academic organization focused on business and professional development. But you can also put your skill set to use and become a marketing or events coordinator for another club that might not be focused on business (for example a service honor society). 
is – and check it out. Panther Connect is an online portal that allows students to search all student organizations that are currently registered on FIU campuses. This could be a great starting point to scan through or search for organizations and upcoming events that align with your interests.
Panther Connect Challenge
Get ready to boost your competitive edge. Through the Panther Connect Challenge, students track their engagement with FIU and get the chance to enter raffles, earn pizza parties and win other prizes for attending virtual events and activities hosted by both student organizations and campus offices. 
Check out the video below featuring a look into how you can access the Panther Connect Challenge and navigate the Panther Connect portal.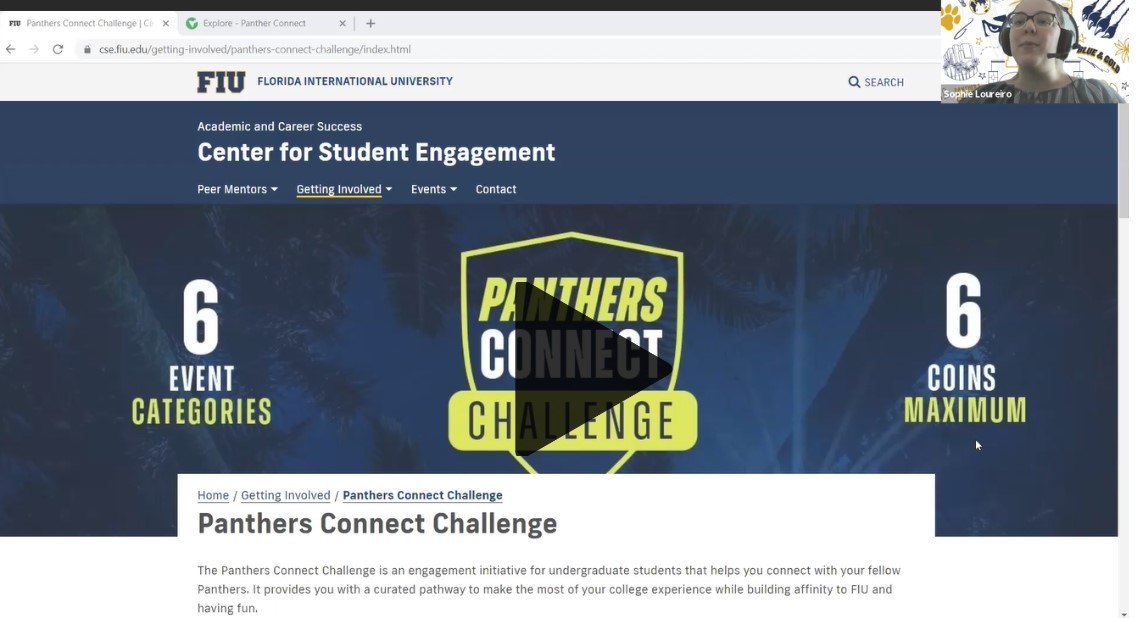 Here's a summary of how it works. The challenge features six engagement categories: 
Athletics and Wellness
Career and Professional Development
Research and Scholarship
Service and Leadership
Social and Interest Groups
World and Culture
These categories encompass a number of events and programs posted on the Panther Connect portal, including workshops held by the Counseling and Psychological Services (CAPS) team; student life coaching sessions and Panther Academic Success events; research opportunities; writing workshops; conversation circles; and much more.
You earn a coin by attending two events per category. When you've completed each category, you can redeem your coins for prizes. 
Let the challenge begin!
If you're looking for more ways you can hone your leadership skills and engage with FIU activities virtually this semester, tune in to FIU News tomorrow for the next story in this series.
This story is part of a series exploring ways students can engage with FIU this fall.