Engage virtually with Panthers this fall semester
Get the scoop on ways you can make the most of your college experience
It's the beginning of a fall semester like never before. As you start settling into your classes, you're probably wondering how you're going to get engaged with FIU and embrace the college experience – from a distance.
Even though we're not making a beeline into the Graham Center or the Wolfe University Center to lounge around between classes or meet new people, there are still a vast number of exciting opportunities to connect with fellow Panthers in a virtual environment and to build up your FIU community.
Engaging with your Panther network was crucial for success pre-pandemic, and it's even more important now, says Sophie Braga de Barros Loureiro, program coordinator for the Center for Student Engagement.
"We're in our homes and a lot of us are lacking a sense of human connection," she says. "So, FIU departments have been working to recreate events in the remote world and to help students connect. Now more than ever it's really important that we continue building those relationships and creating that sense of community."
From student-led programming to FIU offices hosting virtual events on tips for success and leadership, students have an incredible amount of options to get involved throughout the semester. So, how do you make sense of it all and figure out what's right for you?
Campus Life and Week of Welcome
A good way to start is by attending this semester's virtual Week of Welcome (WOW) events. WOW marks the official start of the new academic year and welcomes new and returning students. The week-long festivities introduce Panthers to resources available at FIU.
This means you can learn about different student organizations as well as FIU departments and services such as the Libraries and Healthy Living; you'll also get to attend icebreakers and info sessions about a number of programs designed to make sure you enjoy – and succeed – during your college years.
Part of WOW usually involves tabling in physical areas on both campuses, with students making their way across the tables. This year, various fairs including the Resource Fair, the Club Fair and the Student Engagement Fair are using different technological tools to bring you a virtual tabling experience.
For example, during the Resource Fair (hosted through Airmeet) on Monday, students navigated the virtual fair with a tabling layout on their screens. They chose which "table" they wanted to join and which areas they wanted to learn more about.
For the Club Fair (hosted through DEGY World), which will be taking place on Sept. 2, students who register will choose an avatar to represent them during the fair. On their screen, their avatar can literally walk around tables designated for each student organization, and they can choose which tables to approach.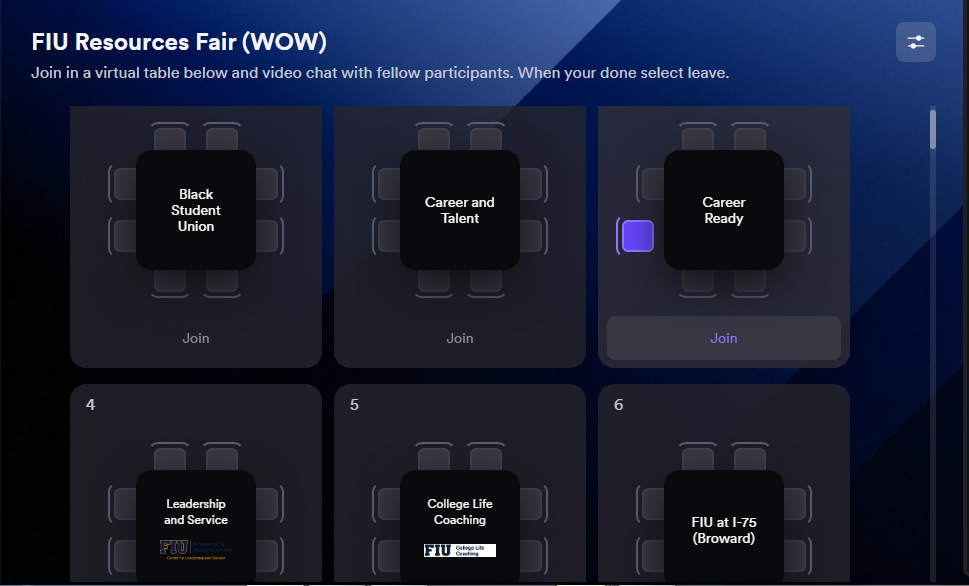 "We definitely want to make students feel welcomed so they can see we are here for them," says Ivy Siegel, the assistant director of Campus Life who oversees WOW. "Whether in-person or remotely, we want them to know we're here, so they feel comfortable coming to us when in the future we will be coming face to face."
She says that WOW offers students – and specially freshmen – a way to begin finding their path and their community at FIU. The virtual aspect, she adds, has also opened up more possibilities.
"With the virtual events," she says, "we have more opportunities to reach students that we may not have had in the past when they might have been in class or working. Now we can connect more, so that's great. My big advice for students is to get involved with Campus Life. And just try new virtual activities you may not have thought of. It may surprise you."
Check out all the different virtual events happening this week.
Panthers Engaged
Another great way to start learning about virtual event options is to tune in to "Panthers Engaged: At Home Edition" on Mondays at noon on Instagram Live. These segments, hosted by the Center for Student Engagement, feature staff and peer mentors who share information about different virtual events going on each week.
"This w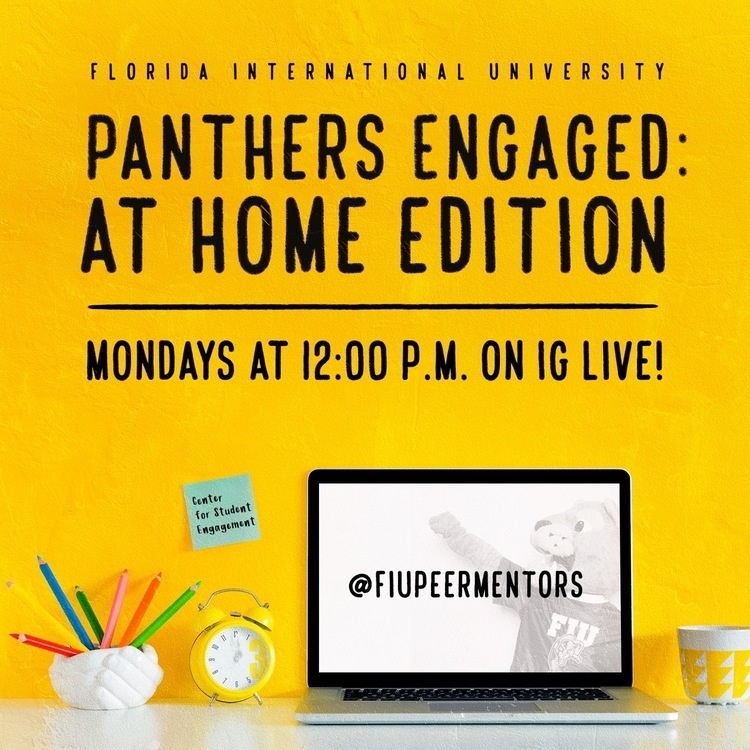 as created in direct response to remote learning and the virtual world," says Loureiro, the program coordinator for the center. "We were looking for different ways to interact with our students. We have virtual Zoom drop-in hours, but we figured, it would be better to reach students where they are."
The center plans to continue hosting these sessions throughout the fall semester.
If you think these resources are great, you're in for a treat. These are only a couple of the ways you can start getting involved and learning more about virtual events. There are many ways to engage with FIU, including student organizations, Homecoming, academic success and career-building workshops and much more. 
To learn more about how you can get involved through student organizations and activities, check-in with FIU News tomorrow for the next story in this series.
This story is part of a series exploring ways students can engage with FIU this fall.