Our new best friend: Zoom
Tips for using Zoom and technology to help you navigate the "new normal"
March 25, 2020 at 12:00pm
---
If you're like most of us, Zoom has quickly become your connection to the outside world. It's the way to "meet" with classmates, professors, coworkers and even family.
Just last week, FIU users logged into 4,000 Zoom sessions, as compared to only 900 from the previous week.
The moral of the story? Technology is a great resource to keep us in contact – and one way to try to maintain a sense of normalcy throughout these uncertain times.
If you're not familiar with Zoom yet, it's a tool that allows users to connect in real time with a number of people in a "meeting room." These virtual rooms feature an environment where users can see and talk to each other through camera, audio and other functions.
"Zoom is easy to use," says Stephen Bromfield, associate director of Media Technology Services, part of the Division of Information Technology. "It has a lot of options. You can do everything from share your screen, use a virtual whiteboard, and you even have some features that can be fun. You can change the background behind you to a virtual background. It's just a great tool for bringing people together remotely."
Bromfield says the majority of FIU Zoom sessions so far have proved to be classes meeting virtually. That's exactly what the goal is: Helping students access a learning environment that will foster success and provide a sense of community.
"The learning process benefits when everyone is together," he explains. "If we can provide that service for people where they still have the classroom environment in a safe way, that's what we want."
Bromfield is happy to see that faculty are not the only ones taking advantage of the technology. Some students are also using the tool among themselves for collaboration and group work, while a number of staff members are keeping their teams connected through Zoom meetings.
"While you're working remotely, the most important thing is communication," Bromfield says. "And sometimes email is not enough. It's easier to communicate when you're looking at someone, talking to someone. Being able to be in front of each other [virtually] and discuss what we need to discuss every Monday morning at our team meetings gives us that sense of normalcy."
As we continue in this "new normal," Bromfield suspects more and more FIU staff members will harness the power of Zoom to help them maintain connections among their own teams.
Jonathan Perez, technology tools specialist at FIU Online, says Zoom is perfect for collaborating.
"One of the things that makes it different from previous tools is that rather than showing things, you're actually streaming what's on your computer," Perez explains. "You can show a presentation or a document. It's just a very good conferencing tool. It's intuitive."
Perez and Bromfield shared some tips to help you have a seamless Zoom experience. Check them out below:
Make sure you have a strong wired connection.
You want the strongest Wi-fi connection possible during your Zoom sessions. A better option is to connect to a landline.
Use a headset for the best audio experience.
You could use your computer or lap top's built-in microphone, and that might work well. But, if you want to make sure your audio is good and don't want to be a distraction for folks around you, strap on your headphones.
Be presentable if you're using the camera – and choose a nice space as your background.
You might not want to look like you just jumped out of bed if you're meeting virtually with your class. Remember, if you turn on the camera feature, people will see you and the area around you.
Mute your microphone
People will hear whatever is happening around you unless you mute the microphone function during a Zoom session. If you're not talking or there's lots of noise invading your area, just mute your mic. Same thing if you need to walk away from the session for a moment: Mute your mic.
Choose whether or not to use the camera
If you don't want to use the camera function, it's ok. Before you join the Zoom session, you will be prompted to select whether you want your camera turned on or off. Check out tips for presenting your best self on Zoom. 
Try a virtual background
In case your room is a mess or you're sitting in your living room working while your family members are making breakfast, the virtual background might be a good option for you. You can choose from one of Zoom's backgrounds or pick your own photo. If you really wish you could be hanging out at the beach right now, why not use a background photo of that place during your class time?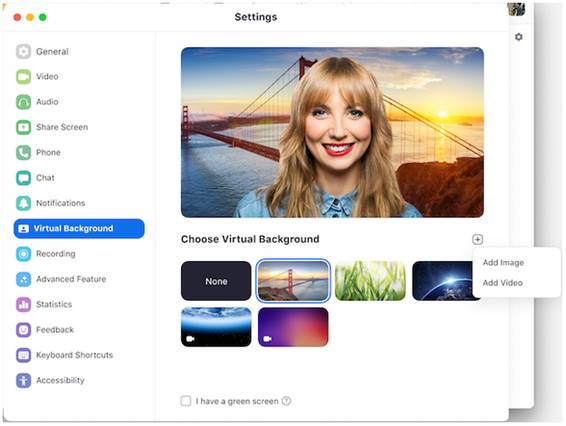 Listen and engage
Even though these are stressful times and remote learning might be new to you, make sure you remember to pay attention and engage with the people you are "meeting" with.
Don't cut people off
This is a good in-person tip too, but it's even more important virtually. If people start talking over each other during a virtual meeting, people won't hear or understand what's going on. Be courteous and wait your turn to speak.
Try handy features
If you want to draw attention to a formula or write something out, you can bring out the virtual Whiteboard and get your text on there. Or if you want to write some notes on a document you're sharing on screen, use the Annotations function.
Professors can also create "break out rooms" – special virtual rooms where a group of students within a class can collaborate and interact.
Hosting your meeting
If you're the virtual host of the meeting (the one who organized it), there's a couple of things you should do to get ready.
All FIU students, faculty and staff have licenses to use Zoom through FIU. If you're hosting a session, make sure you have activated your FIU Zoom account. You can do this by going to Zoom.fiu.edu and following the instructions. (If you are a participant in a Zoom session, you do not need to activate your account. You simply click the link on the digital invitation you were sent or call into the meeting.)
Perez says that hosts also need to make sure that they enable the authorized users and choose only FIU accounts to access their meeting. This will help avoid cybersecurity issues or random folks entering a Zoom meeting uninvited. Check out tips to avoid unwanted intrusions on Zoom. 
Faculty and staff can register for online trainings on Zoom. Professors can access more resources on how to teach using Zoom and students can learn about the tool online as well.
Microsoft Teams
Besides Zoom, FIU faculty and staff have another handy tool at their disposal: Microsoft Teams.
Microsoft Teams allows users to easily remain in communication with each other via person-to-person and group IMs as well as calls.
Microsoft Teams is a chat-centered workspace in Office 365 where all conversations, meetings, files and notes can be accessed by everyone, all in one place. It runs on computers, tablets, the web and cell phones.
The tool is readily available for faculty and staff and is free from the Software Center for computers on the FIU Active Directory (AD.fiu.edu). The tool is already included in FIUmail, so you can access it through there, or you can download the app on Google Play Store or Apple App Store.
You can create a "Team" and invite any member of the organization to join. For example, you can create a team for your work group or you can create one for colleagues across the university who may be working on a collaborative project together. 
To learn more about Microsoft Teams, visit AskIT. You can also access step-by-step guides to learn how to collaborate on Teams and use phone calls and videos on Teams.
Other tech resources
Comcast and AT&T are offering greater access to the Internet with free WiFi hotspots and service to homes that do not have connectivity.