Armana S. Huq, a doctoral student in civil and transportation engineering at FIU and assistant professor at the Bangladesh University of Engineering and Technology (BUET), knows what it's like to be a woman in the male-dominated field of engineering.
According to the Society of Women Engineers, only 13 percent of engineers in the workforce are female and only 20 percent of engineering undergraduate degrees are awarded to women. Yet, despite the statistics, Huq has made significant contributions in the field of safety analysis — and serves as a role model for other women.
A journey to civil and transportation engineering
When Huq was an undergrad in her home country, she was asked to pick an area of specialization during her last year of college. While researching transportation planning, Huq realized the capital of Bangladesh, Dhaka, had a poor transportation system. She knew this was her calling.
"The severe crash rates are what pushed me to assess and inspect roadway and traffic safety, and I found it to be a noble profession," Huq says.
Huq recalls her father's desire for her to become a medical doctor.
"My father had always wanted me to become a medical doctor," said Huq. "In Bangladesh, women aren't necessarily encouraged to be engineers, but as a transportation engineer I'd still be saving lives, in a slightly different way."
In 2015, after receiving her master's degree in civil engineering and obtaining about 12 years of experience in the field, Huq made her way to the United States to pursue her doctoral degree at FIU. 
Huq's dissertation focuses on transportation safety, primarily on developing an advanced method to identify and mitigate secondary crashes.
Secondary crashes are defined as the number of crashes that occur due to a primary car accident. A car coming from behind may not realize there is an accident ahead. These crashes can lead to extra traffic delays and an increase in fuel consumption and emissions. Huq is researching ways to minimize these types of crashes through vehicle-to-vehicle communication and vehicle-to-infrastructure communication.
Her commitment in the area of transportation engineering has earned Huq recognitions. At the 2019 Florida Puerto Rico Institute of Transportation Engineers (ITE) Annual Meeting, a collaboration between Florida District 10 (FSITE) and the ITE Puerto Rico section (FLPRITE), Huq was a first-place winner in a poster competition.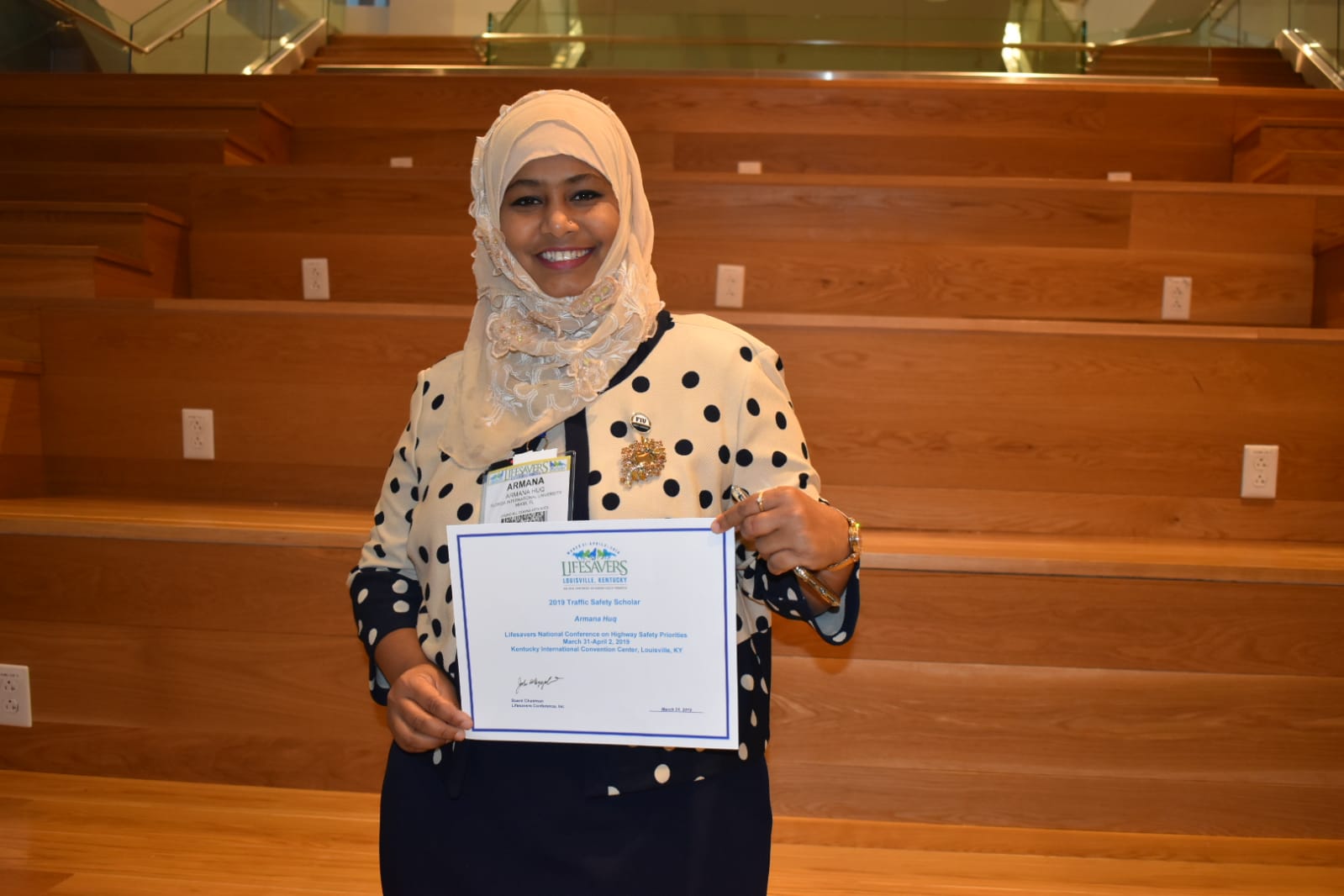 Huq has also been recognized as a National Lifesavers Traffic Safety Scholar and is the only graduate student at FIU who is a licensed road safety professional. She credits her major advisor, Xia Jin, associate professor for the Department of Civil and Environmental Engineering within the College of Engineering & Computing, for the achievements she's accomplished at FIU.
Leading by example
As one of five sisters (three engineers and two medical doctors), Huq is not only potentially saving lives through her research, she is inspiring the lives of female engineers.
As the president of FIU's chapter of Society of Women Engineers (SWE), Huq creates a nurturing environment to empower women to succeed, advance and be recognized for their contributions as engineers and leaders. SWE is a nonprofit organization dedicated to ignite a passion for engineering disciplines in young females.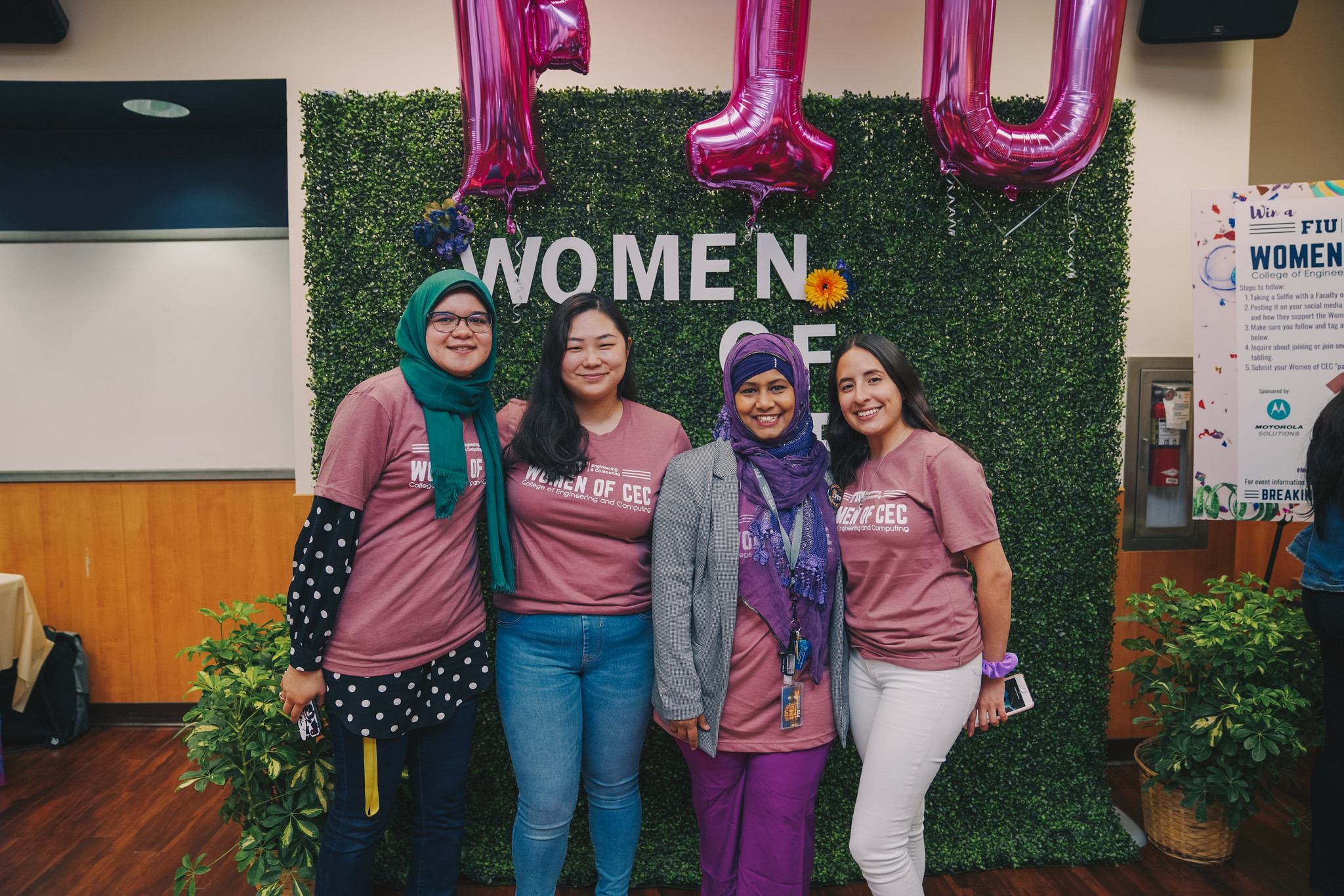 "Despite gains, women are still underrepresented in leadership positions in science, technology, engineering and mathematics," Huq says. "My primary target is to enrich women empowerment in multidisciplinary professional and academic programs."
Through SWE, Huq has organized numerous events and collaborated with other student organizations, hosting women empowerment workshops and seminars for students to be informed about all the opportunities available to them.
"We hosted a seminar to explore FIU scholarships and external scholarships so these students feel empowered to graduate in four years, feel empowered to travel to conferences and make their college experience worthwhile," Huq adds. "The beauty of the SWE program is that it's a safe space. Students are encouraged to share their stories, their journey at FIU."
In addition to SWE, Huq serves as the president of the Bangladeshi Student Organization (BSO) at FIU, a club that helps Bangladeshi students feel at home and included. Huq has a close relationship with her alma mater, BUET, and has helped recruit nearly 40 students to FIU to pursue their graduate degrees.
"Huq has an absolutely amazing personality and intellectuality to be able to achieve anything she wants. Her leadership and mentoring ability are extraordinary," says Nasar Ahmed, associate professor in the Robert Stempel College of Public Health & Social Work. "As an advisor of the Bangladeshi Student Organization at FIU, I found her extremely sincere and a dedicated student who is always willing to serve the FIU community."
Huq also founded a new student organization, Project Management Institute. The chapter teaches students strategies and tactics to start their own business and sell the product they've invented.
Most recently, Huq became a recipient of FIU's Outstanding Student Life Awards, receiving the 2020 Presidential Award, which recognizes a student who has significantly impacted the FIU community.
Community-oriented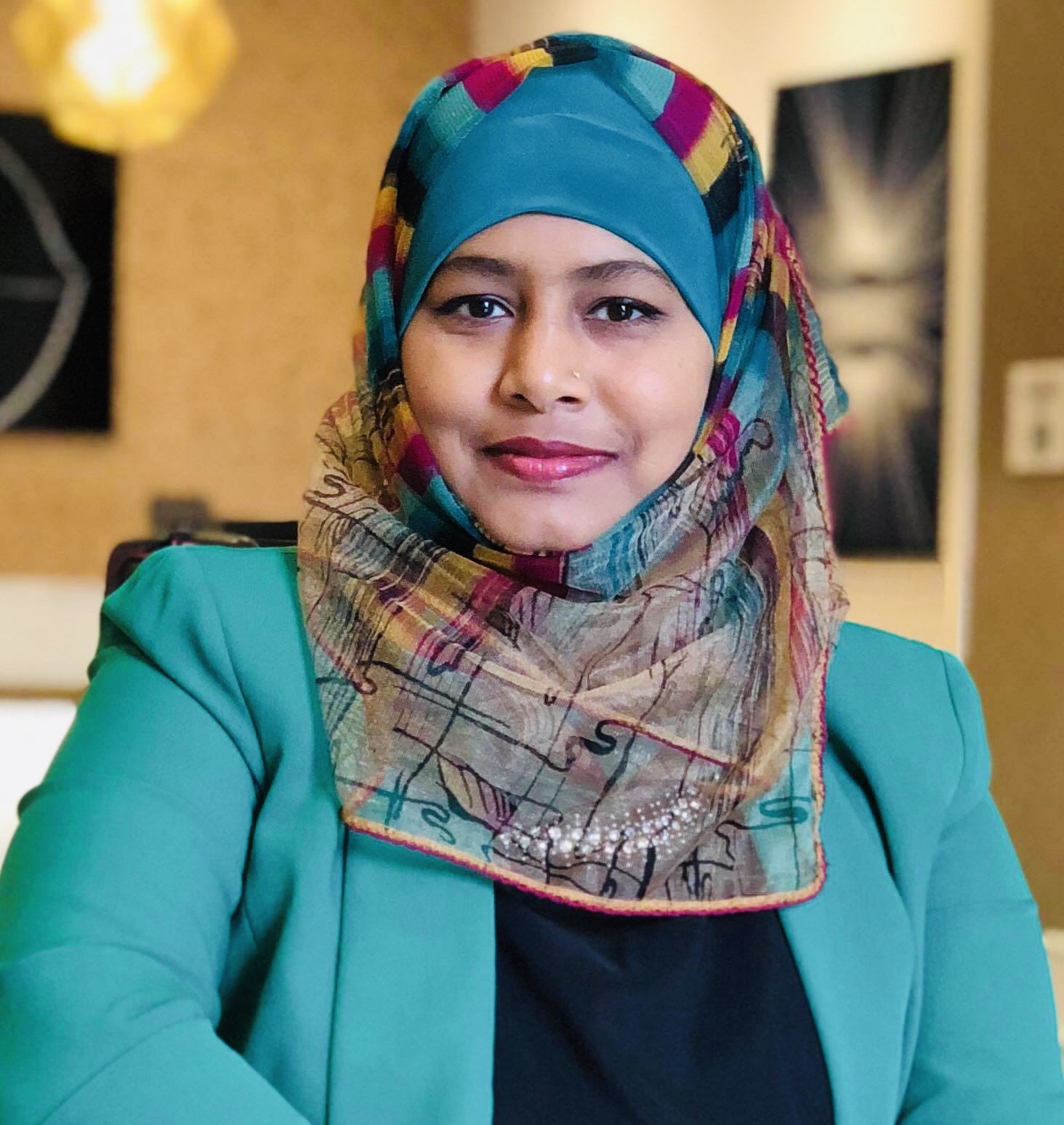 In addition to her leadership experience, Huq has served as a judge for several undergrad research competitions including South Florida's Future City Competition, an annual competition where middle school students design and build a model of a future city; and a judge for the College of Engineering & Computing's Senior Design Showcase, where senior engineering and computing students present their final projects to industry leaders.
In the South Florida community, Huq organized and volunteered for Hurricane Irma clean-up activities at Zoo Miami and raised funds to help support victims of Hurricane Maria in 2017.
Huq is also the author of a children's book on traffic safety titled, "Chotoder Sharak Nirapotta Nirdeshika", which translates to "Road Safety Guidelines for Children."