Global Forensic and Justice Center internship provides ROTC cadets real CSI experiences
For two weeks each year, an elite cadre of ROTC cadets participate in the selective Biometrics and Forensics Internship.
A camera shutter clicks capturing the minutia of a fingerprint left behind. An unknown substance is placed on a handheld ramen spectroscopy for on-site analysis. For two weeks each year, an elite cadre of ROTC cadets participate in the selective Biometrics and Forensics Internship held at FIU's Global Forensic and Justice Center's (GFJC) office in Largo, Florida.  
Dressed in their Army fatigues, the 12 cadets are taught the difference between real CSI and fauxrensics seen on TV. Jacqueline Knotts, an Army ROTC MS4 cadet from the University of Tampa chose this course over a JAG internship.
"It's an area I am truly passionate about, and I wanted to take the opportunity to learn from those with years of experience in a multitude of areas to expand my knowledge," Knotts said. She also hopes the internship will not only prepare her for her crime scene class this fall but as a military intelligence officer or military police in the U.S. Army Reserves.  
During the internship, cadets are taught how to properly document, collect and analyze evidence, following the process from the crime scene to the laboratory. Jillian Murphy, battalion commander for FIU ROTC and graduate student at the University of Miami, plans to apply these new and unfamiliar skills to her future military career.
"I would like to become a military intelligence officer and work my way to becoming a public affairs officer. The more understanding of what it takes to be on the scene and analyze intel will allow me to communicate to the military with missions and to the public as well." 
Two other cadets from the FIU Army ROTC are also on this year's roster. FIU is home to one of the largest ROTC programs in the country.  
GFJC has offered this unique and sought-after internship since 2009 at no cost to the cadets nor their command.
"Teaching the future leaders of our military these mission-critical skills prepares them to uphold their oath to defend the constitution against enemies foreign and domestic," Harley Prado, ROTC internship coordinator said.
Prado spent more than two decades in the military, training special operations forces (SOF) on the same exploitation analysis cadets' experience during the internship.
"When I started my military career these handhelds and field portable tools weren't available to us. Now, these cadets can start their career not only knowing about them but knowing how to use them. It sets them up for success for the next mission," Prado added. 
Since 2016, the internship roster has had more female cadets than male, reflecting the gender dynamic in civilian forensic science and crime scene investigation positions.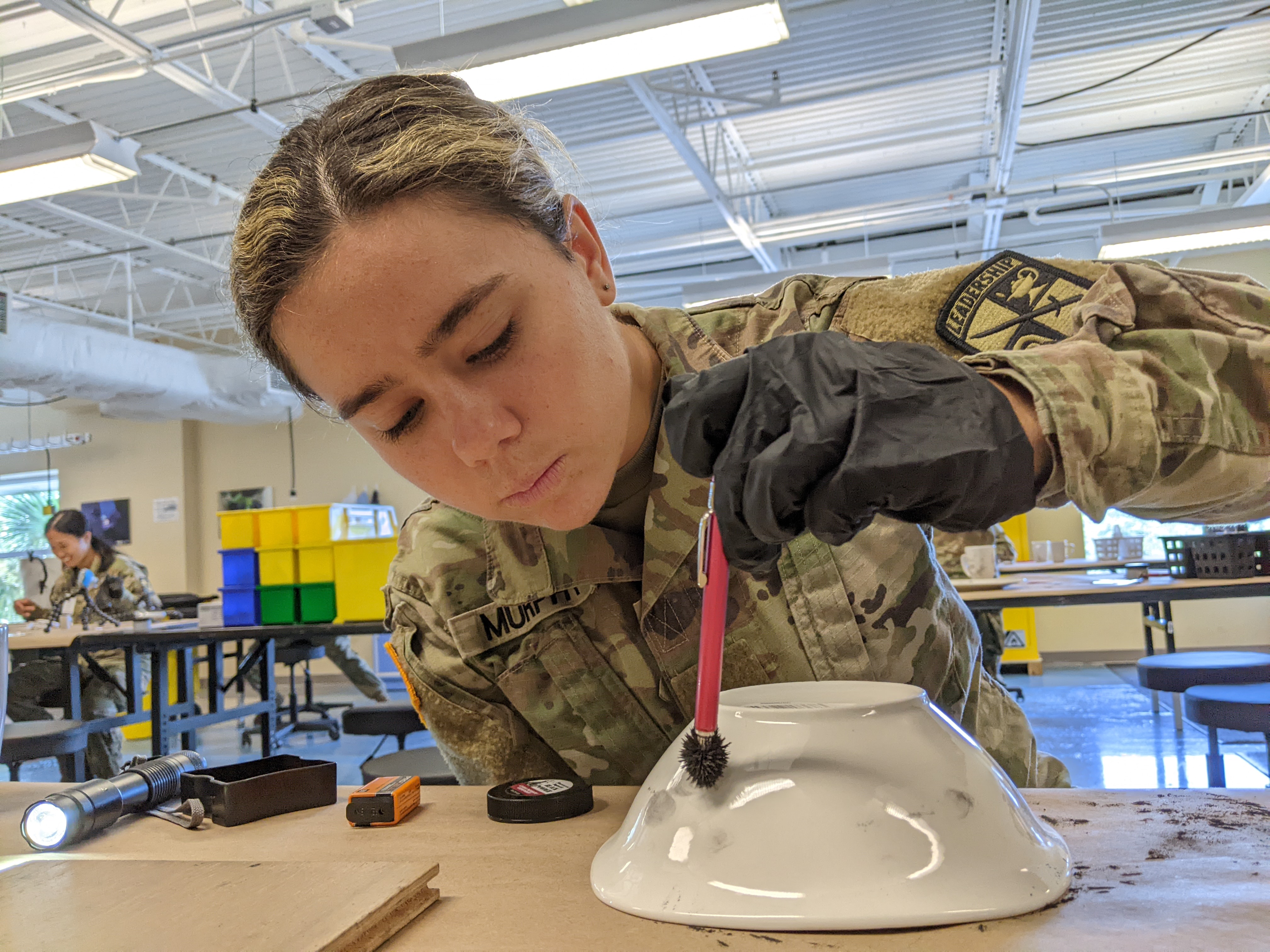 "It's great to see more females taking part and learning these advanced skills since [the military] is a male dominant career path," Murphy explained. "What I've learned so far is that if you're willing to put in the hard work your gender shouldn't have to be in the way of achieving your goals. Seeing more females in leadership is great but what truly matters is the outcome of excellent leaders for the Army, regardless of gender which I think many more women are capable of achieving." 
 —By Michelle Chernicoff