When it comes to networking and hospitality, FIU students and alumni have a unique advantage.
FIU's Chaplin School of Hospitality and Tourism Management is one of the top-ranked hospitality schools in the nation, where nearly 100 percent of its students are employed following graduation. Located in South Florida —where last year alone nearly 16 million tourists visited, FIU offers students access to an international hospitality industry in which they can gain firsthand experience.
One of the city's biggest annual events, the Food Network & Cooking Channel South Beach Wine & Food Festival (SOBEWFF®) is hosted by Southern Glazer's Wine & Spirits and FIU; the star-studded 5-day festival attracts more than 60,000 people to its 90-plus events each year. For FIU students, SOBEWFF is a chance to participate as volunteers or paid assistants, helping with festival logistics. Paid positions usually last for two to six months and offer students experience working closely with industry professionals; they are also eligible for various scholarships for their participation.
"There are boundless networking opportunities for students from every major," said Gipsy Velez, manager of the volunteer program."Every year, students come back to us and tell us about internships or job offers they received as a result of participating at the festival," she added.
Here are the stories of three hospitality alumni and former volunteer coordinators whose work at the festival got them closer to securing their dream jobs.
Megan Mack '17
Megan Mack's first exposure to the festival was through a friend and recurring volunteer who insisted she sign up to join him.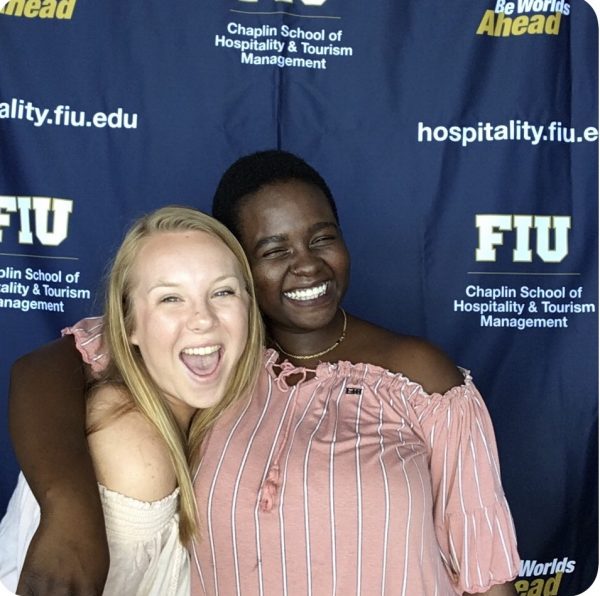 "He kept telling me, 'You have to do it! It's a great opportunity and it's so much fun,'" said Mack.
Not knowing what to expect, she agreed to help out at only one event. This was enough for her to be reeled into it; she immediately asked about upcoming dates on which she could help out.
"It's was a lot of fun! It didn't really feel like work," she said.
Mack went on to work at the festival for three years, later becoming a paid volunteer coordinator. The position allowed her to climb the industry ladder and even meet some of her heroes.
During a Family Ice Cream Social event at the Loews Miami Beach Hotel, chef Duff Goldman gave her and fellow assistants some valuable advice.
"He noticed that we were students, so he pulled us aside and said: 'If there is one thing I've learned in this industry, it's that a smile will get you a long way,'" said Mack. "For him to take us aside for two minutes and give us such genuine advice was incredible."  
Mack called the experience "one of the best opportunities that I have taken in my career path."
She also said the festival's nationwide recognition led her to her current job as a conference coordinator at the Gaylord Opryland Hotel in Nashville.
Mack's director of event management, FIU alumnus Michael O'Connor '89, had previously been to the festival and attended Panther Alumni Week this year in hopes of recruiting some Panthers to join him in Tennessee.
Mack heard about the position and decided to apply for it. Not long after her interview, she was offered the job. Mack has been in Nashville for seven months now.
"It's great knowing that you can go to other places and people still recognize the event," said Mack. "Having that on my résumé has truly made me stand out to people near and far."
Feyisayo Yusuf '18
During the four consecutive years she worked at SOBEWFF, Feyisayo Yusuf blossomed into a confident leader.
Because of her degree's concentration in event and restaurant management, Yusuf said it was "the perfect internship" for her, offering a close look at the operations behind such a large-scale event.
The event manager she worked alongside at the festival even introduced her to her current boss at Creative State Marketing, where she works as an account coordinator.
Like Mack, Yusuf got the chance to meet some stars, including chef Guy Fieri, with whom she shared a warm exchange. "I was blown away by how kind he was," said Yusuf.
As part of her work, Yusuf led teams of volunteers, guiding them throughout their journey. The group, she said, shared her enthusiasm and motivation for helping out with the events.
"Watching them flourish in front of potential employers was unexpectedly the most gratifying part of it," she said. "It's something everyone should experience."
Juan Tamayo M.S.'17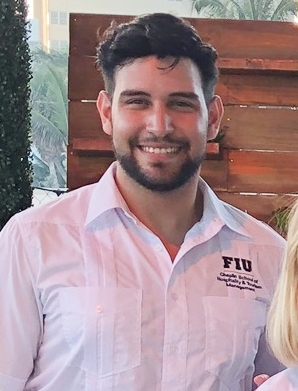 Before his interview with FIU News, Juan Tamayo was at work, preparing for a Christina Aguilera concert at the Seminole Hard Rock Hotel & Casino in Hollywood.
Tamayo works an assistant food and beverage manager at the hotel and venue, whose stage welcomes stars on the daily. There, he manages Blue Plate, a 24-hour restaurant at the hotel as well as a coffee shop, both of which feed around 1,700 guests per day.
His work at the hotel began through an internship he landed as a student. But it was through his time at SOBEWFF, that he was introduced to one his current managers by program manager Velez.
His experience as a volunteer coordinator, he says, exposed him to FIU's vast influence within South Florida and also gave him first-hand experience in recruiting and interviewing.
The festival also brought him at close proximity to many influential people in the industry, such as its founder and director, Lee Brian Schrager.
"He has become a mentor to me and so many other people since I began participating in the festival," he said.
Tamayo said his fellow assistants and volunteers are the potential "future leaders in the industry," whose hard work will pay off because of their enthusiasm for hospitality.
"For me, it reinforced just how hard young people can work in this industry when they really want to be in it."
Ultimately, he says, the real satisfaction of his work comes from successfully serving guests and making sure they enjoy themselves.
"We are in the business of fun," said Tamayo. "It's hard work, but there is nothing like it."
---
The Food Network & Cooking Channel South Beach Wine & Food Festival will take place from Feb. 20 – 24, 2019. Volunteer for this year's festival here.