Behind the motivation: Future generation of health care workers
Among the Class of 2026, are those who will one day be doctors, nurses, caregivers and health care providers. Meet two of these Panthers.
A global pandemic did not silence the dreams of passionate, dedicated Panthers whose hearts were set on entering the health care field since childhood.  
Instead of choosing an easier profession in light of COVID-19, these freshmen doubled down on their convictions and moved forward at full speed toward their goals. 
Meet two first-year students who, far from being scared by the responsibility of health care, are eager to meet the demands of the field and, most importantly, are committed to caring for those most in need. 
Kayla Paul: BSU leader, lover of nutrition and future PA
Since middle school, Kayla Paul knew she wanted to become a physician's assistant. Her path to the profession: FIU.
"FIU has always been my first choice," says Paul, a native of West Palm Beach. "It has a really good physician's assistant program and really good medical programs."
To prepare for her graduate studies in the field, Paul decided to start her undergrad education at FIU, choosing to major in dietetics and nutrition.
"People usually do biology, chemistry or biochemistry to get into medical programs later," she says. "But I rather have my major focus on nutrition. Nutrition is key for healthcare, and it's not always recognized that way."
Paul is no stranger to blazing her own path, or lending a helping hand.
In high school, she was a leader in student organizations, serving as president of the Black Student Union at Royal Palm Beach Community High School and as part of the executive board of her school's chapter of Students Working Against Tobacco (SWAT).
As BSU president, she led a group of students, in collaboration with teachers, in organizing the school's annual Black History Month Showcase, one of the first events after all the students returned to classes in person after the pandemic improved. 
The team hosted a wildly successfully event and invited Black movers and shakers in the community, including a local news anchor and business owner, to come speak and discuss their journeys. Throughout the year, the BSU team also led Thanksgiving food drives and collected Christmas cards and the ever-essential item, socks, to give out at an assisted living facility for the elderly.
Through SWAT, Paul campaigned to encourage youth at her school to understand the health hazards of smoking and to give up vaping through various events and promotions. She also logged hour upon hour of community service, participating in beach, zoo and park cleanups and volunteering to help distribute water bottles and other supplies at marathons like the Shamrock Parade, among a number of activities.
She earned Student of the Month various times, completed the IB program at her school and graduated with a 4.5 GPA. She began at FIU over the summer, living on campus.
For the fall semester, she is excited to get involved with student organizations like FIU's BSU and the Haitian-American student organization.
Helia Baez: Warrior, scholar and healer
Helia Baez has one goal: to become a certified Child Life Specialist, a professional who helps children cope with illness.
"I want to help kids, especially those with chronic and deadly diseases," she says. "Child life specialists explain what's happening in words or through play and through different activities. How do you explain to a 4-year-old they're going to get a biopsy or a needle stuck to their head? That's what they do."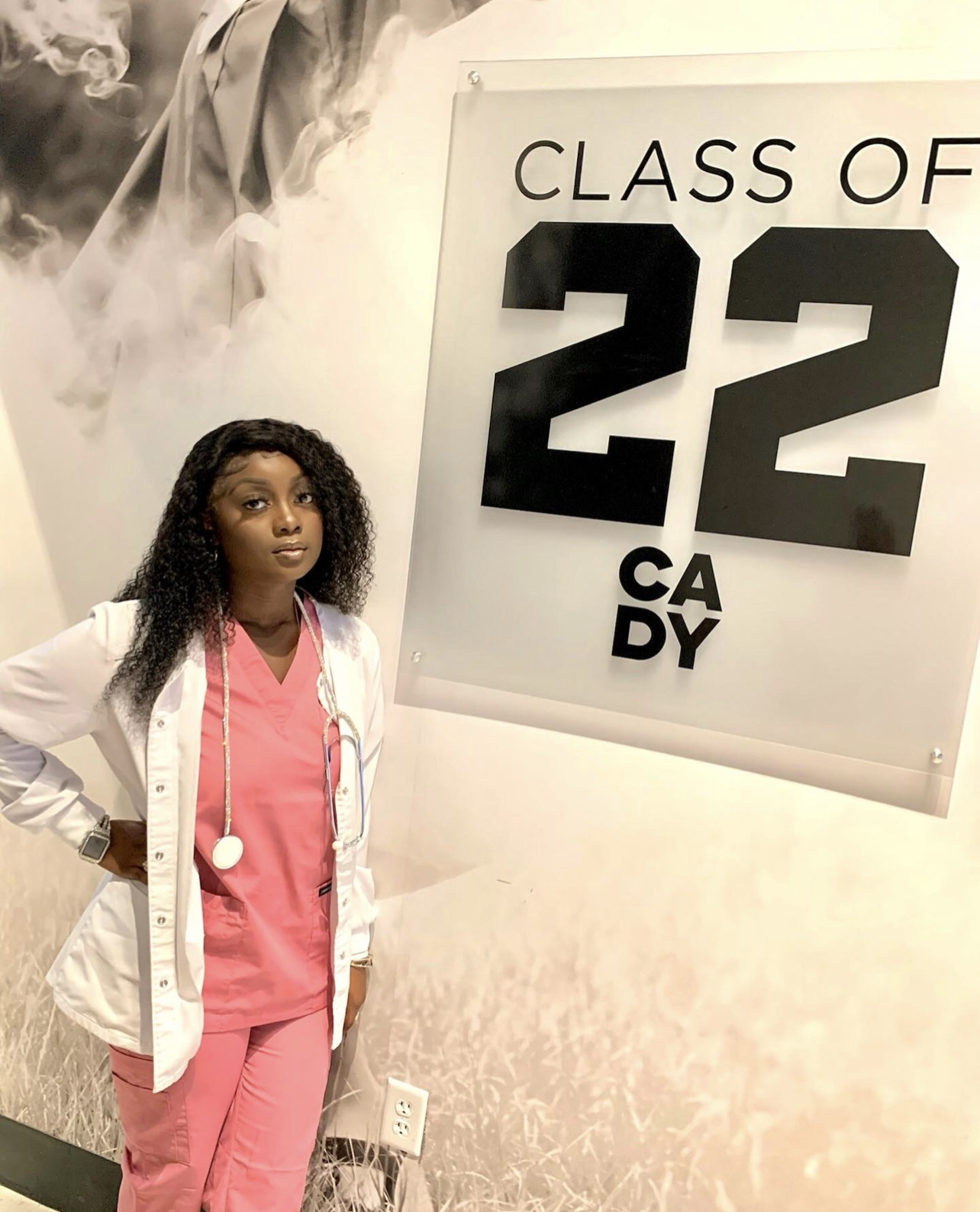 Kayla Paul wearing scrubs in anticipation of her future career.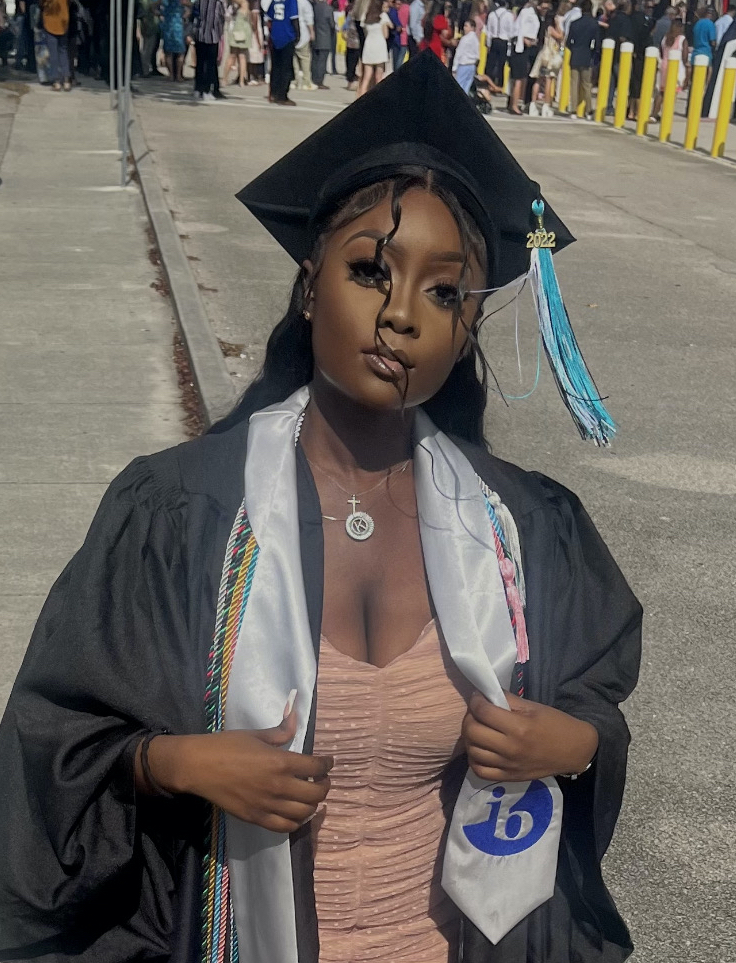 For Baez, this is not just about finding a rewarding job. It's about fulfilling her passion — one that stems from her own personal experiences. At 13 years old, Baez was diagnosed with intracranial germinoma, a rare type of brain tumor. She went through a year of treatment, chemotherapy and radiation. She beat brain cancer.
When she began high school, she realized chemotherapy had left its mark on her.
"For many patients, chemotherapy affects brain processes and memory," Baez explains. "At first it was really hard because I was used to being at the top of my class and getting straight As. I knew that giving up wasn't an option for me. People kept saying, 'With everything you've been through, it's ok.' But I wanted more for myself. I didn't want to slide [by] because I had cancer." 
She got to work. "It took me a little more time to study and more effort, but I got it done. It's been worth the sacrifice."
She achieved incredible heights. A dual enrollment student, she graduated high school with an associate's degree from Miami Dade College. She was recognized as a Hispanic Scholar by the College Board. She earned 10 scholarships and was accepted into institutions including the University of Florida, University of Miami, University of South Florida and University of Central Florida, among others.
Eager to give back, she volunteered at the Nicklaus Children's Hospital, assisting a Child Life Specialist. During the pandemic, Baez and her friends came together to host a toy drive for the children. They also created bedside activity videos and kits for them (such as kits to create slime, complete with blue solution and food coloring).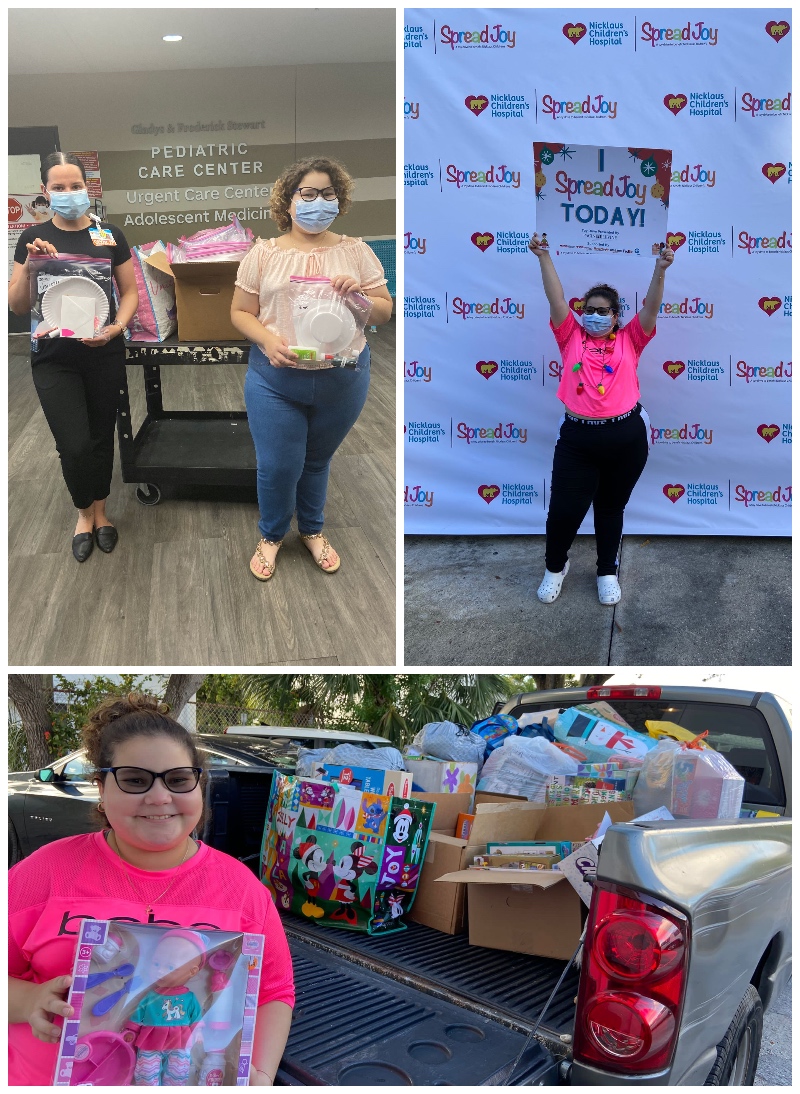 In her role as a volunteer, she recalls helping one little girl who was reluctant to take her chemotherapy orally.
"We explained we were there to help her take her medicine, and she started sobbing," she says. "The Child Life Specialist couldn't get her to take the chemo. I talked to the little girl, and I told her I knew the chemo was icky, but it was for her own good."
Baez promised to give her a big cookie if she took the medicine.
"She made me pinky promise. Then, she took the medication and gave me a huge hug afterward. I feel like kids can relate to me at a deeper level than other volunteers. I've been in their shoes. I can connect with them."
Baez began at FIU this fall as a psychology major and a student in the Honors College. She plans to be involved — she already applied to be part of the Roarthon committee, a student-led team that organizes a dance marathon fundraiser in support of children with cancer.
Her guiding principle is simple: "Every day is an opportunity to make the world a better place," she says. "Every day is a gift. You really can't take it for granted." 
This story is part of a series introducing freshmen students to the Panther family during the first week of the fall semester. Tune into to FIU News tomorrow for the next story in the series. Read the other stories in the series celebrating incoming students.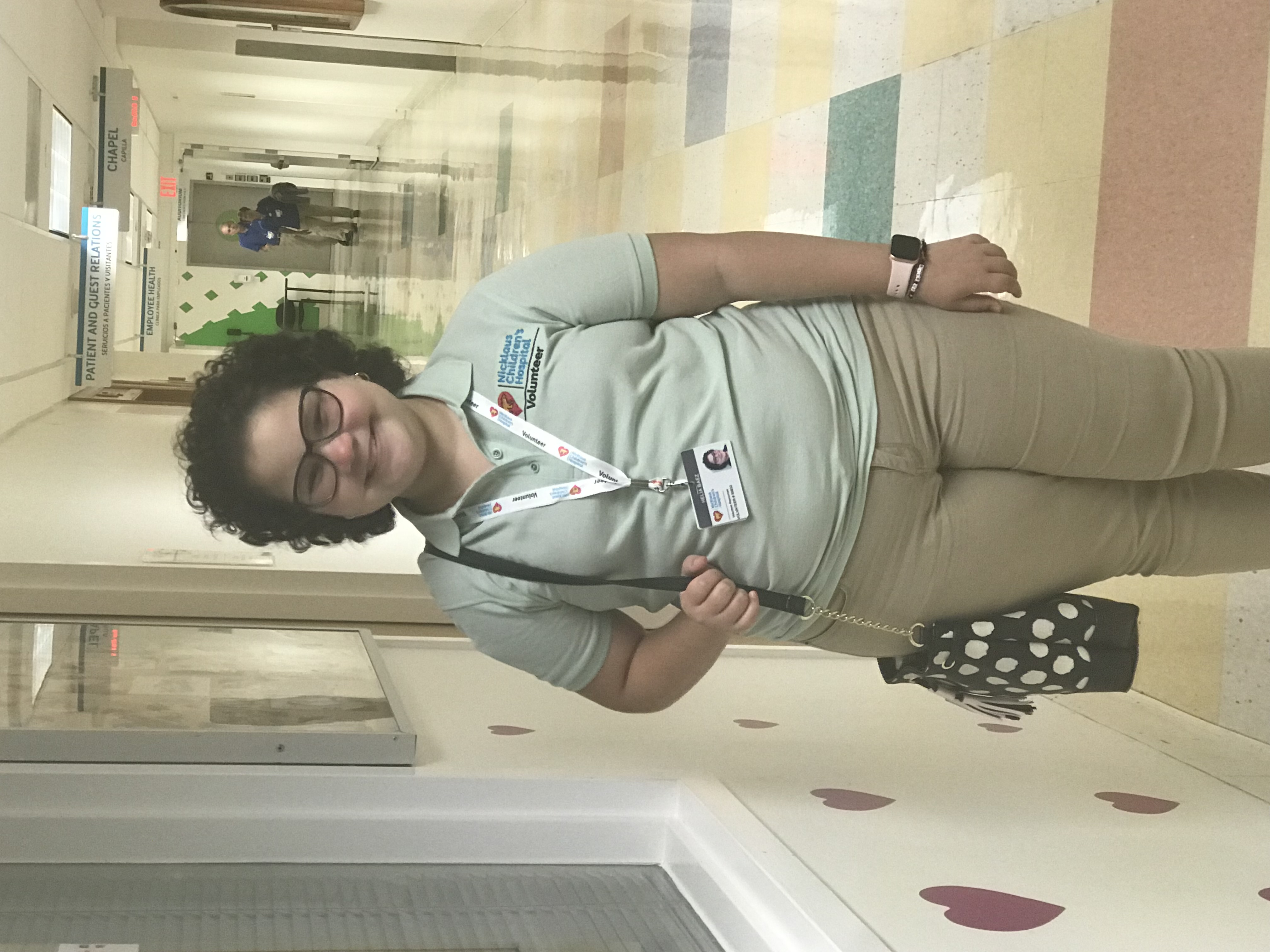 Helia Baez volunteered at the Nicklaus Children's Hospital, assisting a Child Life Specialist.