Want to have a great semester? Embrace your Panther network
Take advantage of resources at your fingertips, from academic workshops and career development to peer mentorship
August 28, 2020 at 10:00am
---
You're a Panther. That means you're part of a community of scholars and researchers—a network that is ready to support, encourage and help you discover your talents and goals.
With programs offering a slew of virtual events and services this fall, you've got the Panther network at your fingertips like never before. So, take advantage of it!
There are countless opportunities to connect with faculty, staff and peers who engage in research, academic conversations and service. Just a few examples: You can discuss current events with your Panther community  remotely through Tuesday Times Roundtables hosted by Global Learning; pursue a spot as a peer learning assistant through the STEM Transformation Institute; and conduct research with the goal of presenting virtually at the Undergraduate Research FIU conference.
Additionally, FIU programs—including the Center for Student Engagement (CSE), Student Life Coaching, the Center for Academic Success and the Center for Excellence in Writing—are designed to support students with their academic endeavors.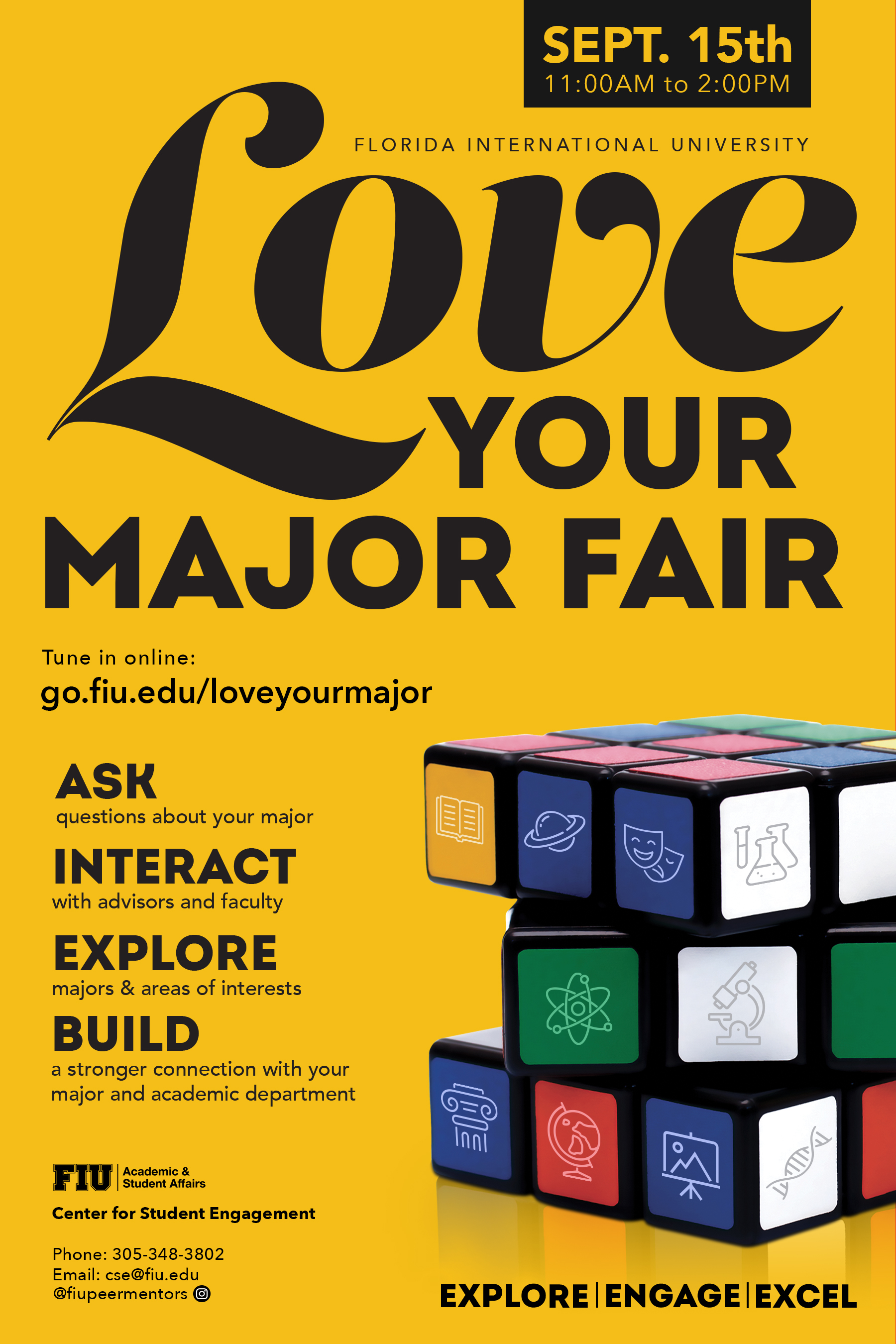 A great place to start: CSE's series of virtual workshops exploring tips for success, including time management, motivation and goal-setting.
The team will also host a virtual "Love Your Major" fair on Sept. 15 from 11 a.m. to 2 p.m., during which students can ask questions about their major, explore areas of interest and interact with academic advisors from disciplines across FIU.
The mission behind these events is simple: To help students succeed.
"We love to talk with students about what they are passionate about, what their interests are and to connect them with those engagement opportunities," says Sophie Braga de Barros Loureiro, program coordinator for the center.
If you're interested in speaking with a CSE staff member one-on-one about finding opportunities that align with your interests, schedule a meeting on the center's website.
Peer Mentorship
Whether it's through informal friendships or part of a university program, peer mentorship is a valuable source of support.
"Peer mentors are a connection students can go to," says Jenna Levine, manager for CSE's peer mentor program. She works with student mentors who are embedded into First Year Experience courses (commonly referred to as SLS classes).
Levine says she sees the difference peer mentors make every semester.
"An [SLS] peer mentor is one of those first friendly faces students meet," she explains. "If students don't know about a service they want, for example, they can ask the peer mentor and get an honest comment from them."
This semester, Levine says, virtual peer mentorship can offer particular solace for freshmen adjusting to college.
"Peer mentors right now are in a great place to show students that they can learn and connect together," Levine says. "The peer mentors can create spaces to have conversations, to be a supportive person online and be intentional about fostering that sense of belonging. It's through these connections that students are more likely to do better in school."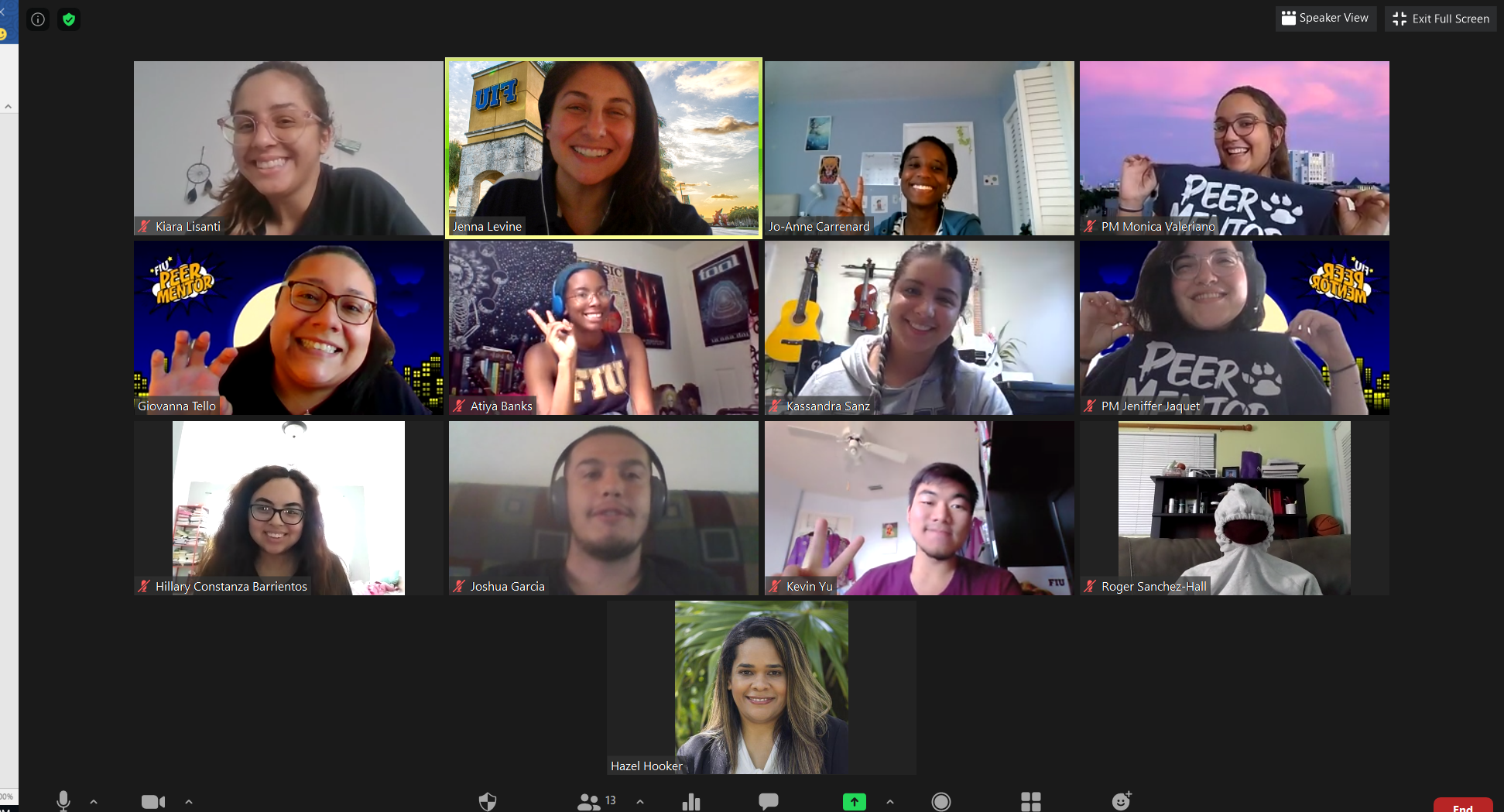 The mentees are not the only ones who reap the benefits. Peer mentors themselves often grow as leaders, public speakers and compassionate professionals.
"My hope was to give back to the FIU community and help others find their place," chemistry major Kassandra Sanz says about signing up to be a peer mentor. "I quickly learned that this program was giving back as much, if not more, as I was giving to it. Developing skills such as global fluency, oral communication, digital technology and teamwork increased my confidence and preparedness for college life and beyond. I found another support system and made some really amazing friends!"
To learn more about becoming a peer mentor, take a look at the program's website. 
Career development
If you're trying to prepare for –or find– internships or jobs, Career and Talent Development has you covered. The team is hosting a robust line-up of virtual workshops, programs and fairs that will help you expand your professional network and sharpen your job-hunting skills.  
Whether you're a freshman or a senior, you'll find a treasure trove of support every step of the way, from exploring career paths and internship opportunities to resume critiques and mock interviews.  
The team has also designed a virtual event series specifically tailored to meet the needs of students facing the job market in the age of coronavirus. These workshops tackle topics including Zoom etiquette; diversity and inclusion; and career exploration.
"We heard the voice of our students," says Elery Rojas, assistant director of Internships for Employer Engagement. "They need interaction. They're facing hardships just like everyone else. They need a different kind of outlet. We needed to make this more humanistic and light-hearted." 
The result? A fun series of interactive events called "Coloring with Career," which features virtual coloring while students and expert staff members engage in conversations and activities envisioning success; overcoming stress; and unlocking career potential through hobbies. 
Rojas says the first thing you should do to get involved with these workshops and other services offered by the team is join Handshake. Through the online platform, you can search for full-time and part-time jobs as well as internship and micro-internship opportunities; register for events; and make appointments with a career coach. Alumni can also log into Handshake to make use of these resources. 
She adds that you should also consider micro-internships. You might have not heard about these before, but they've quickly become popular. An organization called Parker Dewey connects students and recent grads with employers to work on short-term paid projects virtually. This might be a great way to beef up your resume and gain professional experience during this time. 
Learn more about upcoming workshops and other resources through Career and Talent Development.  
This story is part of a series exploring ways students can engage with FIU this fall.